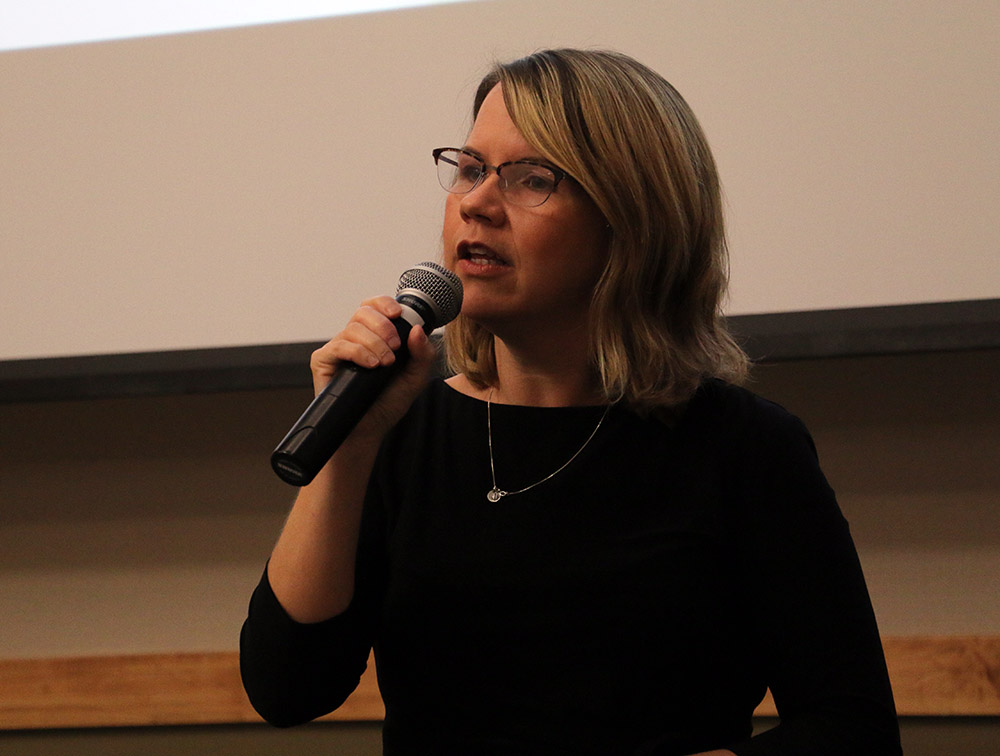 Jennifer Daly, speaking at the CBJ's 2017 Manufacturing Conference in Cedar Rapids. PHOTO ADAM MOORE
By CBJ Editorial Board
news@corridorbusiness.com
Jennifer Daly has been busy since returning to the Corridor last summer from Illinois, where she served as CEO of the Greater Peo­ria Economic Development Council, to become the first president of the Cedar Rapids Iowa City Corridor Development Corporation. It's the first regional joint venture to tackle economic development ini­tiatives, and will initially focus on regional branding and promotion, business attraction and workforce development.
The role provides an enormous opportunity to address issues such as workforce constraints and building a stronger regional rep­utation as one of the best places in America to do business. It also brings tough challenges, such as balancing the interests of commu­nities across the Corridor, budget limitations and ever-changing trends in business expansion.
In a wide-ranging interview with the CBJ's editorial board, Ms. Daly and Corridor Development Board Chair Lydia Brown dis­cussed building an organization from the ground up, the first steps in a new regional rebranding effort, the organization's aggressive trade show schedule for 2018, and other steps on the new journey. The following has been edited and condensed.
Just to start, can you outline your role and the organization's scope?
My title is president and CEO. This organization was created really to focus on three main things: regional branding and promotion, business attraction and workforce development. Those are the three things that everyone has kind of agreed on and consistently said.
Tell us a little bit about the organization's structure – how many people are on your staff?
Because we are a joint venture between the Cedar Rapids Met­ro Economic Alliance and ICAD Group, we have some of our own staff and then we also share staff. Brian Crowe spends 100 percent of his time with us as director of business attrac­tion, and you know DaLayne Williamson, who is also 100 percent on our team as our director of workforce solutions.
We have two other people that are helping us a percent­age of time. One is Kate Moreland, and she spends 40 per­cent of her time with us as director of career development. That work is really about career-connected learning, working with our school districts and partners in the region to better align our future workforce and their development with the needs of employers. Kate worked for the Iowa City school district, and that is an area of real passion for her so it was a great fit, but 60 percent of her time is still being spent on the ICAD team.
Tom Banta is our other staff person, and 25 percent of his time with us is as our business attraction strategist. He's working under Brian and helping us with our business at­traction strategies. He is very talented at working on what I would call almost futuristic industries and clusters. For example, he has gotten very knowledgeable about autono­mous vehicles and virtual reality, and he's really digging into those areas for us.
Where are you based?
We have two offices, one on the north end in the Econom­ic Alliance building and one in MERGE in downtown Iowa City. That has been terrific for us, because it allows us to work pretty closely with the rest of the teams. And even though they aren't a part of our organization, some of those folks are providing all sorts of support services – administrative help, marketing support, those kinds of things. For example, An­drew Elmwood, who is a part of the Economic Alliance team, provides all of the research we need. It's great to co-locate on both sides because both of those extended teams are adding support to us.
Lydia Brown: I think it's important to consider when this idea came up, we knew what the end result was going to be, but we weren't exactly sure how to get there. What I mean by that is, we had three areas that everyone on the ICAD and Economic Alliance boards agreed that we need­ed to focus on regionally, because it's the only way we're going to be successful. We didn't want to duplicate efforts – we didn't want a third marketing staff, we didn't want a third administrative team – so Jennifer has done an artful job of figuring out how to create an organization and uti­lize the strengths of the Corridor that allow us to maximize the money spent by investors, which in many cases are the same people on both ends [of the Corridor].
Can you talk about your first steps leading the organization?
A couple of things I would share in terms of structure is es­tablishing a technical team with all our local economic de­velopers. That group meets monthly and they've been a big part of establishing our strategy. We really sit around and talk about [strategy]. I think that that has been very import­ant in leveraging the talent in that group and the perspec­tives of all our communities – not just two of them – which is very important when you're representing several counties.
On regional branding … it was made pretty clear during those meetings that there was still a lot of hesitancy around the [Iowa's Creative Corridor] brand that was in place. It wasn't what I was expecting, and the level of that dialogue made us take a step back as a group and say "is this really the right brand for us going out to the country and the world?"
We identified 17 creatives throughout the region … put them in a room for two days and basically said, "We're try­ing to market this region for new business locations, and for talent to come and live here. If the brand we have in place right now is not gaining the kind of traction we want, why is that and what do you think should happen?" They spent two days talking about this issue and came up with some really strong suggestions for how we should move forward. They came up with a name for the region, as well as three campaign slogans. We ran a trademark search and one of the campaign slogans had been trademarked by Charlotte, North Carolina, so we immediately had to put that one to the side. But the other two campaign slogans were shared and one was a very clear favorite.
We are anticipating moving forward in that direction, and it's important for us to move quickly, because we have 20 trade show and site-selector trips this year. As you can imagine, that is difficult if you don't know what your brand is and you have all of that put together, so we're on a fairly quick track for that work.
Can you talk a bit more about the hesitancy with that Creative Corridor brand? What was the biggest issue?
Some people talked about the fact that nobody knew where that was. For local economic developers or those in market­ing, they often have to keep explaining the brand and that's tough. Probably the most prevalent thing I heard from people was kind of this issue with the word "cre­ative." People say, "Well, I'm not creative," thinking it means an artist. It was an in­teresting discussion with people – some were almost like, "How dare you call me creative, that's not what I am!"
It's tough to get people to know the re­gion without the name of our city [in the brand]. There's not many of those regions out there across the country – you have Sil­icon Valley, you have the Research Triangle, but those are probably the only two that are really well-known without being connected to the name of a city.
Lydia Brown: I think you really have to help people see that we have this specific geography and then you can start talking about why it's so diverse and terrific. The one thing we learned when we did regional planning is that the diversity of this region is to our benefit. We're not doing one thing – we're doing a whole lot of things and that makes us exciting and unique. We've really got great stories to tell – we have autonomous vehicles and we created GPS – but if they can't even visualize where [the region is], then you can't get to the next level of "and here's why it's so great."
Do you have an idea of when the new brand will roll out?
I don't know if you will see us do a big launch party, as we're not asking every­one in the region to adopt a brand. We'll certainly share the information, but this is more what we're going to do as an organi­zation to try to be successful. My hope is that we'll be prepared to do that in March.
In a perfect world, for a regional branding effort, you want internal awareness and acceptance and external awareness and acceptance. That's really the challenge you have moving forward, right?
You're right. We could have just hired a firm and said, "here's our goal," but the reason I put those 17 people together was because I didn't want it to be one person's idea. I really wanted this collective group from throughout the region to have this discus­sion, and we had a couple litmus tests in that room when we were doing the work. One of them was what I called the T-shirt test. That's essentially, will you wear it? Do you feel proud of this? If we won't wear it, it's not going to work. It doesn't have to be the end-all, be-all, but it has to be enough of something that we're connected with because otherwise it will fall flat.
Will there be a Raygun T-shirt?
Yeah, I think we will see the Raygun T-shirt. That came up a lot in the room.
We never saw a Creative Corridor T-shirt from Raygun, so maybe that speaks to the difficulty of selling the brand.
Mike Draper [Raygun founder] was actu­ally invited to be part of this group. He couldn't come, but he was very much like, "I want to participate, let me know what I can do." I actually just reached out to him and let him know I need some cool stuff that I can give to site selectors that is go­ing to be fun, that'll be memorable and in some way emotionally connect.
What else are you doing on the business attraction front?
The other thing we're doing that I think is equally important is we are creating what we call business intelligence councils. These are small groups of high-level CEOs from each of our six industry clusters, and they will meet two to three times a year. What we want to do is gain intelligence within that industry sector. What is the growth opportunity? What are the assets in the region that could really help your company grow and thrive? They could be the workforce pipeline. They could be cer­tain types of technology or infrastructure. They could be assets the university offers in research and development. There's all sorts of things that we've already re­searched, but we want directly from the CEOs to understand and make sure that we have the right marketing message and are promoting the right things.
Can you tell us what the six industry clusters are?
There are six: food and ingredients, automation and engineering, financial services and insurance, educational technology, medical technology, bio-pharma and bio-tech. They're really very much in line with the regional visioning reports that were done.
What kind of budget do you have for all of this?
We have enough to develop the [brand­ing] campaign, to get it out there, to de­velop some materials and the things we'll need for the trade shows. Will we be able to launch a national advertising campaign? No. But I think we're going to make a really good run this year in get­ting it out there. And there are all kinds of strategies out there that we can lever­age that don't have to cost a lot of money. For example, we have the Writers Work­shop right here, with a bunch of amazing writers. There's an opportunity, I think, to work with them on some storytelling that can gain traction in publications all over the country or the world. There's a lot of opportunities for us to get those stories out by leveraging the assets we have here, not just paying for advertising.
In talking to outside businesses, is the low unemployment rate in Iowa and the Corridor something that gets brought up a lot? What do you say to that?
It does. What we're doing on the workforce side – it's a big arena. One of the things I realize is that we have a lot of data and we're doing a lot of stuff, but it's also important for us to understand directly from our companies, what is the need? So we're working with Kirkwood and doing a talent forecast for the first time here. It's basically a survey targeting our interstate employers along with our medical community and our education community, because they are very, very large. We're asking them to tell us, over the next 12 months, who do you think you're going to hire? What jobs, and for those jobs, what is the minimum certification or degree that's required? That data is going to really be helpful to us because it's going to help us identify what are the most critical needs.
For any employer, the most critical need is what they need tomorrow. We understand that and we need to have support systems for that, but we also need to understand collectively, across our employers, what are the top 20 job needs? Do we need 7,000 nurses over the next two years or 100? Do we need 50 welders or 1,000? We can use algorithms and programs to look at that, but the best data we can get is directly from HR directors. When we have that information, we can actually develop specific programs that can target the greatest needs.
About Jennifer:
Hometown: Several! I was born in Honolulu, Hawaii and grew up in California, Tennessee and Iowa
Education: Bachelor of Science, University of Iowa
Family: Husband, Tim, and children Aidan, 13, and Nora, 10
Interests: Spending time with family and friends, reading, cooking and travel