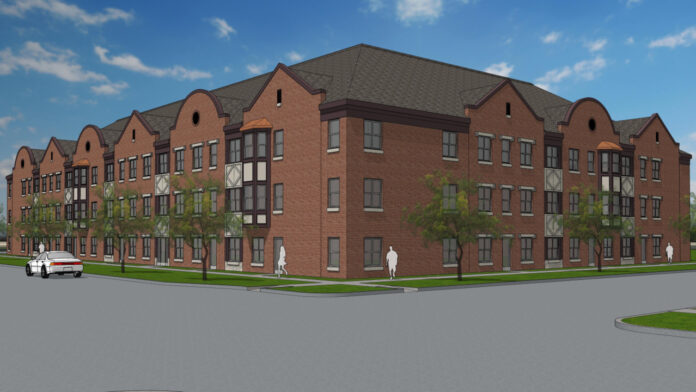 A new 44-unit affordable housing project could be on the horizon on the fringes of downtown Cedar Rapids.
At its regular meeting Oct. 11, the Cedar Rapids City Council approved setting a public hearing for Nov. 22 to establish an Urban Revitalization Area on the north half block of Seventh Avenue SE between Fifth and Sixth streets SE, an empty parking lot just southwest of the main Cedar Rapids Post Office.
The action was taken as part of the council's consent agenda and was approved without discussion.
The site is proposed for a four-story, 44-unit multifamily affordable housing project, according to council documents. The city authorized a development agreement with Cedar Rapids Brickstone, LLLP in September to develop the property.
As proposed, the development, with an $8.9 million minimum investment, would comprise 34 units for tenants at or below 60% of the region's Area Median Income (AMI) and another 10 units for tenants at or below 40% of the regional AMI.
Cedar Rapids Brickstone would also set aside 10% of the units for tenants who have aged out of foster care, according to city documents, and would enter into a supportive services agreement with Foundation 2 to provide on-site services for clients.
Under the development agreement, the city would provide a 10-year, 100% tax exemption of increased value generated by the project, followed by a 5-year, 100% reimbursement of tax increments.
Other development items on the council's consent agenda included:
Approval of a development agreement with SLE Iowa Building, LC, an entity of local developer Steve Emerson, for an historic preservation and adaptive reuse project on the upper floors of the Iowa Building at 221 Fourth Ave. SE. The project, with a minimum investment of $10.75 million, would include 43 total apartment units, including three efficiency units, 37 one-bedroom units and three two-bedroom units. The city has already authorized financial incentives for the project, including a 10-year, 100% reimbursement of increased property value, and the state has authorized Workforce Housing Tax Credit funds. Mr. Emerson is also seeking historic preservation tax credits for the project. As planned, construction on the project will begin in January 2023, with completion by July 2024.
Setting a public hearing Oct. 25 for a change of zoning hearing for a building at 1017 12th Ave. SW. The building, formerly owned by Alliant Energy, has been acquired by Linn County, which plans to use it for storage and as the metro area's annual cold weather overflow shelter. The rezoning, to Public-Institutional District, is necessary to allow the facility to operate as an emergency residential shelter.
Setting a public hearing Oct. 25 for a future land use amendment for properties at 2956, 3004, 3010 and 3016 Center Point Road NE and 3007 Oakland Road NE, as well as vacant land on Oakland Road. Red Door Properties is proposing a four-story multi-use residential development at 3010 Center Point Rd. NE.
Approval of development agreements for previously-announced projects, including an $8.1 million, 50,000-square-foot warehouse and distribution facility at 655 Capital Dr. SW, which will be leased by Hy-Vee for a bakery and distribution facility; a $10.9 million, 100,000-square-foot building at 10025 Atlantic Dr. SW, which will become the new headquarters for Worley Warehousing; and a $40 million, 150,000-square-foot building at 8400 Sixth St. SW, which will serve as Altorfer Inc.'s new headquarters, sales and service facility.