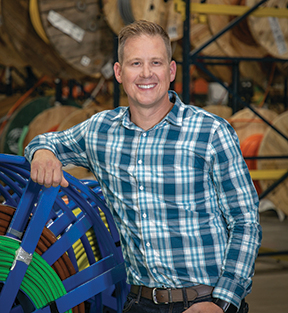 Operations Manager  |  Van Meter Inc.
AGE: 36
Best advice you ever received?
If you're not telling your own story, someone else will tell it for you.
What do you consider your biggest break so far?
I graduated with an accounting degree, however my first job out of college was working in operations at a manufacturing facility. The skills I learned then paved the way and allowed me to tap into my natural strengths, which I continue to use today.
What would most people be surprised to learn about you?
I completed an Ironman [triathlon] in 2011.
What's the biggest issue facing the Corridor, and why?
Our collective ability to attract and retain talent in our community.
If you had $1 million to give, what causes would you support?
The Iowa Children's Museum and Camp Courageous.
What are your passions outside of the workplace?
First and foremost — family. I have an amazing wife and three beautiful daughters I am extremely lucky to have in my life. I am passionate about fitness, balance and a thirst for knowledge.
What should people know about your generation in the workplace?
That we are hardworking, creative, solutions-focused and we like to make a difference.
What do you want to accomplish by the time you are 50?
I want to know that I raised three strong and independent women who are ready to take on anything this world will throw at them.