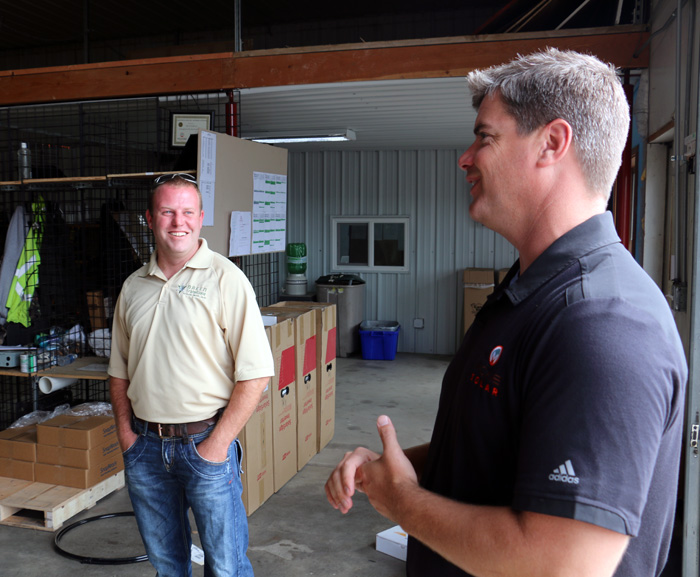 Brandon Yoder, founder and CEO of Green Transitions, and Jason Hall, founder of Moxie Solar, talk in Moxie's shop on Highway 965 in North Liberty.   PHOTO/CHASE CASTLE
By Chase Castle
chase@corridorbusiness.com
Moxie Solar in North Liberty has acquired Vinton-based solar installer Green Transitions, which comes as the growing solar energy company prepares to break into new markets both in and outside Iowa.
Jason Hall, founder of Moxie Solar, said the deal finalized late last month will reduce the company's procurement costs by an estimated 5 percent, and better position Moxie to expand its presence in Benton County.
Green Transitions Founder and CEO Brandon Yoder officially joined Moxie last week. In his new role, Mr. Yoder will focus on sales and development near Vinton, which is located about 30 miles northwest of Cedar Rapids.
"With this merger, it's going to free me up for what some of my real talents and passions are," Mr. Yoder told Moxie employees at an Oct. 3 meeting.
In addition to onboarding Mr. Yoder, Moxie welcomed a new market president to oversee the Quad Cities last week, and is poised to hire another market president in Des Moines later this year. The company is also on track to hire its own electrical engineer, who will become Moxie's third master electrician.
The addition of an electrical engineer will allow the company to design the more intricate systems required of custom – usually commercial – clients without relying on a third party, Mr. Hall said.
"He will give us some horsepower, from a design point of view, internally for solar projects."
Mr. Hall also expects the addition will give Moxie an edge over its two main competitors, Eagle Point Solar in Dubuque and CB Solar in Des Moines, neither of which he said have  in-house master electricians needed to obtain electrical permits and supervise installations. In total, Moxie has about 30 employees, including Mr. Yoder and one other carryover from Green Transitions.
Details of the acquisition were not disclosed. Green Transitions will continue to do business under its own name, which Mr. Hall said will capitalize on inroads made by Green Transitions dating back to the company's launch in 2009, when Mr. Yoder was finishing his undergraduate studies.
An alumnus of the University of Iowa's Bedell Entrepreneurship Learning Laboratory, Mr. Yoder began building his company within the incubator program, which is designed to foster undergraduate-level business ventures. Green Transitions also took cues from Mr. Yoder's father, James Yoder, a former head engineer with Clipper Windpower in Cedar Rapids.
"So I decided that I wanted to look at renewable energy, started looking at the market, and realized there really wasn't much competition or people in the industry that were doing small wind and small solar," Mr. Yoder recalled.
With fresh hires in place and new markets afoot, Moxie is unlikely to pursue out-of-state customers this year, but may begin that process as early as 2017.
"The opportunity with Brandon … really superseded some other opportunities that we had," Mr. Hall said. "So I think that in 2017, barring any unforeseen issues, there are no other hurdles to hit. We just really want to make certain we do well in merging these two operations."
The acquisition will also add a modest wind energy presence to Moxie's portfolio. State incentives for wind farms helped keep that sector afloat in Green Transitions' own portfolio before the bulk of those credits expired in 2011. Wind previously accounted for about 40 percent of Green Transitions' projects; since 2011, the sector has dwindled to about 2 percent.
"Since that went away, the state incentives have shifted toward solar, and the price of solar has decreased dramatically over the last five years as well," Mr. Yoder said. "The real value for customers at this point in time is in solar photovoltaics."
An annual report from the U.S. Department of Energy released last month said the cost of small-scale or distributed photovoltaic (PV) systems has dropped by 54 percent since 2008 – a decrease that reflects federal investment tax credits (ITC) and the support of states' net energy metering policies.
The report said those cost reductions have lead to "grid parity" in 20 states, including Iowa, where financing a residential solar energy system costs less than buying electricity from a customer's local utility.
It also noted that the value of solar projects is being recognized in new ways. Market research suggests, for example, that homebuyers were willing to pay $15,000 more for a house with an average-sized PV system. Prices of residential PV systems may drop an additional 16-33 percent by 2020.
Those trends have created a favorable climate for Moxie that has supported what Mr. Hall calls "ridiculous" levels of growth enjoyed by the solar sector. His company recorded a year-over-year revenue increase of nearly 110 percent last year, and between 2013-2015, increased revenues by approximately 536 percent. Next year, the company is projected to pass $8 million in revenue.
"That comes primarily from the cost of solar going down to make it more palatable for business owners and for homeowners," Mr. Hall said of the growth. "Prior to that, it was a little more tough sledding as far as actually trying to convince somebody to do it."
Following Congressional action last year, solar investment tax credits will extend the percentage of upfront credit for project costs through 2019. By 2022, credit for businesses will be reduced to 10 percent of the project's cost, while credit for residential projects will expire completely.
With further decreases projected for the cost of PV production, however, the loss of those incentives should still make solar cheaper for customers than it is presently.
"We'll see a 60 percent drop in the overall cost of solar over that period of time, whereas the incentives only add up to 45 percent today," Mr. Hall said. "So unless something unforeseen happens – which you always try to do your best to plan for – we are very bullish on solar and the future of what solar is going to do."