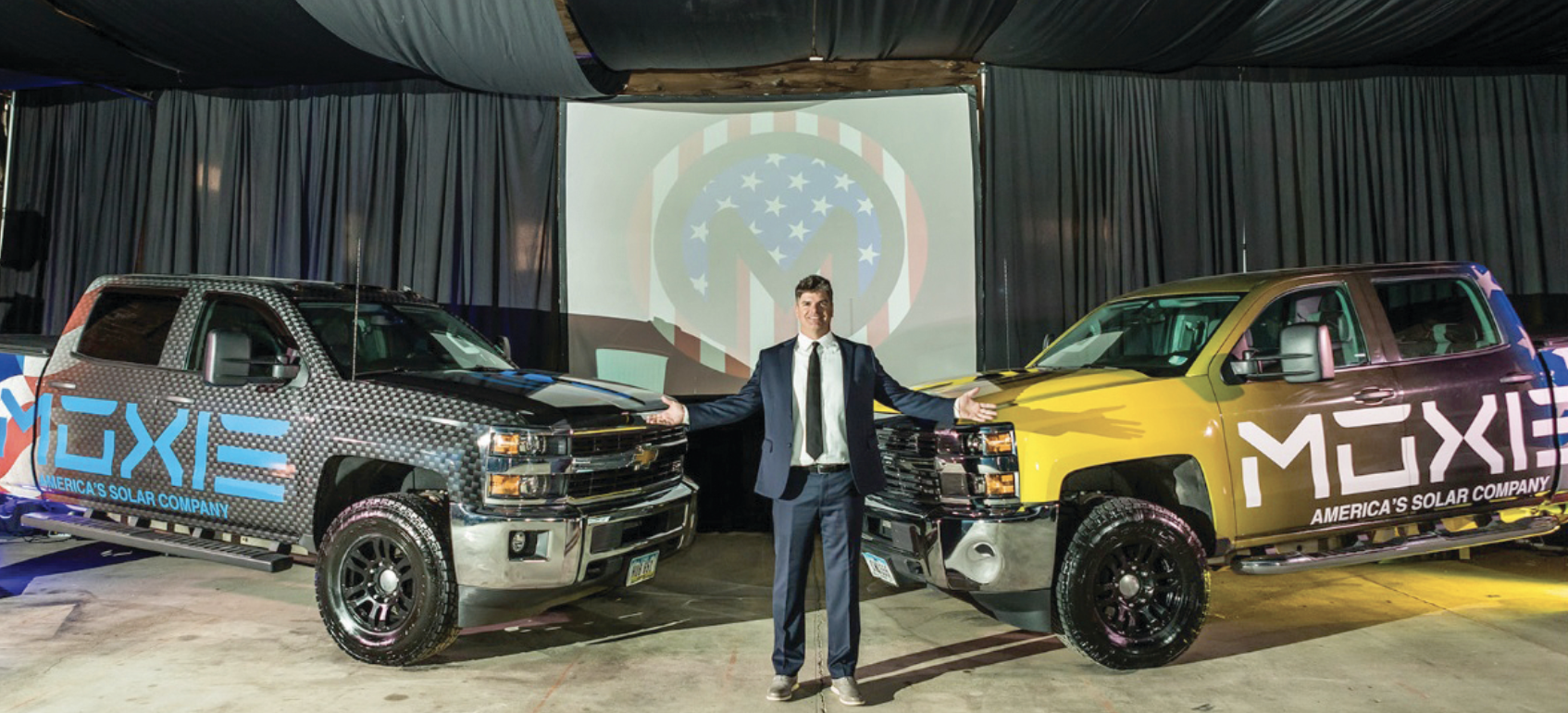 Moxie CEO Jason Hall stands among two freshly-wrapped trucks sporting the company's new logo and brand as part of an April 11 brand relaunch in Dixon, Illinois. "We want to be seen as a national provider," he told the CBJ. CREDIT MOXIE
By Dave DeWitte
dave@corridorbusiness.com
Corridor-based solar power installer Moxie Solar is setting its sights on the national market, with a new brand and logo to match.
"Moxie: America's Solar Company" was the new brand and tagline introduced April 11 at Moxie's Dixon, Illinois, operations center.
CEO Jason Hall said the company has been growing fast, and some things had to change.
"We're now in Denver, Austin, Cleveland, Chicago," Mr. Hall said. "It was our opinion that our [previous] logo wasn't going to play as well in those markets. We kind of look like the local solar installer. We want to be seen as a national provider."
Mr. Hall founded the company in North Liberty in 2008. In its original iteration as Greenhall Industries, the business helped Iowans become more energy efficient with services such as lighting upgrades that could be funded partly through utility rebates. When Iowa approved a solar income tax credit in 2012 to supplement a federal program, the business case for solar arrays became more appealing, and Greenhall Industries became Moxie, a solar power contractor.
Having come from the banking industry, Mr. Hall viewed the business opportunity from a financial and customer service perspective, noting that "lending and solar power are a lot alike – they're both commodities."
Moxie promoted its customer service philosophy in the phrase, "the solar experience," and did everything it could to take the trouble out of the process for consumers, including things like securing permits and capturing government incentives.
Business was slow at first. It took Moxie three years to get traction in some of its early markets. But in 2015, Moxie was named the CBJ's Fastest Growing Company, with a revenue increase of 536 percent from 2013-2015. It has since notched a second-place and a third-place finish in the annual competition, even though it gets harder to win on percentage gain as the company's base revenue grows.
Illinois passed its Future Energy Jobs Act in June 2017, opening up a range of opportunities and incentives for solar power in the state. Under the legislation, Illinois utilities will be required to source 25 percent of their energy from renewable sources by 2025, a requirement that is expected to spur up to 3,000 megawatts of solar power development in the state by 2030.
Moxie opened a new Illinois headquarters and distribution facility in downtown Dixon in April 2018, announcing plans to employ 50 within 36 months.
While Illinois is now the largest single state market for Moxie, the company has added locations in Indiana, Ohio, Texas, Colorado and Iowa, for a total of 10 offices. Its staff of 80 is growing at about two members per week, and will reach 100 in June.
Mr. Hall said the rebranding was a carefully thought-out process that took more than a year and will help position the company as a nationwide solar contractor. He said the tagline and logo were created to position the company not only beyond the local market, but beyond solar.
Battery storage is expected to be a big growth area, for example.
"We're one of the few Tesla Power certified installers," Mr. Hall said. The company did just a handful of battery storage systems last year, but as costs go down, it expects to do more.
The rebranding included new work uniforms for employees and new wraps for company trucks. Those feature an American flag motif in the rear and a bright yellow front with the Moxie logo on the hood.
The yellow is symbolic of moving into the sun, Mr. Hall said, and the American flag was incorporated as a symbol of unity.
Although there's political division over the best energy strategy for America, Mr. Hall believes most Americans agree that solar power is good for everybody. When he started Moxie, "it felt like a boutique business," he said. There were green power advocates who wanted solar power, and many people who were skeptical.
"The sentiment of the general population in the United States now is solar is not a bad thing, and people are willing to take a quote [on a solar installation]," Mr. Hall said. "Depending on what the deal is, we feel pretty good about being able to close [a sale] with the majority of people we talk to."
When federal tariffs on solar panels are removed, Mr. Hall expects the economics of solar power systems to continue to improve, as manufacturers become more efficient and develop systems that take less time to install.
The fight back home
In Moxie's home state of Iowa, a legislative fight is now brewing over House Study Bill 185, which would allow rate-regulated utilities to charge customers with solar power systems that interconnect with the grid roughly $330 per year. Opponents call it a "sunshine tax" that will stunt the growth of the state's solar industry, while backers such as MidAmerican Energy say it's a fairness issue designed to make solar users pay as much to maintain and improve grid infrastructure as other customers do.
Moxie Solar is unified in opposition to the bill with its trade association, Mr. Hall said, believing it is a "wholesale, no-holds-barred attack" against the solar industry. He says utilities are concerned about customers buying less power because they have their own solar power, but their big concern is that it will lead eventually to more solar customers adding battery storage and using no grid power at all.
"We'd be super-amazed and kind of embarrassed that Iowa, our home state, would pass that legislation," he said.
But one of the things the bill may underscore for companies like Moxie is the value of being in multiple state jurisdictions. Mr. Hall said Moxie can't get bogged down in fighting legislative battles on the state level.
"We would like to use as many weapons as possible to fight MidAmerican, but we want to be in 34 states, not just in Iowa," he noted.
An economic stimulus program called the Green New Deal has gained traction among some presidential candidates in the Democratic primary. Although it's become a partisan issue, Mr. Hall isn't about to sell the opportunity short. He believes Republicans and Democrats alike should be able to see the economic opportunity in becoming more energy independent while creating jobs and growing a new industry.
"The economy is not on fire – we're not in the middle of a golden age right now, so what's the next thing?" Mr. Hall said. "Maybe artificial intelligence and robots, but there's something much simpler and it's the green revolution."
Countries like China and India are already grasping the opportunity to invest in sustainable energy technologies, but Mr. Hall hopes to see the United States lead the world rather than retreating back to fossil fuels.
"We at Moxie are all in," he said. "We see the opportunity to be America's solar company. This is our time."