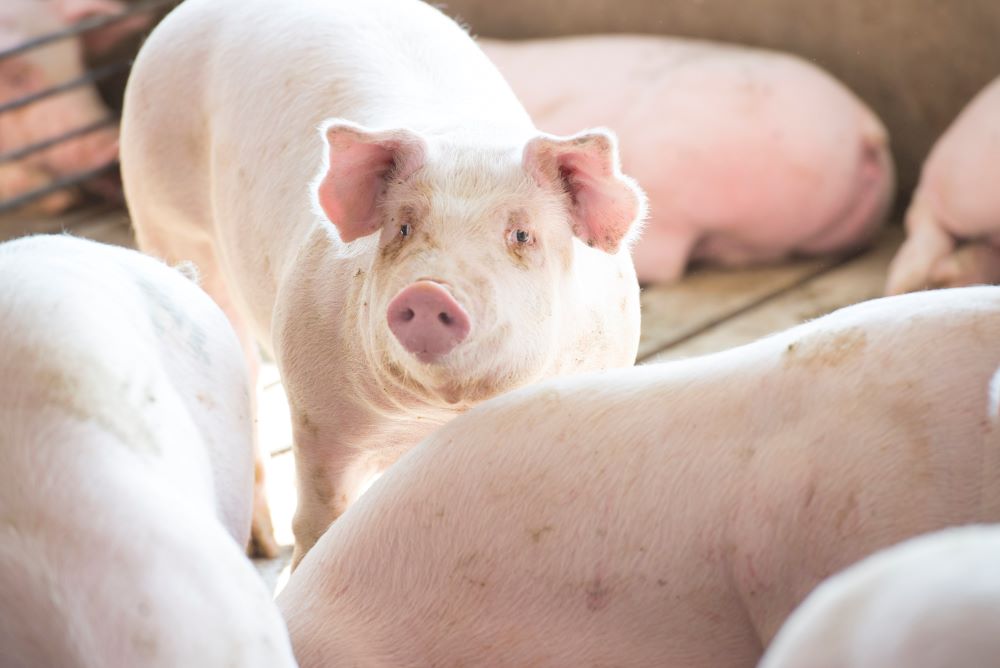 Producers are instituting intense biosecurity measures at Iowa farms to keep out the virus that causes African Swine Fever (ASF).  PHOTO IOWA PORK PRODUCERS
By Emery Styron
news@corridorbusiness.com
American pork shipments abroad, amounting to $6.48 billion in 2017, could be at risk if African Swine Fever (ASF) finds its way into U.S. hog herds from Europe and Asia, farmers and officials say.
"I have some concerns," said producer Trent Thiele, whose Howard County operation near the Minnesota state line is home to some of Iowa's more than 20 million hogs. "If it got into the United States, that could shut our exports right off."
The highly-contagious, hard-to-eradicate virus has caused the destruction of more than a million pigs in China, is "on the move in Russia and Poland," and could easily arrive in the United States via the livestock feed chain or an international traveler's clothes or shoes, said Iowa State University Extension Swine Specialist Thomas Miller – a fact that led to the cancellation of this year's World Pork Expo, which typically draws 20,000 people to the Iowa State Fairgrounds each June.
While no threat to human health, ASF kills 95 percent of infected hogs and could inflict untold economic pain on Iowa's pork producers, who would have to euthanize herds and decontaminate facilities if the virus shows up on their farms. Farmers like Mr. Thiele, producer groups, the U.S. Department of Agriculture and the Iowa Department of Agriculture and Land Stewardship (IDALS) are fighting to keep the disease away from U.S. shores and ramping up rapid-response plans in case it does arrive.
Focus on biosecurity, feed suppliers
Ten families count on paychecks from Mr. Thiele's wean-to-finish hog and row crop operation. "Our livelihoods depend on it," he said, noting that pork production also supports the economies of small farm communities across the state.
There are some 6,000 hog operations in Iowa, many of them family-owned, according to the Iowa Pork Producers Association.
Mr. Thiele said his operation has made "some changes in pig movement for biosecurity" to avert potential spread of the virus. "If one my sites breaks with it, I don't want to spread it around the rest of them. We drive different vehicles, wear different shoes or boots. If you came to visit my farm, I would supply clothes and boots for you. I can't afford to risk it."
Mr. Thiele is also consulting his veterinarian for recommendations on herd health and to see where his ingredients come from.
"We are supposed to quarantine any ingredient that does not come from the states for 60 days. The virus is supposed to be killed in that amount of time," he said.
Buchanan County farmer Al Wulfkuhle, who serves on the Iowa Pork Producers Foreign Animal Disease Task Force, acknowledged the "industry hasn't had the best track record of keeping FADs out of the country," citing porcine epidemic diarrhea virus (PEDV), porcine reproductive and respiratory syndrome virus (PRRSV) and swine flu (H1N1) outbreaks in recent years. "We're trying to do a better job with biosecurity and with surveillance."
The Iowa Pork Producers are working with the animal disease diagnostic lab at Iowa State University to get premise identification numbers on all submissions from producers for diagnosis and to get those submissions sent electronically, for the sake of speed and accuracy. If the lab diagnoses cases of ASF, premise IDs are critical for allowing state and federal animal health officials to instantly pinpoint the affected farm's location, notify owners and managers, and get the word out quickly to producers in the area to prevent spread of the disease.
"One of the challenges the poultry industry had [in the 2015 avian flu outbreak] was getting hold of people that own and manage the sites," Mr. Wulfkuhle said.
As for biosecurity at his own farrow-to-finish and row crop operation near Quasqueton, they've "spent a lot of money and made a lot of changes," Mr. Wulfkuhle said.
"All finisher sites have showers. Employees shower in and out. We wash all trucks that deliver to packing plants. We cover feed mill pits when we drive over to keep stuff from falling off tires. We go through a lot of disinfectant and there's lots of power washing time."
Government preparations in place
Emergency response planning is one of the topics covered in IDALS workshops held around the state to educate producers on the global spread of the disease, how to spot symptoms and preventive measures.
African Swine Fever, first described in the 1920s in Kenya, is hemorrhagic disease that affects certain hoofed animals such as wild and domestic pigs, according to the USDA.
The host for the virus is a large, soft-shelled tick carried by wild boars. That's not much of a threat in Iowa, but producers and animal health specialists are worried about the long-lived virus coming into the state via feed ingredient and supplements or on the clothing of international travelers, said ISU's swine specialist Thomas Miller.
Iowa Secretary of Agriculture Mike Naig recently named Dr. Jeff Kaisand as state veterinarian. Mr. Kaisand, who had held the position in an acting capacity, will lead the Department's Animal Industry Bureau, which oversees regulation of animal movement, exhibitions, importation and disease eradication/control, and works with partners to prevent, prepare and respond to foreign animal disease or natural disaster concerns.
Dr. Andrew Hennenfent, who had been serving as state public health veterinarian for the District of Columbia, was hired in November to head up IDALS emergency management planning. Funding for his position comes from $250,000 appropriated by the Iowa Legislature last year to support preparations for a foreign animal disease outbreak.
In a news release, Mr. Naig also commended the USDA for stepping up efforts to prevent ASF from entering the United States.
"The effects of a foreign animal disease outbreak here in Iowa would be devastating for our producers," said Mr. Naig. "I appreciate USDA's efforts to take preventative measures and for its continued collaboration with our department and the industry to stop an outbreak from coming ashore."
Measures include 60 additional Customs and Border beagle teams and expanded arrival screenings at key U.S. commercial sea and airports, increased inspections and enforcement of garbage feeding facilities, heightened producer awareness and self-evaluations of on-farm biosecurity procedures. The USDA is also working to develop accurate and reliable testing procedures to screen for the virus in grains, feeds, additives and swine oral fluid samples, and taking a coordinated approach with Canada, Mexico and the U.S. pork industry leadership.   CBJ