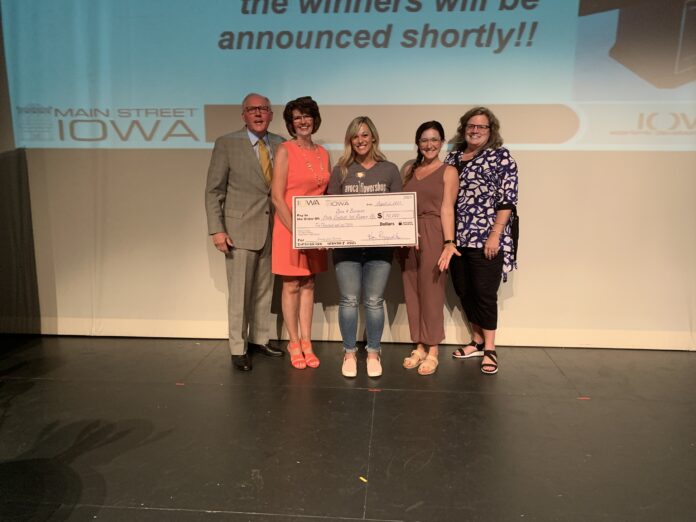 Bauman and Company, a 112-year-old clothing store in Mount Vernon, topped four competitors in a pitch contest held in Iowa City on Aug. 2. Five businesses from Main Street Iowa communities across the state competed in the final round of the Open 4 Business contest, which began in April with 17 applicants. The Grill Works in Marion placed third in the competition.
"These small business owners have dared to dream big at a challenging time, and that is a testament to the entrepreneurial spirit and strength of small businesses and Main Street communities across Iowa," said Debi Durham, executive director of the Iowa Economic Development Authority (IEDA) and Iowa Finance Authority. 
Bauman and Company owners Olivia and Josh Randall will receive a $20,000 grant, which they plan to use to convert the store's basement into a full shoe department, step up marketing efforts, and work with local chiropractors and physical therapists to help fit people with shoes. 
Runner-up Avoca Flower Shop will receive a $10,000 grant and third-place winner The Grill Works in Marion will receive a $5,000 grant. All three businesses are located within a designated Main Street district. Each semi-finalist winner also was awarded $8,000. 
Lisa and Brian Gilliat, who have been running The Grill Works for 11 years, plan to expand their outdoor kitchen with the money as well as  expand their website to include online sales of all products, providing the opportunity to grow nationwide. They also have dreams of purchasing a mobile showroom to allow the business to appear at events and visit small towns across the state. 
This is the seventh year of the Open 4 Business contest, which is open to businesses in the 55 Main Street Iowa districts across the state. The grants are administered through IEDA's Iowa Downtown Resource Center and Main Street Iowa programs. 
For more information about the Main Street Iowa Open 4 Business program, contact Robin Bostrom, business specialist, Main Street Iowa, at (515) 348-6176  or robin.bostrom@iowaeda.com.