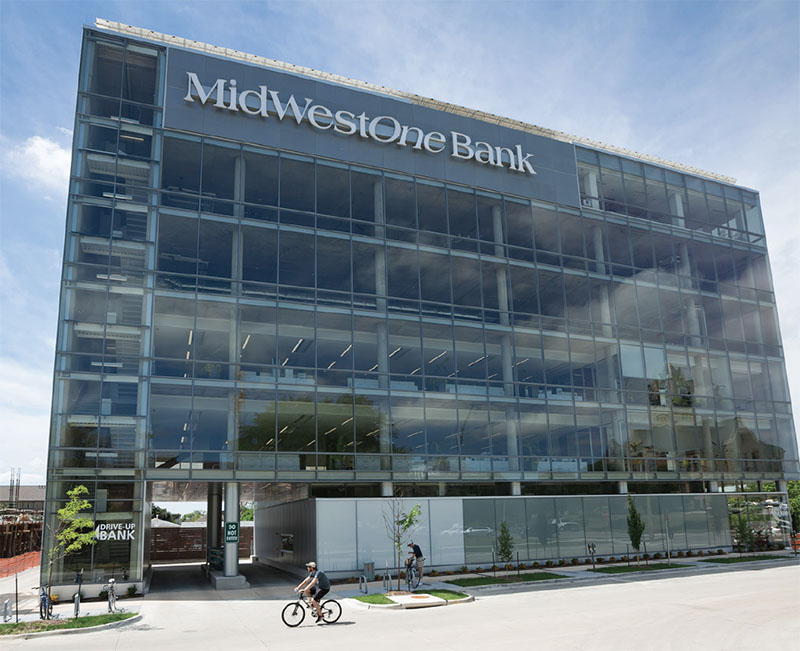 MidWestOne's six-story home mortgage service center at 500 S. Clinton St. in Iowa City, shown in 2016. PHOTO BILL ADAMS
By Katharine Carlon
katharine@corridorbusiness.com
MidWestOne Financial Group's $170.3 million acquisition of Dubuque-based ATBancorp will open the door to new markets, bank officials say, while also solidifying the Iowa City-based institution's position as the state's second largest state-chartered bank.
"In this industry, bigger doesn't mean better, but scale matters," said President and CEO Charles Funk, who pointed to growth opportunities in Des Moines and Dubuque, where MidWestOne currently has no presence, as well as an enhanced ability to meet consumers' growing tech demands as benefits of the merger.
"This is a big deal for us … and a good thing for shareholders," he added, calling the acquisition "the largest Iowa banking deal since Brenton Banks sold to Wells Fargo back in 2000" in a $264.5 million all-stock transaction.
Mr. Funk noted wryly that he was an officer and Des Moines-area president of Brenton at the time of that purchase: "Now I've been on both sides, which I find to be very ironic."
MidWestOne, with about $3.3 billion in assets, announced its purchase of ATBancorp, the parent company of American Trust and Savings Bank, on Aug. 22, in a roughly 79 percent stock, 21 percent cash deal expected to close in the first quarter of 2019. The merger will create an Iowa-based bank with $4.7 billion in assets, placing it between leader Bankers Trust of Des Moines and Hills Bank & Trust. It will have 60 branches across the upper Midwest, Florida and Colorado.
MidWestOne said it expects the transaction to be more than 15 percent accretive to its earnings per share in 2019 and 2020, excluding one-time transaction expenses, and believes it should take less than three years to earn back any dilution to the company's tangible book value.
ATBancorp – nearly 100 percent owned by the Schrup family, who will have about a 25 percent stake in the merged company – has five branches in southwestern Wisconsin and 12 in Iowa, including its Dubuque headquarters and two branches in Des Moines.
With just two offices and $150 million in loans, Mr. Funk said American Trust had been a "very, very small player" in the competitive Des Moines market.
"There are some great banks in Des Moines, and we're under no illusions we're going to take Des Moines by storm," he said. "But I do think we have a good staff [there] and the potential to grow incrementally over the years."
Mr. Funk, by contrast, called the Dubuque operation "the crown jewel" of the franchise, touting its No. 2 market share in the area and excellent reputation as a community bank. In recent years, American Trust has expanded westward from Dubuque and into the rural communities of Dyersville and Farley, building a strong ag portfolio along the way.
"If you look at MidWestOne, our company is actually four family-owned banks," he told the CBJ, citing its beginnings in 1934 as Iowa State Bank & Trust Company. ISB Holdings acquired MidWestOne Financial Group in 2008, taking the company name, and most recently purchased Central Bancshares of Minnesota in 2015 for $134 million in cash and stock.
"I think the common theme is these are all community banks," Mr. Funk said. "If you look at American Trust, they do business the way we do business, and I think it's a natural fit."
What's more, he said, "Dubuque is one of finest cities in our state. If you've been to Dubuque recently, you realize what a vibrant community it is, and, at 90 miles from Iowa City, one would think there is not a lot of merger integration risk."
Though there will likely be some redundancies at the Dubuque headquarters, Mr. Funk said he expected there to be few job cuts elsewhere.
"There are always ripples in the water in transactions like these, but I expect us to come out the other side a better company," he said. "Something that sometimes gets lost in transactions like this is that when we're growing, we can provide more opportunities … we can retain more of our top employees as well as offer more varied career paths."
John Sorensen, president and CEO of the Iowa Bankers Association, said he believed the merger was good for the region and good for Iowa banking.
"MidWestOne is a very well-run banking company that's been looking for opportunities for market diversity in terms of asset base and the communities they serve," Mr. Sorensen said. "Here they found a bank with a culture similar to theirs with a focus on community and providing the best possible service to their customers. It's good for Iowa and the region that the bank is growing and will continue to be headquartered in state."
In addition to growing its footprint statewide and into western Wisconsin, MidWestOne officials said the deal opens new opportunities, including increasing noninterest income, the addition of $1.1 billion in trust assets, and a greater ability to invest in technology.
"We've been talking for a decade about the need to improve noninterest income," Mr. Funk said. "And both of our prior deals that we've announced, we've acquired banks that were pretty much driven by net interest income. That is certainly not the case with American Trust, which has a very, very strong noninterest component."
Mr. Funk also called the opportunity to triple its trust department a "big deal," noting it would do so while bringing over fewer than 10 employees, giving the company "enormous earnings leverage."
Increasing profitability is vital, Mr. Funk said, not only to increase value to shareholders, but to offset the technology expenses that come with serving consumers in an interconnected world.
"Tech continues to be pressing need in our industry," he said. "Right now, the technology leaders are the largest banks. Look at JPMorgan Chase. Their technology is top of line, at the extreme end of the scale. Obviously, we can't do what they do, but to the extent we're a little bit larger, more efficient organization, that's more we can spend on tech, which benefits our customers."
Mr. Sorensen said the consumer market has come to expect top-flight mobile and online banking services, "but you need really significant investment in technology to do so and that drives community banks to look for ways to increase their scale."
Mr. Funk told investors last month that MidWestOne could consider future small acquisitions of $500 million or less for other "deposit-rich franchises" within its footprint.
"There are opportunities currently out there," he said. "But as I said on the call, the chances of us pursuing anything too seriously over the next few months is probably not great."