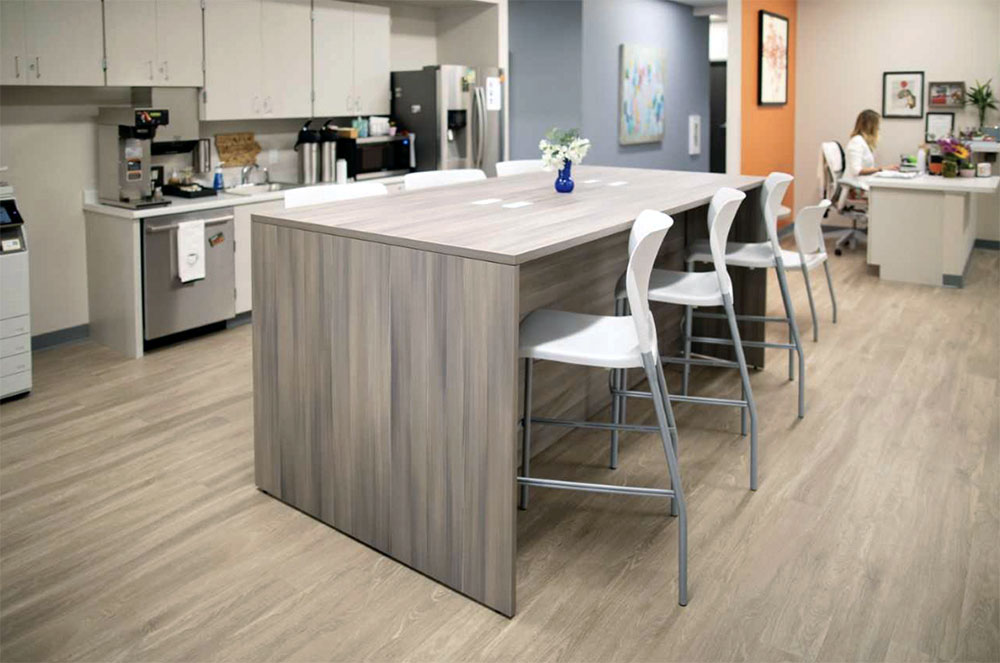 A drop-in workspace next to the coffee counter at Office Evolution in Cedar Rapids. PHOTO SARAH BANOWETZ

By Dave DeWitte
dave@corridorbusiness.com
A new office rental and coworking space that opened this spring in Cedar Rapids' NewBo district is hoping to help fill the health insurance affordability gap for en­trepreneurs and small businesses.
Office Evolution plans to offer Afford­able Care Act-compliant group health in­surance plans and other benefit programs to its clients next month through human resources consultancy TriNet.
TriNet is a Professional Employer Orga­nization (PEO), which provides outsourced HR consulting services such as payroll, em­ployee benefits and even regulatory compli­ance to businesses. It's able to offer compet­itive group rates because it has the buying power of a large employee group of about 30,000, according to Office Evolution fran­chisees Tom and Melissa Miller.
Even without the large group, premi­ums on group insurance tend to be low­er than individual policies. The major provider of ACA-compliant individual health plans in Iowa, Medica, raised its rates by an average of 57 percent for 2018. That has left many individuals and small businesses who have enough in­come that they don't qualify for ACA subsi­dies looking for alternatives.
Mr. Mill­er said he ex­pects health insurance and other benefits through TriNet to bring more office renters and co-workers to Office Evo­lution, which opened in April at The Depot, a mixed-use de­velopment east of NewBo City Market. However, even cli­ents who only sign up for mailing address service and don't work onsite will be eligi­ble, he said.
"Buy a post office box for $90 a month and save thousands on health insurance – there's a lot of upside," Mr. Miller said. He expects the program to appeal to individu­als in various occupations that lack access to group health insurance, including farm­ers and some real estate professionals.
TriNet works with eight different health insurance providers. A Skype presentation by TriNet covering the insurance offerings will be part of a happy hour event at Office Evolution scheduled for 4-6 p.m. on Sept. 6.
Already licensed through the states where it provides services, TriNet an­nounced in July that it has received IRS certification as a Certified PEO, meaning it meets federal standards that include operational, financial and bonding re­quirements. The company offers a variety of other HR benefits and services to busi­nesses through its relationship with Office Evolution, the Millers said. They include payroll services, technology services, 401(k) retirement plans, dental insurance and vision insurance, and employee assis­tance programs.
Many small businesses and individual proprietors who can't afford individual health insurance are also looking forward to the availability of a new "health benefit plan" to be offered later this year by the Iowa Farm Bureau and administered by Wellmark Blue Cross-Blue Shield, accord­ing to Tom Hoffman, executive vice presi­dent of marketing for Benefit Solutions in Cedar Rapids.
Mr. Hoffman expects the Farm Bu­reau's plan to be significantly more af­fordable than ACA-compliant individu­al plans for those who don't qualify for subsidies because of their income, and to be widely available. The plan is consid­ered a contract between the Farm Bureau and its members, and won't be subject to ACA restrictions that prevent rejec­tion of applicants because of pre-existing conditions. Individuals may not be able to qualify if they are eligible for group health insurance through an employer – even though it may be significantly more expensive – or because they qualify for Medicare or Medicaid.
Interest in association health plans is high among those who don't have afford­able group insurance, Mr. Hoffman said, but potential applicants will have to wait for details on eligibility, coverages, costs and other issues.
New federal rules are expected to be issued soon for two other types of plans that will help fill the affordability gap in ACA-compliant individual plans, ac­cording to Chance McElhaney, commu­nications director for the Iowa Insurance Commissioner's office. They are Multiple Employer Welfare Arrangements (MEWAs) and Association Health Plans (AHPs).
MEWA consist of groups of employ­ers pooling their contributions into a self-contributing benefits plan for their employees, improving the economics and accessibility of health insurance. AHPs are group health insurance plans created by associations to pool the purchasing power of their members in the insurance market in order to boost affordability.
Because of rising individual rates on the ACA market, "24,000 Iowans just left the market last year," Mr. McElhaney said. "These are intended to provide a place for those folks priced out of the ACA market."
When seeking insurance, consumers should always read the documents care­fully, Mr. McElhaney noted, taking time to understand what their risks are and what coverages they are getting for their money.