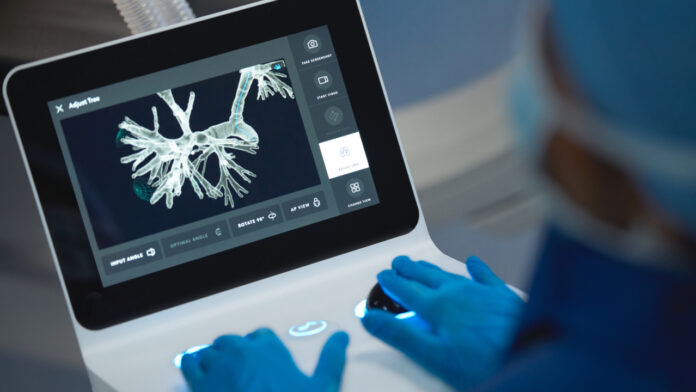 Mercy Medical Center in Cedar Rapids has invested in advanced cancer care technology with a new, minimally invasive, Ion robotic-assisted bronchoscopy system.
In a news release, Mercy Medical Center officials said that patients will benefit from the new technology by receiving diagnosis and additional preoperative testing on the same day, rather than having biopsies first and additional procedures at a later date. This allows for comprehensive diagnosis during one procedure.
Mercy pulmonologists Amal El-Bakush, MD, and Ali Saeed, MD, perform the procedures with the Ion system in Mercy's bronchoscopy lab.
"We are pleased to be able to offer the Ion system to our patients," Mr. El-Bakush said. "Our goal is to reduce delays in the diagnosis and treatment of lung cancer and to enhance the patient experience by decreasing anxiety and unnecessary waiting time. By utilizing this new technology, patients get answers and we can address treatment sooner."
The Ion endoluminal system is also designed to address a challenging aspect of taking a lung biopsy by enabling physicians to obtain tissue samples from deep within the lung. The Ion system features an ultra-thin catheter that allows precise navigation far into the peripheral lung, as compared to manual techniques.
During bronchoscopy with Ion, a physician uses the controller to navigate to the lung cancer mass along a digitally planned path. The catheter can articulate 180 degrees in any direction to pass through small, difficult-to-navigate airways and around tight bends to reach all 18 segments of the lung.
"With this new system, the procedure allows for more precision, more reach, more stability – and more answers sooner," Mr. Saeed said. "It allows us to provide even better care to our patients by effectively addressing several challenging aspects of lung biopsy."
Ion is made by Intuitive, the company that makes the da Vinci surgical system. Mr. Saeed said that Mercy's investment in the Ion system complements the hospital's established, robotic-assisted surgical program.
For more information, visit www.mercycare.org/lung.