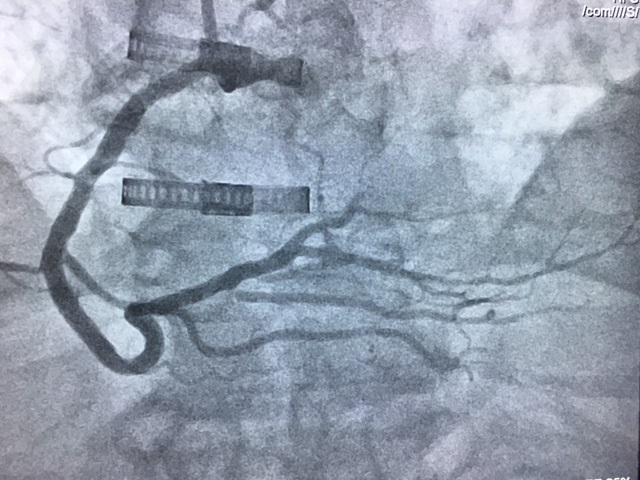 Mercy Medical Center in Cedar Rapids is the first hospital in Iowa to utilize a new stent system to treat patients with large coronary arteries.
The new Resolute Onyx Drug-Eluting Stent system from Medtronic received FDA approval in early May.  A lab in California was the first to deploy the new technology, while Mercy completed its first deployment last week.
The new drug-eluting stents expand treatment options for patients with large coronary vessels by offering a larger size than others currently available. The design also provides better visibility for placement as well as appropriate drug concentration. The stents are the first of their kind available in 4.5 and 5.0 millimeter sizes.
Cardiologist Ryan Hollenbeck and the Mercy cardiac cath lab team utilized the new technology last week in a patient with complex coronary artery disease. Two Onyx stents were successfully placed.
"We are excited about the results of this procedure and the future of interventional cardiology at Mercy Medical Center," Dr. Hollenbeck stated in a press release. "Our initial experience with the new stent system has been exceptional and further delivers on our promise to provide our patients with expertise and innovations to address their clinical needs."
The Resolute Onyx Drug-Eluting Stent system is available for use in the United States, as well as in Europe.