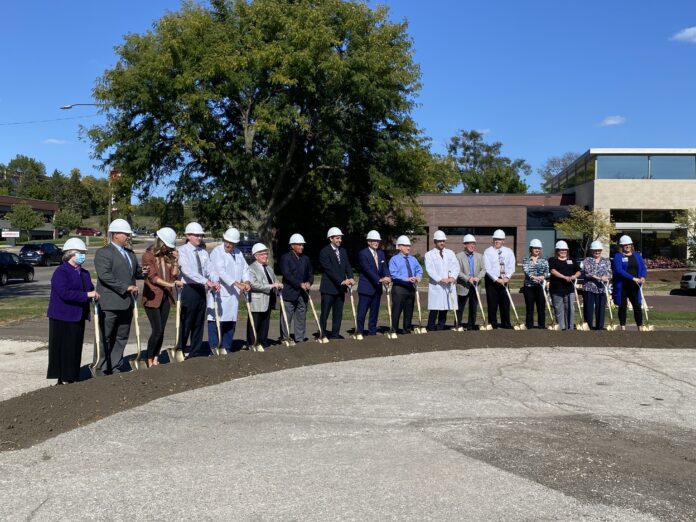 Mercy Cedar Rapids broke ground Thursday on a new facility dedicated to heart and vascular care at the corner of Ninth Street and Eighth Avenue  SE, directly across the street from Mercy's Lundy Pavilion. The Jewel and Jim Plumb Heart Center at Mercy will bring heart specialists and coordinated heart services within a single center.
The facility, scheduled to open in mid-2023, will offer integrated, patient-centered care and state-of-the-art-technology, according to a press release. This center will be able to provide an increasing number of heart-focused specialty clinics designed to provide education, ongoing assessments and individual care plans.
At the groundbreaking event, Mercy leadership said The Heart Center at Mercy will offer patients access to advanced technologies and treatments, as well as feature patient conveniences along the continuum of care – from prevention and screening to diagnosis, treatment and rehabilitation.
Funding for the facility was made possible through an estate gift from the late Jewel and Jim Plumb of Cedar Rapids. This gift is one of the largest donations in the hospital's 121-year-history.
"The gift is transformational," said Mercy President and CEO Tim Charles in a press release. "It enables Mercy to start the next chapter in our heart program by advancing the level of heart care available in our community. I think Jewel and Jim would be happy to see the influence their generosity is having on our community and the benefits it will provide to its citizens."
Heart Center at Mercy is the next step in offering top heart care to the Corridor. According to the hospital, Mercy treats more patients in Linn County for heart care than any other hospital. Additionally, Mercy is ranked as a Top 50 Cardiovascular Hospital by Fortune and IBM Watson Health. It also has earned the three-star rating – the highest recognition for open heart surgery by The Society of Thoracic Surgeons.
The hospital has added to their team of specialists as well. Dr. Velu Balasubramanian joins Mercy as a cardiothoracic and vascular surgeon and Dr. C.C. Lee joins as the program's second open heart surgeon.
The new facility's mission is to enhance access to screening and early detection of heart conditions, which will provide an opportunity for intervention earlier and decreasing the number of patients with unaddressed severe cardiac and vascular illness.
As well as focusing on heart issues, other features include community education space for CPR and AED training, a large walking track for cardiac rehabilitation and potential for electrophysiology – provided the hospital chooses to expand its building vertically.
Ryan Companies US, Inc., will design and build The Heart Center at Mercy. Construction on the project is scheduled to begin this fall.