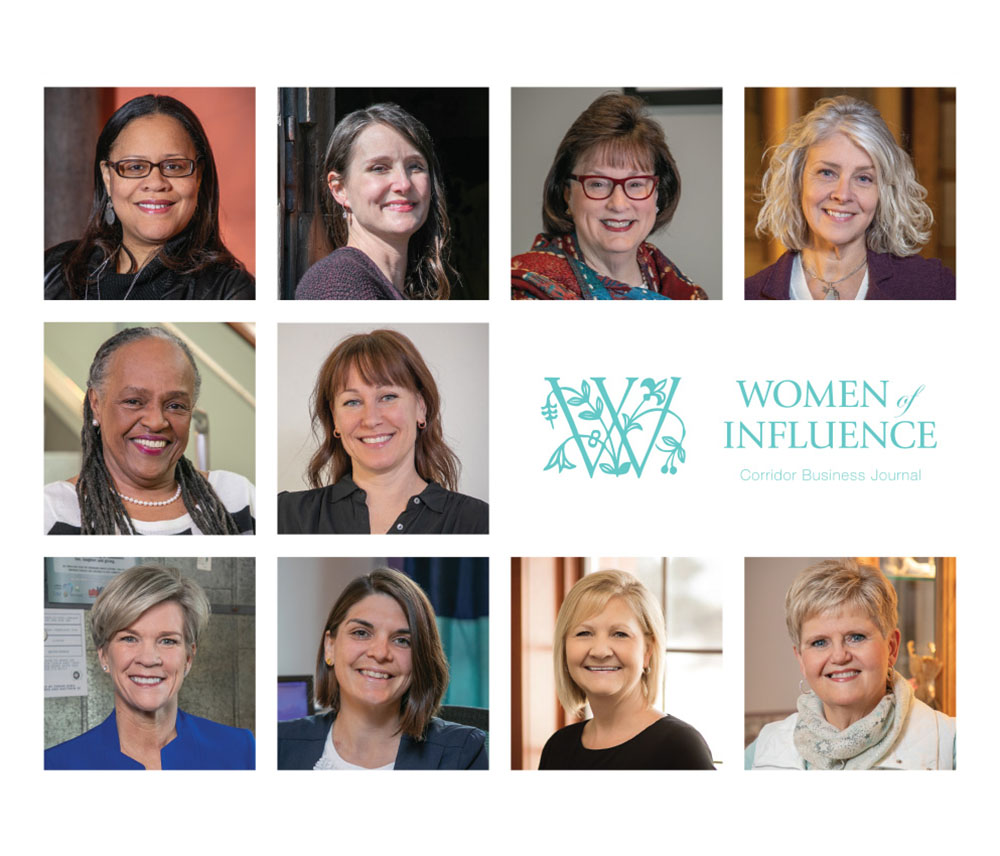 As the Corridor Business Journal prepped in January and February for our 16th edition of our Women of Influence awards – the first award ever given by the CBJ, and still one of our most anticipated events of the year – we, like many other businesses, assumed it would be another normal, beautiful spring.
Around March 16, when the decision was being made to close the CBJ's offices due to the local approach of the COVID-19 pandemic, it became clear spring would be anything but.
It has frankly been a blur for the CBJ since then, filled with phone interviews, ad-hoc process tweaks and Zoom meetings, but it was important for us to continue with the publication of this special issue, precisely because of what our Women of Influence represent.
Recipients of the Women of Influence award have always embodied the traits that we look for in our leaders and role models: stability, strength, empathy and wisdom. The members of this year's class, selected by last year's honorees from more than 50 nominations, are no different, offering vivid examples of the strength and courage we're all hoping to conjure in the uncertain weeks and months ahead.
You can see it in Kelly Teeselink's transformation from novice runner to the state's leading ultramarathoner or Judge Faye Hoover's efforts to help drug offenders transform themselves. You can find it in the dedicated service of Nancy Humbles, Libby Gotschall Slappey and Millie Youngquist, the soul-searching advice of Patti Seda, and the entrepreneurial drive of Leslie Nolte.
You'll also see it in our profile of Megan Lehman, our first-ever Emerging Woman of Influence. This award was created to highlight a promising emerging leader in the community, and Ms. Lehman is just the young person we had in mind. A rising star at MidWestOne and active volunteer with Big Brothers Big Sisters and Grace Mission Church in North Liberty, she proves that you don't need to run an organization or chair a board to leave your mark.
Taken as a whole, their stories remind us that the root of influence comes from connection and service to others. At this challenging time in our history, we hope you take their lessons to heart and find your own strength to make a difference, however big or small that may be.
– Editor Adam Moore
Read the free digital edition here.
2020's Honorees
LaNisha Cassell
African American Museum of Iowa
Brydie Criswell
The Good Earth
Libby Gotschall Slappey
Kids First Law Center
Fae Hoover
Iowa's Sixth Judicial District
Nancy Humbles
CRCSD Board of Education
Leslie Nolte
Nolte Academy
Patti Seda
Seda Consulting
Kelly Teeselink
Girls on the Run of Eastern Iowa
Debra Worm
F&M Bank
Millie Youngquist
Community Foundation of Washington County
Emerging Woman of Influence:
Megan Lehman
MidWestOne Bank
Join us May 21 for the tentatively rescheduled Women of Influence awards dinner, when each of this year's honorees will have the chance to share their stories. Find more information and register at corridorbusiness.com/events.