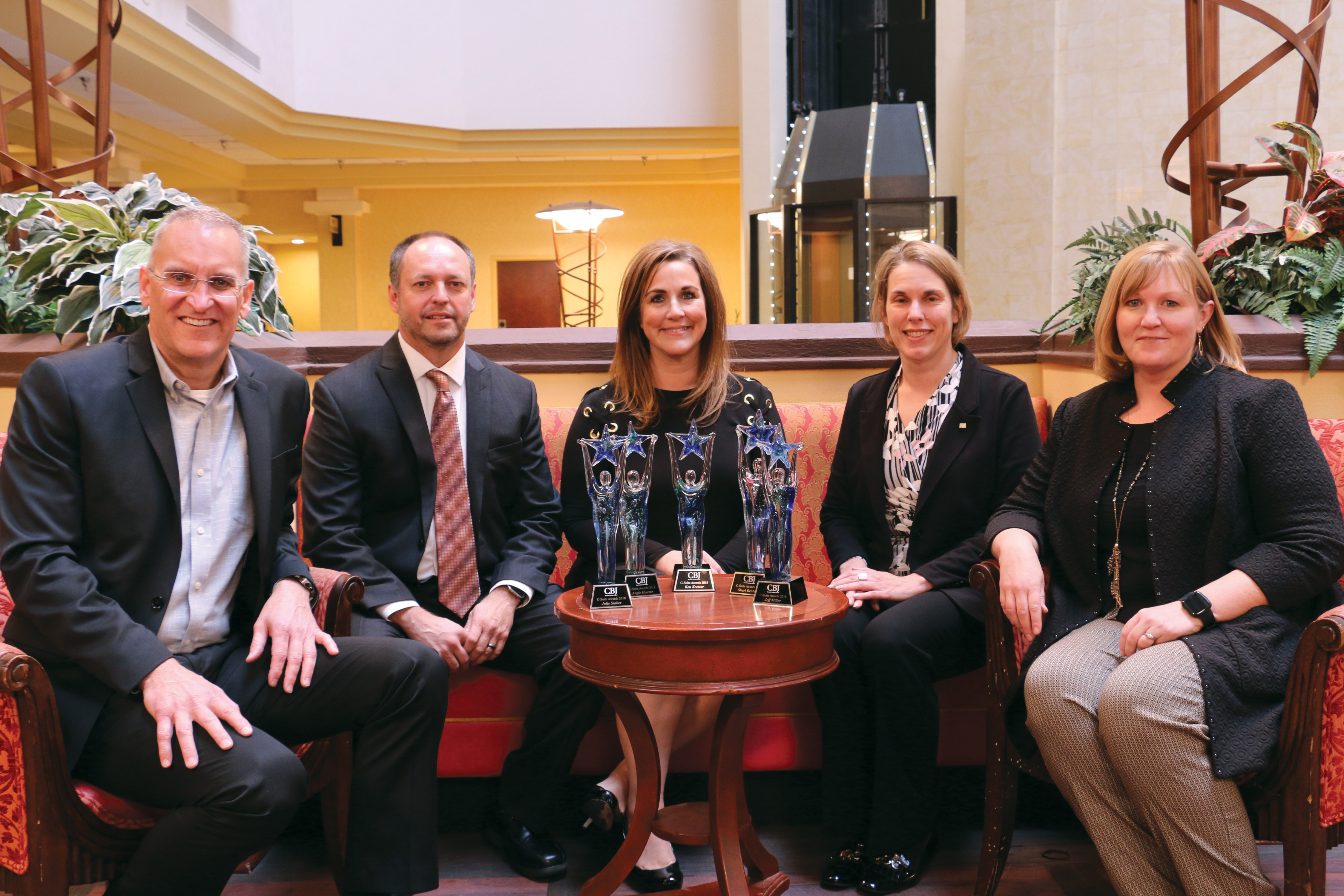 This year's C-Suite Award honorees pose for a photo following a Nov. 7 luncheon at the Cedar Rapids Marriott. Shown from left are Jeff Miller of Van Meter Inc., Ken Kremer of Involta, Julie Staker of Coe College, Shari DeMaris of Hills Bank & Trust and Angie Hoover of CarePro Health Services. PHOTO ADAM MOORE
By Dave DeWitte
dave@corridorbusiness.com
They take point on complex projects, delicate tasks and strategic initiatives, all the while building strong teams, volunteering in the community and serving as role models.
Those were some of the common bonds among the five honorees of the CBJ's C-Suite Awards, who were recognized at a Nov. 7 luncheon at the Cedar Rapids Marriott, presented by UFG Insurance with support from Marco and The Overture Group.
The event was a celebration of leadership, as each of the five winners discussed the strong team members who back them up, the family and friends who guided them, and advice that has shaped their careers.
Shari DeMaris, senior vice president and chief financial officer of Hills Bank & Trust, was honored for her leadership on projects big and small, from implementing a new Enterprise Risk Management System to straightening out customer service wrinkles in a new shareholder dividend reinvestment plan. She said having a strong, supportive team made her achievements possible.
"Any success I have is due to their hard work and dedication," Ms. DeMaris said in her acceptance remarks.
Ken Kremer, chief operating officer of Involta, has
led his company's expansion into eight cities in five different states, overseeing site preparation and development of five data cen
ters. He also
 spearheaded 
the company's emergency response to save its first data center from the Iowa floods of 2008, and guided the company's expansion into new areas, such as managed and cybersecurity services.
One of the first lessons Mr. Kremer learned in business was to find the smart people who knew what he didn't.
"It's all about the people who really help you achieve your own goals," he said, joking that he was going to personally thank all 216 Involta employees from the podium.
The CBJ this year re-invented last year's CFO of the Year Awards as the C-Suite Awards, in order to help recognize even more of the executives who perform amazingly behind the scenes. CBJ Publisher John Lohman told the more than 100 people in attendance that he hopes the awards will help further develop a strong leadership culture in the Corridor.
Casey Prince, marketing and communications manager for UFG Insurance, who helped give out the first three awards of the day, concurred.
"We truly value the level of talent and leadership in our own C-suite and what a great opportunity to go out and recognize the other talent in our region's companies," Mr. Prince said.
Some of the most insightful moments of the awards ceremony came from listening to winners describe what inspires them.
"Coffee!" joked Julie Staker, vice president for admission and marketing at Coe College.
"When our people go above and be- yond what they think they're capable of doing," said Jeff Miller, chief technology and distribution officer for Van Meter Inc.
Mr. Miller offered simple advice for leaders who want to succeed.
"Celebrate the good stuff. Own up to the bad stuff. Make sure you just learn and move on and get better."
2018's C-Suite Awards honorees:
Shari DeMaris
Angie Hoover
Ken Kremer
Jeff Miller
Julie Staker