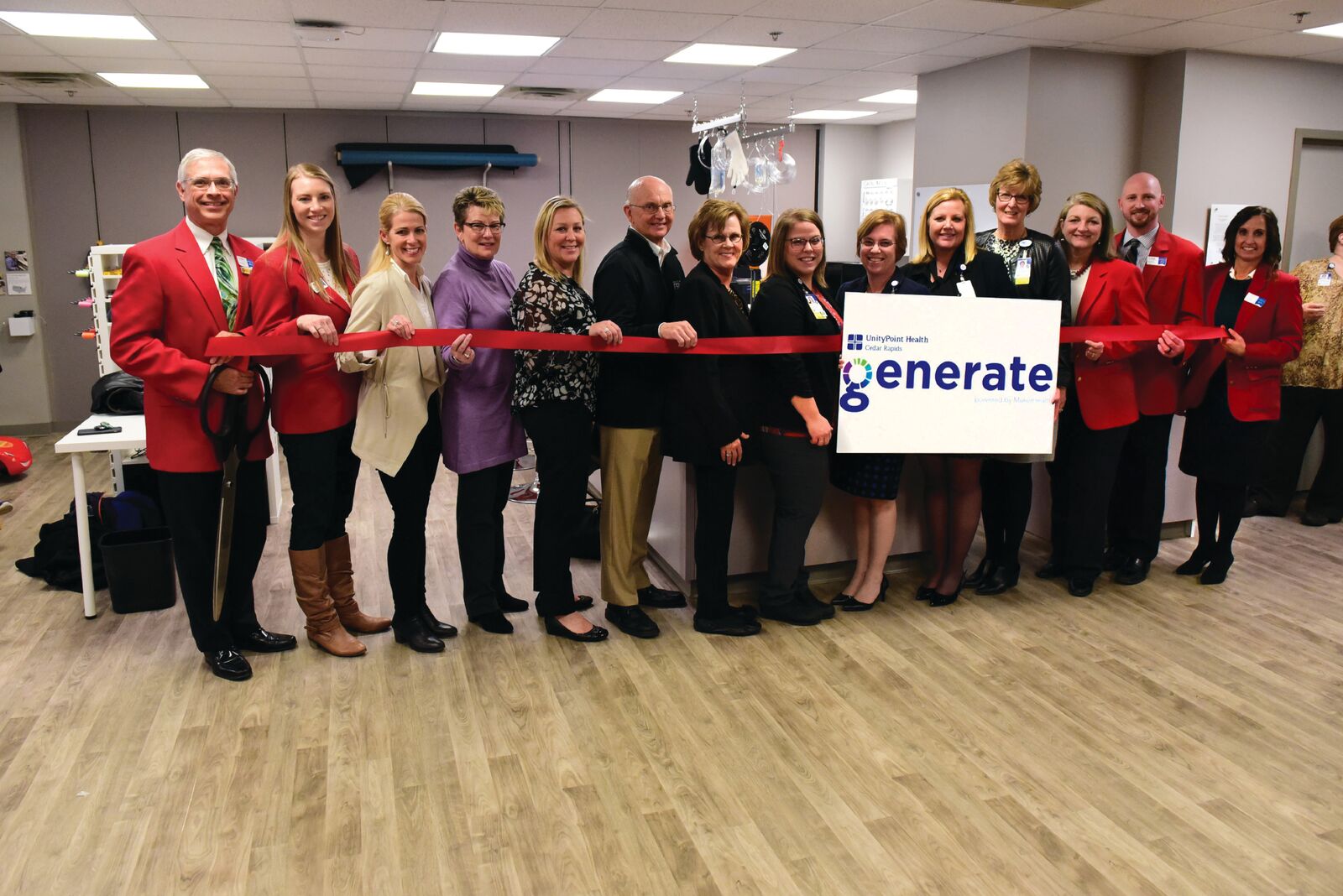 UnityPoint leaders and Cedar Rapids Metro Economic Alliance ambassadors help cut the ribbon on generate @ St. Luke's on Nov. 21. PHOTO UNITYPOINT HEALTH
By Dave DeWitte
dave@corridorbusiness.com
UnityPoint Health – Cedar Rapids has literally thrown open the door to innovation with a new "makerspace" opening this month for hospital clinicians and patients to create health care devices.
The makerspace, called generate @ St. Luke's, is packed with tools from drills and screwdrivers to a 3-D printer and laser cutter. Hospital employees and patients who have an idea for a device to improve their care can use the facility and its materials – with help from a full-time product design engineer – to learn fabrication techniques and build them, at no charge.
Hospital Nursing Research and Innovation Coordinator Rose Hedges has been shepherding the project from its inception as a series of pop-up makerspaces to a permanent makerspace in partnership with MakerHealth, a Boston-based pioneer in hospital makerspaces.
A culture of innovation "is not assumed" in a hospital, Ms. Hedges said, but that's gradually becoming the case since she worked with MakerHealth and Mount Mercy University to host the first Innovation Day as a continuing education event for nurses in 2017.
After that event attracted about 30 nurses, Carmen Kleinsmith, chief nurse executive at the hospital, helped secure leadership buy-in and resources for a series of seven pop-up maker events, and momentum grew.
The typical pop-up session might include a challenge – keeping a patient's IV lines untangled in the rush to surgery, for example – and a table full of supplies ranging from Legos to zip ties to "moldable goo." Engineers from the Massachusetts Institute of Technology (MIT) were included via a two-way video feed, and often mailed the group 3-D printed prototypes of their creations after a design session.
The result was an "incredible" shift in culture, Ms. Hedges said. MakerHealth was taking notice, and asked if UnityPoint would be interested in creating a full-time lab.
Some of the earliest projects have included a permanent wire clip mount for operating room tables that can adapted for the wide variety of wires required in the OR space, and a sensor alert system that sounds when the air pressure drops in a vacuum system designed to speed up wound healing.
UnityPoint – St. Luke's nurse Krystal Bragg created a 3-D printed case for medication vials that helps prevent needle sticks, and silicon frame for a virtual reality mask used as part of a pain treatment to replace the original foam frame that is hard to sanitize.
The latter project was a team effort, including Dr. Benjamin Tallman and nurse April Golwitzer of UnityPoint Health, and Coe College students Allie Rausche, Paige Nelson, Wenxia Sweeney and Haley Walton.
"We've already worked with several patients who want to bring an idea to life as well," Ms. Hedges said. "They've created something just for them that's really impacted their life."
One patient whose hand was recently paralyzed worked with the staff to develop a hand brace with a magnetic clip to hold the tools she needed to apply her makeup each day.
UnityPoint Health leaders believe generate @ St. Luke's is the first hands-on fabrication lab of its kind in the Midwest, and only the third of its kind in the United States. Two satellite labs are planned at Witwer Children's Therapy locations, including one about to open in Hiawatha, and a second expected to open next fall in Cedar Rapids.
In addition to the physical lab and its staffer, generate @ St. Luke's includes an online dashboard with resources that can be used to learn the processes required and to document the projects. They cover such topics as creating Internet of Things-connected health devices, fabricating simulation models and smart systems.
The new lab and other MakerNurse programming at UnityPoint Health became possible through a $500,000 gift from the estate of Viola Reth. Ms. Reth, a longtime nurse and teacher, died in 2017 at the age of 92.
Ms. Hedges encountered the MakerNurse community when she was working at Mount Mercy University on the clinical portion of her Doctor of Nursing Practice degree through Clarke University in Dubuque. She was interested in the idea of using innovation as a staff engagement tool, and found out how much MakerHealth, an MIT spinout, was already doing in that area.
The innovation program is intended mainly to improve patient care, not to develop commercializable medical devices, Ms. Hedges said.
"What we're finding with the true makers is that they're in it for the patients anyway," Ms. Hedges said.
Innovations that could have applications across the hospital or the UnityPoint Health system are put through a follow-on review process to ensure that they are safe and effective. If it appears that the innovation could have commercial value beyond UnityPoint Health, Ms. Hedges said the health care system has the resources to evaluate and follow through on opportunities.
It's a concept that Ms. Hedges hopes can grow and spread beyond UnityPoint Health.
"I love my job and hope I can make an impact with nurses across the world," she said.
The lab is currently available only to staff and employees at UnityPoint Health, however there is the possibility of a future internship program for others in the community with medical device ideas.
The opening of generate @ St. Luke's adds to a network of MakerHealth hospitals that includes Beth Israel Deaconess Medical Center in Boston, University of Texas Medical Branch at Galveston and Hospital Negrin in Las Palmas Gran Canaria, Spain. CBJ