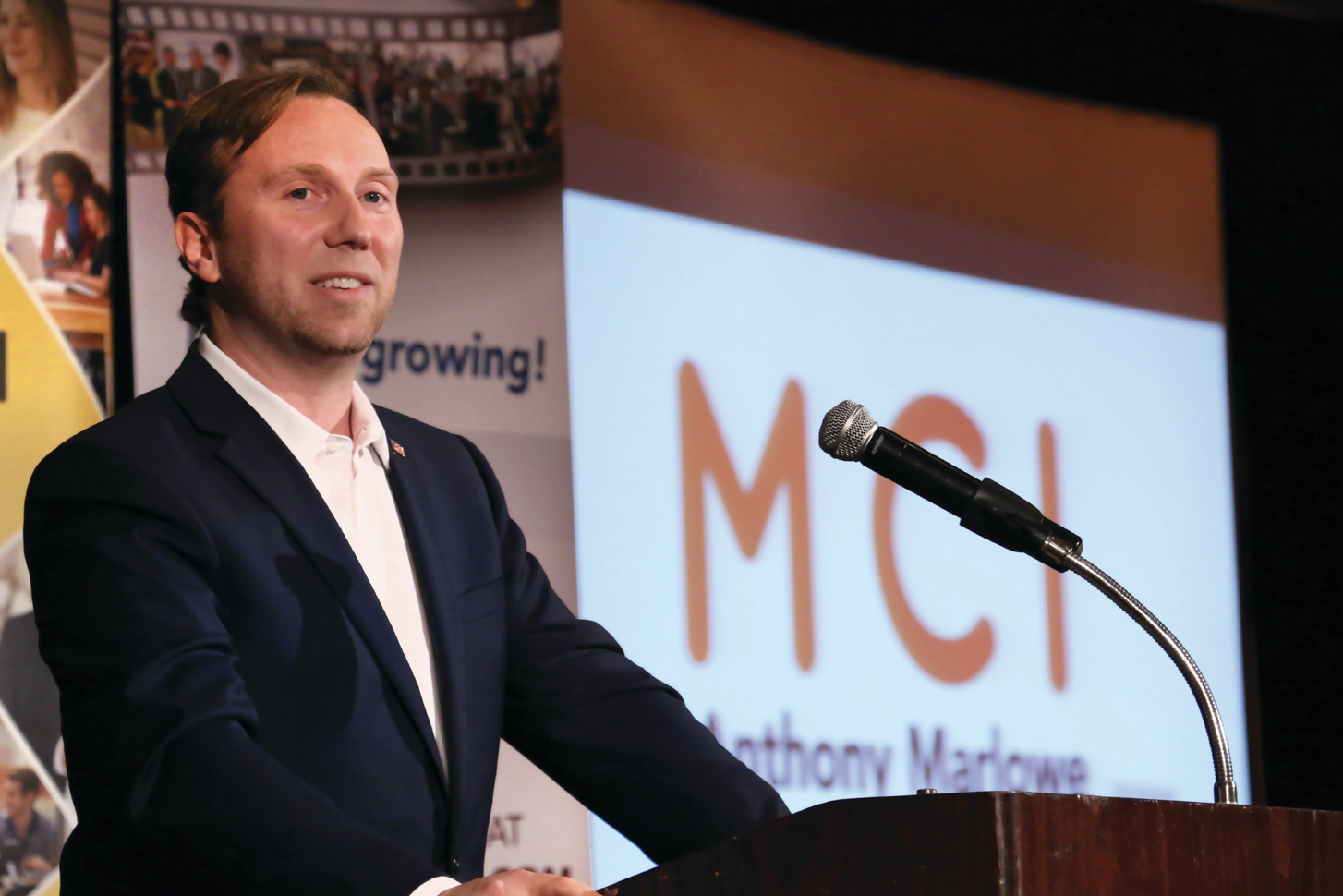 Anthony Marlowe shares his story after his company, MCI LC, was named 2018's Fastest Growing Company at a May 30 event. PHOTO ADAM MOORE
By Dave DeWitte
dave@corridorbusiness.com
The name MCI may have slipped from memory for many in the Corridor, but with the Iowa City firm leading this year's Fastest Growing Companies list with a heady 270 percent growth rate over two years, that's sure to change.
MCI is short for Marlowe Companies Inc. LC, the firm created by Anthony Marlowe in the fall of 2015 to buy back the business process outsourcing firm TMone, which he co-founded in 2003. It is also, as Mr. Marlowe explained in accepting the award, a tribute to the former telecom company MCI, where his career took off like a rocket in the late 1990s, going from a telemarketing agent to a call center manager by the time he was 21.
After buying back TMone, Mr. Marlowe changed its name to Mass Markets – a tribute to the old MCI division where he once worked – and went on to acquire the software company Gravis Apps in 2016 to bolster its technological capabilities.
ANALYSIS: 2018's Fastest Companies list features a diverse cast
The ink had barely dried on the purchase of Gravis Apps when MCI acquired OnBrand24, an established customer contact company. A large part of the appeal of Boston-based OnBrand was its digital capabilities, which included providing online customer service for about 200 mid-sized companies.
Revenues are growing at all three companies – the fastest at Gravis Apps – bringing MCI's current run-rate revenues to $44 million for 2018 from actual 2017 revenues of $38 million. The next goal is $50 million.
"It's been a tremendous ride – I can't thank my team enough," Mr. Marlowe said at the Fastest Growing Companies awards ceremony, held May 30 at the Coralville Marriott.
Acquiring Gravis Apps has given MCI some of the best software in its market, including platforms for automated market research, contact center-as-a-service, data wrangling and hosted advanced blended inbound, outbound and digital interactive responses, to name just a few.
The benefits of advancing technology have been a game changer in the industry, Mr. Marlowe said, and customers who once might have wanted 100 call center operators to interact with their customers may now want half that many operators, and more digital services.
"We skipped the offshore call center trend," he said. "We're not skipping the trend in digital transcending automation and modernization. Our software offering puts us at an advantage of that curve."
While a call center might have once used a human voice to answer the customer's questions, Mr. Marlowe said it's increasingly possible to begin interacting on one medium such as voice or online chat and end on another such as text message or email, to expedite and improve the customer experience.
"We're starting to see customers asking us to support them using Apple messaging or Facebook messaging," he added.
While Mass Markets has built its business providing specific services for Fortune 500 and other big clients, Mr. Marlowe said the fastest growth is in the mid-sized business markets in which OnBrand24 specializes. Mid-sized companies typically use OnBrand24 for a mix of technology and different services, whereas larger clients are more likely to use only one or a handful of services.
Differentiating Mass Markets and OnBrand24 from their competitors are their ability to swiftly adjust procedures, or even cultures, when an opportunity is identified or clients express a need. One example was a 2017 contract win to provide an unnamed client with customer service support for their home deliveries. Within a four-month period, the account grew more than 60 percent based on Mass Markets' ability to quickly recruit, hire and train additional agents while meeting the customer's requirements for service level, answer rate and average handle time.
Mr. Marlowe said Mass Markets strays from the industry pack by refusing to compete for temporary "project work." Instead, it partners with companies who need help starting or maintaining ongoing programs, which are longer-term and more stable.
"As a result, we don't charge for setup or implementation costs," Mr. Marlowe said. "Rather, we make it up over time in the form of 'inclusive pricing.'"
MCI has a total of about 1,400 employees. Its largest operation in Savannah, Georgia, is an OnBrand24 center with 500 employees. In addition to 250 employees in Iowa City, it has a large presence in West Des Moines, Beverly, Massachusetts; Dakota Dunes, South Dakota; Spearfish, South Dakota; and Portsmouth, New Hampshire. Gravis Apps is based in Iowa City, but has major operations in Orlando.
Mass Markets ranked No. 3 on the CBJ's Fastest Growing Companies list in 2016, with two-year growth of 195 percent. It inherited a legacy of growth from TMone, which made the Fastest list each year from 2009-2012.
Mr. Marlowe owns about 82 percent of the business. He said he's promised the team MCI won't recapitalize until it reaches the $100 million revenue range, although he says the current ownership structure could last well beyond that point.
MCI isn't through with acquisitions, but Mr. Marlowe also expects the company's organic growth to continue, led by its software unit.
"Everything is growing except the scaled telecom call center work for large companies," he said. "They're moving a lot of that offshore."
MCI's current year is off to a great start, Mr. Marlowe said, and with the market strong, he plans to ride the tide.
"We're creating value. We've been at this a long time, and we do a good job."