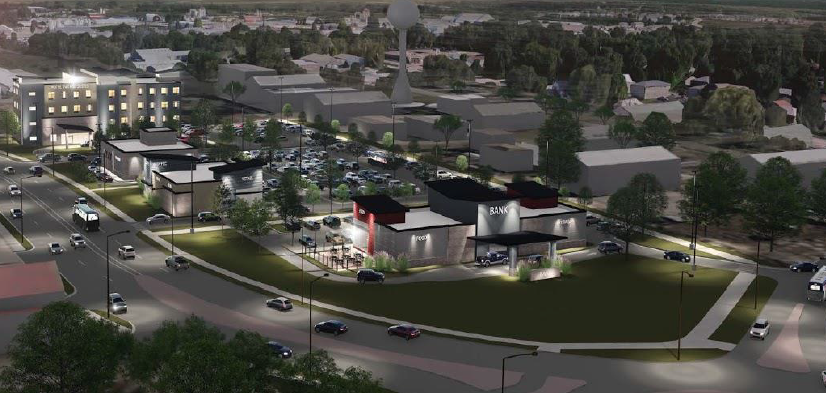 A rendering of a $20 million development proposed for the abandoned PrinceAgri industrial site north of Seventh Avenue and west of 31st Street. CREDIT Shive-Hattery
By Dave DeWitte
dave@corridorbusiness.com
Marion will see progress on a new public library, an eco industrial park, a new YMCA and community recreation center, the Prospect Meadows baseball complex and several major economic development projects in 2017, Mayor Nick AbouAssaly said during his second state of the city address on Jan. 26.
Continued and rapid residential growth remains the No. 1 thing putting Marion on the map, said Mr. AbouAssaly, an attorney at Simmons Perrine Moyer Bergman and city council member who was elected mayor in November 2015. He pointed to the 2,800 new residents the city is able to count for the purpose of collecting local option sales tax and road use tax revenues following a special census conducted last year, and noted that the population has grown 46 percent since 2000, to 38,023 residents.
In 2016, 432 residential units were built in Marion, and 186 lots were added to the inventory available for building, fueling the mayor's prediction that the city's population will top 40,000 in the 2020 census.
The residential growth has given rise to concerns that the city needs to grow its commercial and industrial base faster in order to balance the burden of taxes, 75 percent of which now rests on residential property.
Mr. AbouAssaly said the Marion Economic Development Corp. (MEDCO), the city's economic development partner, worked on projects that brought $39.4 million in investment during the past year. Although mainly consisting of new and expanded locations for existing businesses, they also included a new packaging zipper plant by the Polish company ELPLAST, the expansion of Hupp Electric from Cedar Rapids into an existing industrial location, and a new Victory Gymnastics facility. MEDCO is working on a pipeline of other projects with a similar potential value, Mr. AbouAssaly said.
The city is also addressing its infrastructure needs to capitalize on opportunities created by growth. Its largest project has been the Central Corridor redevelopment, which included the rebuilding of Sixth and Seventh avenues as parallel streets tied together by roundabouts at both ends of the corridor. Mr. AbouAssaly discussed the completion of the roundabouts in 2016, and offered whimsical advice for wary users, such as "once you're in the roundabout, for goodness sake, don't stop!"
Progress toward funding the Interstate 380/Tower Terrace Road interchange still awaiting DOT approval and the $13 million Prospect Meadows baseball facility at Highway 13 and County Home Road were high on the city's achievements list for 2016, however, Mr. AbouAssaly was particularly excited about two newer projects.
GLD Properties has proposed a $20 million development for the abandoned PrinceAgri industrial site north of Seventh Avenue and west of 31st Street that is envisioned as having a Marriott-flagged 82-room extended stay hotel and several additional buildings for restaurants and retail businesses. Another 20-acre project proposed by developers 13 and 151 LLC at the northeast corner of Highways 13 and 151 could bring another hotel, along with more banking, office, restaurant and retail space to the city with an estimated value of $50 million.
The mayor called Uptown Marion the city's "community jewel," and said it was enhanced in 2016 with six facade improvements using a $500,000 state grant and private investment, and the near-completion of the Art in the Alley public art display space, which will have its grand opening during the Marion Arts Festival in May. He also described work with Ryan Companies to design a new library in a mixed-use development in Uptown Marion that includes market-rate living units and commercial space.
Mr. AbouAssaly touched on the city's continued effort to become a "zero waste" community and leader in sustainability. He said the development of an "eco industrial park" that would incorporate recycling, renewable energy and alternative fuel systems in the vicinity of Third Avenue and 44th Street is one of the Marion's strategic priorities for 2017. The city's public service department is leading the effort.
More than 440 Corridor business and government leaders turned out for the Linn County League of Women Voters event at the Cedar Rapids Marriott, where it was moved after reservations outstripped available space at the event's longtime home, the Best Western Plus Longbranch in Marion.
In his first state of the city speech in 2016, Mr. AbouAssaly entreated residents to reach higher, be more engaged, bring their personal best and stop settling for what's just good enough. Mr. AbouAssaly said he's already seeing a change in community attitude.
"Call it newfound optimism; call it increased confidence in Marion – I see it, hear it and feel it everyday," he said.
This year, Mr. AbouAssaly's call for action addressed the nation's divided political climate.
"It's more important than ever we, here on the local level, work together," he said. "We must listen to each other, give each other the benefit of the doubt and see the best in each other, even when we don't agree."
"No one has a monopoly on the right answers to everything," he added. "We are all in this together, and as I always say, how we treat each other tells the world who we are as a community."