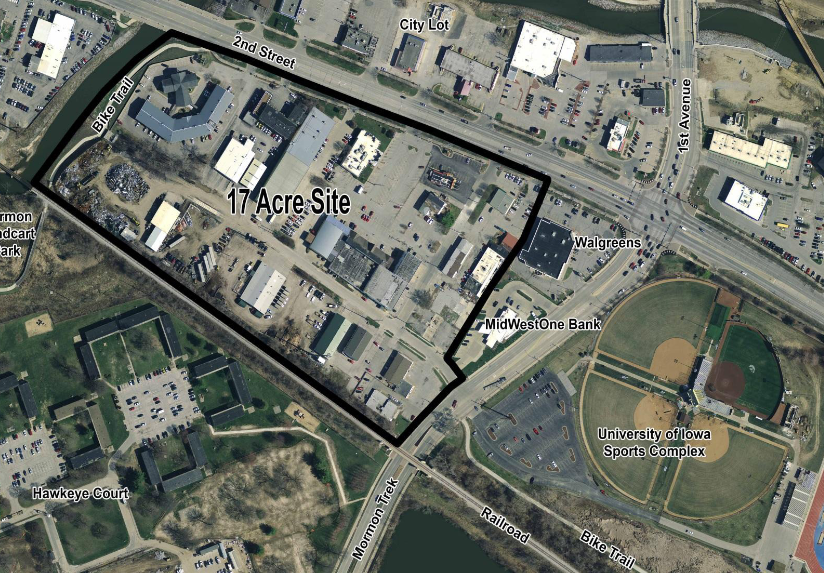 A map showing the a new mixed-use development under consideration at the intersection of Second Street and First Avenue in Coralville.  IMAGE BROCKWAY LAND PLANNING
By Chase Castle
chase@corridorbusiness.com
Southeast Coralville could become home to a new mixed-use "international village," replete with shops, a retirement community and a hotel under a plan being considered by city staff and council members.
The 17-acre site at the southwest corner of Second Street and First Avenue is presently occupied by multiple businesses, including Taco John's restaurant and Tallgrass Business Resources, as well as a small number of residences.
In 2015, Mark Brockway of Brockway Land Planning Associates was hired as a consultant for a project on part of the site proposed by developer Core Spaces. The Chicago-based company, which develops student housing under the name Core Campus, sought a mixed-use development for about nine acres along Second Avenue, between First and Second streets.
"That kind of started the whole discussion with the area property owners about that property," Mr. Brockway said.
Although Core Spaces successfully got the city to change its designated land use for that area, the developer eventually abandoned the project.
Mr. Brockway said part of the reason it was halted was its location. The site contains elevations below the city's 100-year flood plain, which added to development costs in order to meet city and state requirements.
He said the company's proposal also met resistance from city representatives more interested in preserving the area's commercial properties than pursuing Core's proposal, which was primarily residential, Mr. Brockway said.
"They're principally an upscale student-housing developer," he said of Core Spaces. "The city was more interested in mixed-use … and Core decided, after a period, that it probably wasn't the best site for them."
Last summer, the city hired Mr. Brockway to develop a master plan for the area, officially dubbed the Southeast Commercial District. A community plan adopted by the city in 2014 describes the district as the "premiere gateway" into Coralville from the University of Iowa. Conversely, the plan by Houseal Lavigne Associates of Chicago also describes the area as having several dated strip malls and deep setbacks, with an overabundance of curb cuts hindering traffic.
"Redevelopment opportunities and complete street design will create positive change that can stir economic development to this iconic area," the plan states.
The traffic on Second Street may also be the area's best commercial asset. Mr. Brockway estimates that 100,000 vehicles a day drive through the intersection of First Avenue and Second Street, also called Highway 6.
"Which is pretty much second to none, from a market opportunity," he said.
The district is also about a 10-minute walk from nearby residences along Fifth Street in Coralville, and about 20 minutes on foot from the Aspire at West Campus housing development. Aspire opened in 2014 and primarily caters to the University of Iowa's graduate and international students.
In total, the intersection has about 4,000 residents within walking distance. The master plan presented last month would bring an additional 1,000 residents to the area.
Mr. Brockway said those demographics lend themselves to the development's proposed "international village" theme. To accomplish that, the project would prioritize pedestrian access, utilizing narrow streets and ample walkways to minimize vehicular traffic and create an "old-world market" design.
Boosting the number of pedestrians in the district, however, could also pose challenges. The district's master plan calls for pedestrian bridge access above Second Street to the north and First Avenue to the east, as well as a railroad underpass to the south. Another possible capital project desired for the project is a railway station, which would likely need support from other local institutions.
"Various interests, including Iowa Interstate Railroad, University of Iowa and University of Iowa Hospitals and Clinics, and the city and state could be united in consideration of this project component," the plan states.
Assistant City Administrator Ellen Habel said that if any new transportation services were incorporated into the development, it wouldn't happen for several years.
"I don't see it as being part of any near-term phase," Ms. Habel said. "I think that really is something that captures people's attention, but I think the feasibility is probably challenging."
Making the master plan a reality will also require purchasing land from several different property owners. Brian and Bessie Ho are the principal owners of six of the 17 acres, and publicly expressed support for the project at a Jan. 24 work session.
The Ho family is also part of the project's development team, led by Blackbird Investments of Des Moines, which is working on the project with Neumann Monson Architects, according to President Kevin Monson.
Mr. Monson said the development is in the due diligence phase, which typically involves an in-depth analysis of the properties, sellers and financing options. That phase should be completed sometime in March. After that, the development team may start negotiations with individual property owners.
In total, the plan's 17 acres are worth an estimated $13.6 million, according to Johnson County property assessment records.
"Obviously, that's a long, long-range plan, and involves more than the Ho properties," Mr. Monson said. "So that would involve many other people and it may never happen, but it's a vision to shoot for and obviously it's an exciting vision."
David Parsons is the vice president of Tallgrass Business Resources, whose headquarters at 218 Second St. are part of the site.
He said Tallgrass' headquarters are not part of the project's first phase. However, he said tentative plans could incorporate his office's land into a second phase, at which point the company may be formally approached about a sale.
"It's pretty speculative as to whether or not the current proposal will come to fruition," Mr. Parsons said. "If it does, it's even more speculative as to whether we'd be involved in what would be phase two."
Ms. Habel said her office expects to be in communication with the developer as they consider a land purchase. Around that time, the developers would likely seek formal approval from Coralville's Planning and Zoning Commission and city council.