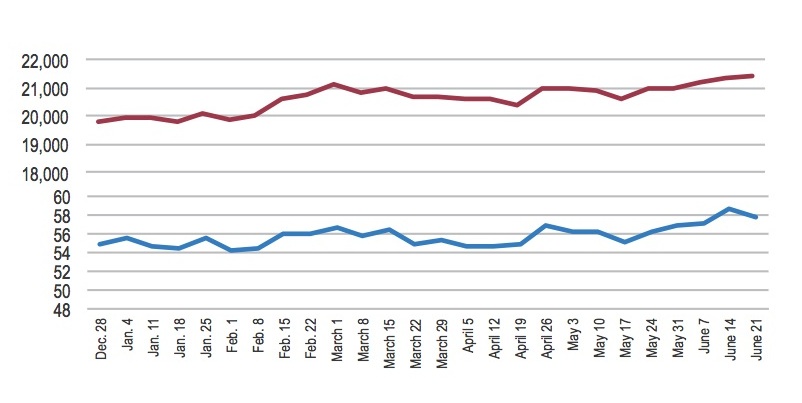 CORRIDOR STOCK INDEX– The CBJ Index (blue) is a price-weighted index of 22 public companies with a significant presence in the Corridor, as tracked in the CBJ's newsletters. The Dow Jones Industrial Average is tracked in red.
By Adam Moore
adam@corridorbusiness.com
It's been a good year so far among U.S. equities markets, although things have been a bit more subdued among public companies in the Corridor.
The markets came roaring into 2017 on the back of Donald Trump's presidency, and kept that momentum going through much of the spring. The Dow Jones Industrial Average sat at 17,888.28 on Election Day, but was already nearing the iconic 20,000 mark by Jan. 4. The index has gained 7.36 percent since then, closing at 21,410.03 on June 21.
The S&P 500 grew by 7.5 percent over that same time period, closing at 2,435.61 on June 21.
The CBJ Stock Index, a price-weighted index tracking 22 companies with a significant presence in the region, has increased by only 3.89 percent in comparison, reaching 57.66. Most of its momentum has come in the last month, with the index picking up 2.5 percent since May 17.
Manufacturers in the Corridor are having the best year so far, with the sector gaining an average of 7.23 percent over the first half of 2017. Deere & Co. led the group of six, picking up almost 18 percent to close the first half at $124.78. The Moline-based equipment manufacturer turned around 12 consecutive quarters of declining earnings with an outstanding second-quarter report, and in June announced a $5.2 billion deal to acquire Wirtgen Group, a global maker of road construction equipment.
Cedar Rapids-based Rockwell Collins, which closed on its own record-setting purchase of B/E Aerospace in April, grew by 12.6 percent in the first half, hitting an all-time high of $109.05 in May before settling at $105.06.
Procter & Gamble investors have taken a wild ride this year, with the stock jumping in February upon word that activist fund Trian Fund Management had taken a $3.5 billion stake, but falling back toward Earth as its top-line struggles continued. P&G closed June up 5.8 percent, while Whirlpool gained 4.5 percent.
Food manufacturing in the Corridor was a mixed bag. PepsiCo, the corporate parent of Quaker Oats, has gained 12 percent so far, while food giant General Mills has fallen 9.5 percent. The Minneapolis-based company has said weakness within its yogurt and prepared foods and baked goods segments have been the main challenge; both fell by double-digits in the third quarter.
Banks in the Corridor saw a similarly rocky start. U.S. Bancorp and QCR Holdings posted the only gains in the CBJ Index's banking group, with QCR, the parent of Cedar Rapids Bank & Trust, up 10 percent to $47. The company recently announced its $44 million acquisition of Guaranty Bank in Cedar Rapids, a move that will make it the largest community bank headquartered in Linn County.
Great Western Bank, MidWestOne Financial, Wells Fargo and West Bank all lost ground over the first half, with GWB taking the biggest hit. The bank closed June down 13.6 percent to $38.21.
Other notable big gainers for the first half of the year were Arizona-based GoDaddy, which gained 21 percent, to $42.78; and professional services firm Marsh & McLennan Companies, which has picked up 16 percent to close at $79.40.
Tanger Factory Outlet suffered the most over the first half of the year, dropping 32 percent amid the retail sector's broader brick-and-mortar struggles. Aegon's stock fell 14 percent – almost 80 cents – while United Fire Group dropped 12 percent amid an increase in losses in its commercial and auto lines. The Cedar Rapids-based insurer closed June at $43.66.