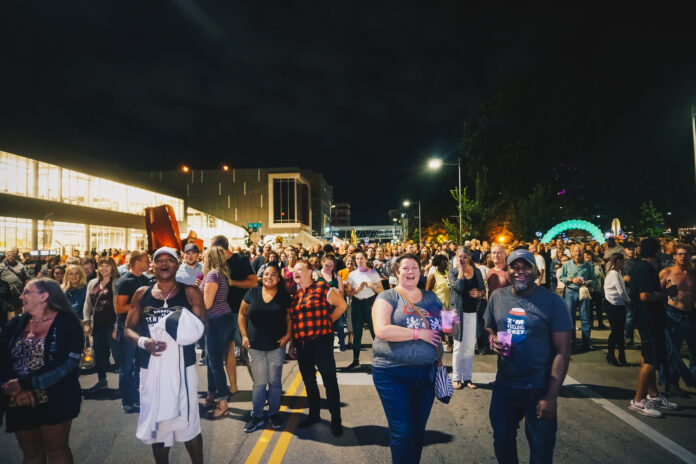 The 8th annual Market After Dark will be held Saturday, Aug. 26, with one of the largest footprints in the history of the event. 
In addition to the 120 vendors, 20 entertainment options and special lighted attractions, this year's market will include dance parties and cashless payment options at all beverage tents.
"We are constantly looking for ways to improve the experience for all of our patrons who attend Market After Dark," Coady Sierra, events coordinator at Cedar Rapids Metro Economic Alliance, said in a release. "It's important to keep bringing fresh ideas to the nighttime market so everyone can come together and enjoy the last days of summer in a fun and memorable way."
Two new dance parties will take place inside the venue. Z102.9 will play today's top hits in the Second Street pocket park located between Second Avenue and Third Avenue. True Streez Production will spin a variety of electronic dance music on the corner of Fourth Avenue and Third Street. 
Other attractions to Market After Dark include the Cedar Rapids Welcoming Wings photo installation in the Community Foundation parking lot and the Cedar Rapids Community Orchestra will perform in a lighted alleyway on Third Street between Third Avenue and Fourth Avenue.
Six beverage tents will be scattered across the venue and will offer locally crafted beer, wine, and seltzer including the lemonade seltzer from Lion's Bridge Brewery, Witch Slap from Clock House Brewery, Topek from Quarter Barrel, and the Citrus Surfer from Big Grove Brewery. 
A variety of Cedar Ridge Winery & Distillery wine will be for sale, as well as non-alcoholic drinks from Millstream at the non-alcoholic tent. In addition to Millstream soda, ice-cream floats will be available at the non-alcoholic tent. All beverage tents will have a cashless option where patrons can pay via debit or credit card.
Market vendors will be located on Second Avenue SE, Third Avenue SE and Fourth Avenue SE between Second Street SE and Fifth Street SE. Entertainment returns with two stages located throughout the venue. 
Kevin Moore will perform on the main stage at Fourth Avenue and Fifth Street from 6:30-7:15 p.m. and High & Mighty will perform 7:30-10:30 p.m. A variety of local talent will also be rotating through the local stage located at Second Avenue SE and Second Street SE.
Market After Dark runs from 6:30-11 p.m. Patrons 21 years and older can take part in an open-container environment within the designated market area. Alcohol will also be sold at participating downtown establishments. Streets located inside the venue will close at noon and reopen at 1 a.m. Towing will be enforced.
More event details can be found here.