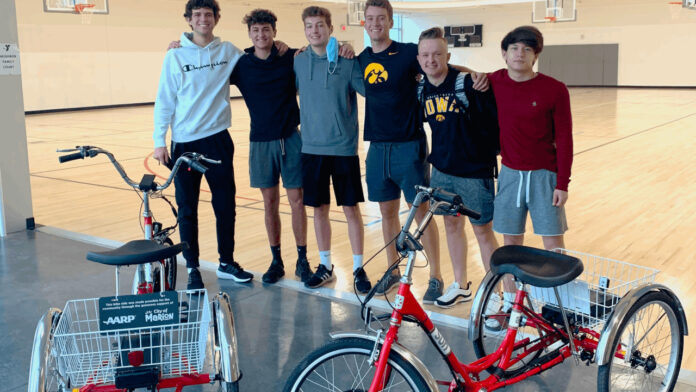 The Marion YMCA is partnering with the City of Marion and the AARP on a new electric trike program for Marion seniors.
At 3:30 p.m. today (Monday, May 17), Marion Chamber of Commerce ambassadors, community leaders and project partners will participate in a ribbon cutting ceremony for the project at the Marion YMCA, 3740 Irish Drive.
Thanks to an award through AARP's Community Challenge Grant, two electric trikes will be available to rent for two-hour timeframes between 7 a.m. and 3 p.m. Monday through Friday at the Marion YMCA. The trikes have motor-assisted capabilities or can be pedaled manually based on user preference.
The trikes are free to use for Marion residents ages 55 and older. Those who live outside of Marion can rent a trike for a $10 fee. Reservations are now open and can be made up to seven days in advance by calling the Marion YMCA at 377-7361. Riders will need to bring their own helmets and will be required to sign a waiver and show a photo ID upon renting.
The City of Marion received AARP's Community Challenge Grant in July 2020 from an idea submitted by a Marion resident to the city's Bicycle and Pedestrian Committee (BPAC). The idea originated from a senior who had friends that would come up with excuses as to why they couldn't go on bike rides together — the resident ultimately knew it was due to fear of falling.
Marion city leaders then conducted research that led to the grant application for accessible trikes that would be safer for senior residents to get out and enjoy exercise on nearby trails, and brought the idea for the trikes to be housed at the YMCA after the grant was received, which ultimately fit in with the Y's mission to further develop options for active seniors.
After the grant was awarded, a partnership with Iowa BIG was formed for the project. A group of local high school students worked for several months with leaders from the YMCA and the city of Marion to help develop policies, procedures and marketing materials for the program. This program is not only providing an accessible and safe outdoor option to local seniors, but has provided an opportunity for high school students to have hands-on experience in coordinating a project that will help improve local residents' lives, according to a news release from the Marion YMCA.