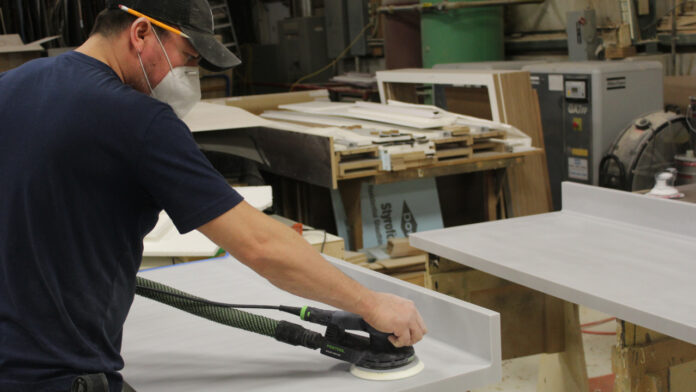 As president of Marion-based Woodcrafters Inc., Dan Sanderson is always working to use his 25 employees in higher skilled positions that leverage new equipment and technologies.
In November, his company was awarded state grant dollars to purchase a new wide belt sander. Woodcrafters was one of only two Linn County businesses awarded funding in the first round of Industry 4.0 grant awards, according to a news release.
Woodcrafters manufactures and assembles wood cabinets, vanities, countertops, desks and other furniture for commercial, industrial, medical, and educational builder markets. Employees regularly work with a solid surface product that is used for countertops and it requires staff to use a hand sander.
"Solid surface fabrication takes a long time," said Dan Sanderson, president of Woodcrafters.
"The wide belt sander will allow us to gain 70% of our time back on that process."
The grant will provide the company $50,000, half of the funds needed to purchase the automated wide belt sander. The company is required to provide a 1-1 match. The wide belt sander will all but eliminate the labor-intensive hand sanding and polishing operation for the solid surface countertops. Approximately 5,000 staff hours are spent sanding, time that will now be greatly reduced by implementing a more efficient tool.
"Our staff is mostly cross-trained and can switch between jobs, allowing us to put them where the needs are," Mr. Sanderson said.
In Iowa, advanced manufacturing accounts for $12 billion of exported goods and approximately 18% of Iowa's gross domestic product. The state is committed to advancing manufacturing technologies, referred to as Industry 4.0 (also known as Manufacturing 4.0). It's a revolution focused on smart technology, data-driven operations and process automation.
Five strategic priorities are part of Industry 4.0, each aimed to advance Iowa's Manufacturing ecosystem.
The strategic priorities are as follows:
Manufacturing 4.0 Technology Adoption & Utilization
Enabling Infrastructure for Digital Technologies
Improved Supply Chain Linkages
Accelerating Manufacturing Startups & Scale-ups
Ensuring an Effectively Trained Manufacturing 4.0 Workforce
Companies across the state of Iowa are encouraged to apply for grants that will enable the above-mentioned tactics. There are a few grant opportunities available for large to small companies. Prior to applying for a grant, an Industry 4.0 assessment provided by the Center for Industrial Research and Service (CIRAS) at Iowa State University is required and must be submitted with the application. The application window is open on a continual basis until funds are depleted.
For more information about Industry 4.0 and grant opportunities, click here.