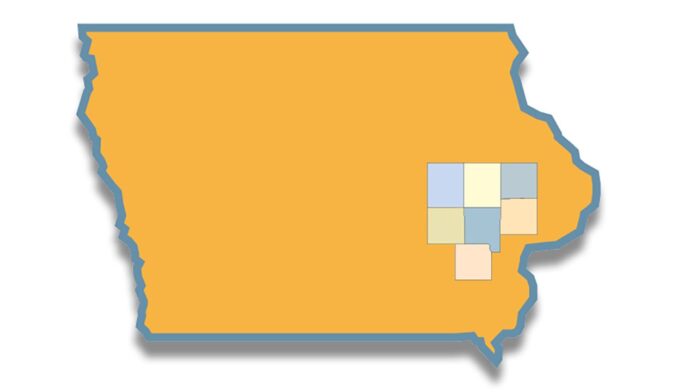 The Cedar Rapids/Iowa City Corridor region is growing. Unfortunately, that isn't something most of the rest of the state of Iowa can say.
Iowa's growth over the past five years, under 1.5%, "is not a good spot to be in," Joe Murphy, executive director of the Iowa Business Council, said in a news report. "That is very concerning to us as we think about the future of the state and the future economic opportunities that the state will afford." In addition, the state ranks 45th in ethnic diversity, he added.
The Corridor region is geographically defined as Kirkwood Community College's seven-county territory, including Johnson, Iowa, Washington, Linn, Jones and Cedar counties, with a total population of 487,106 as of the 2020 U.S. Census.
The Corridor gained nearly 42,000 new residents from 2010 to 2020 for over 9.3% growth, roughly twice Iowa's overall growth rate of 4.7%. Still, considering the dire worker shortages that many employers face, we must do better.
All counties in the Corridor gained residents over the past 10 years except Benton County, which lost 501 residents. However, Johnson County and Linn County were the two population centers with the most growth, accounting for nearly all the growth in the region and accentuating the rural-urban divide. Johnson County had 16.8% growth, and Linn County had 9% growth over the past decade.
Solon, Tiffin and North Liberty were the fastest growing in Johnson County, with 48%, 131% and 53% growth respectively.
In Linn County, Palo, Fairfax and Ely had the most growth, at 37%, 33% and 31% respectively.
In regional comparisons, the Des Moines Metropolitan Area, which consists of six counties in central Iowa, grew by nearly 103,000 residents, or 16.9% growth over the past decade, to 709,466 residents. With six counties across two states, the Quad Cities grew by .5% or 2468 residents to 474,019. It should be noted that the state of Illinois was one of the states with the largest population declines over the past decade.
Minority populations over the past decade have increased significantly in the Corridor and across the region. This is an important demographic area that should be nurtured.
Let's make population growth in the Corridor a priority over the next decade, like the Quad Cities. The Quad Cities Chamber has clearly defined that it wants to reach the 500,000-population mark by 2030. If we gain another 9%, then the Corridor region will be at 532,406. So let's shoot for 600,000 by 2030. Then we may be able to fill all those jobs and make growth almost self-perpetuating.