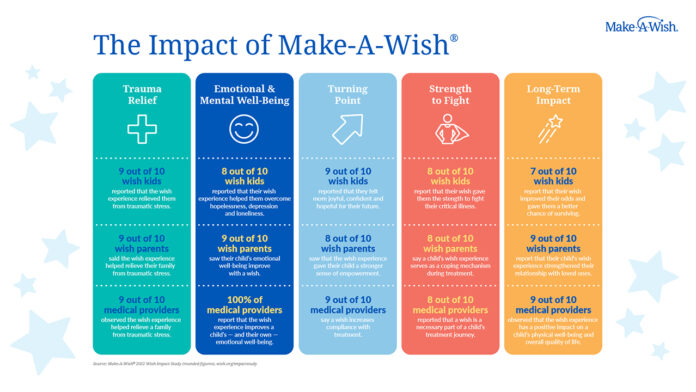 Make-A-Wish has released new research in its 2022 Wish Impact Study that provides quantitative data to lend credibility to the anecdotal feedback heard from wish families, according to a news release from the organization.
Results of the Wish Impact Study demonstrates how wish fulfillment promotes mental and emotional well-being for children and their families who are facing trauma stemming from a critical illness.
The online study surveyed three groups of individuals: parents of wish kids, wish alumni (i.e., former wish recipients) and doctors. The parents and alumni who were surveyed experienced a wish between 2009 and 2019. In total, 3,411 people completed the survey.
The majority of the survey respondents were wish parents. Of those surveyed, 93% of parents stated that their family experienced traumatic stress due to their child's critical illness. After their child's wish was granted, 94% of parents recalled seeing improvements in their child's emotional well-being, so much so that 91% of parents reported the wish gave their child a better chance of surviving their illness. As a result, 91% of parents consider the wish to have been a necessary part of their child's medical treatment.
Eighty-seven percent of wish alumni surveyed stated that they and their families experienced traumatic stress during their battle with a critical illness. Their wish played an integral role in counteracting the mental and emotional distress. More than 90% of the alumni agreed that the wish improved their quality of life, brought their family closer together, boosted their self-esteem and gave them hope for the future. Sixty percent of the alumni indicated that they had fully recovered from their illness. The statistic helps to dispel the common misconception that children must have an end-of-life prognosis to be eligible for a wish.
More than 90% of the doctors surveyed said they witnessed their patients overcoming feelings of sadness, hopelessness, anxiety and depression after their wish. Furthermore, 95% of the doctors reported the wish improved their patients' emotional and physical well-being. Seventy-five percent of the doctors stated a  wish could improve a child's medical outcomes.
"At a time when families are dealing with unplanned hospital stays and uncomfortable treatments, a wish can provide children with the chance to reclaim a piece of their childhood and a sense of control," said Dr. Shoba Sriktantan, chair of the Make-A-Wish National Medical Advisory Council. "After coming back from a wish, many of my patients exhibit a renewed sense of hope and greater compliance with their treatment, which is why I – and many of my peers – consider a wish to be an important part of a child's treatment plan."
The release of the Wish Impact Study kicks off a month-long countdown to World Wish Day, celebrated every year on April 29, the anniversary of the wish that inspired the founding of the organization 42 years ago. 
Since 1980, Make-A-Wish has granted more than 520,000 wishes for children with critical illnesses. To learn more about the Wish Impact Study and find out how you can get involved, visit wish.org.