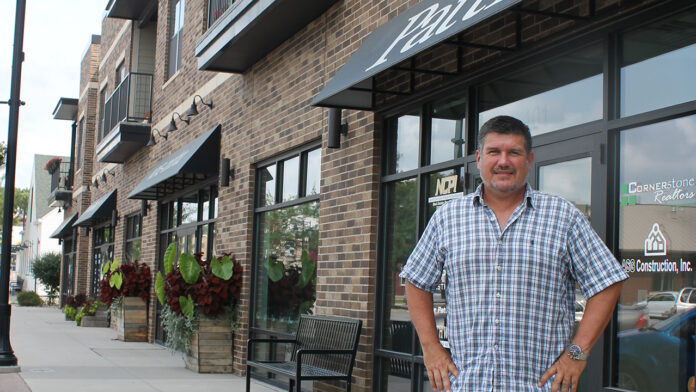 After a successful career in the biotech pharmaceutical industry, Mark Pattison decided to use his communication and entrepreneurial skills to develop his own company. North Corridor Property Investments started off in 2003 building custom homes and then morphed into developing raw land and providing property management services. 
One of Pattison's core beliefs is to use his entrepreneurial skills for the good of community development, especially in Solon, where he lives with his family. He has helped transform the small Johnson County town into a thriving destination for residents and visitors alike in the past decade. A few of the projects he has spearheaded include the revitalization of Lake MacBride Golf Course and the development of 121 on Main, a mixed-use project in downtown Solon. 
The CBJ talked with Pattison about his entrepreneurial endeavors, including a thriving craft beer distribution company, Buck Creek Hops.  
What kind of skills did you gain in the pharmaceutical industry to help you go out on your own?
It's dealing with people. We're really selling ourselves every day, all day. We find with these projects that they go a little smoother with good communication and good people skills.
What made you decide to take the plunge and start your own business?
I come from a line of entrepreneurs in my family. The Pattison name is kind of known for entrepreneurship. My brother owns his own business; my great uncles own a large sand company. It's just part of who I am; I think I was born with that entrepreneurial spirit. There's lots of ways to make great money at a job; I just want to create things on my own.
What type of things did you have to check off before going on your own full-time?
When I first started doing this, I had really little kids. I think the biggest thing is a couple of things. Everybody needs a liquidity event. Businesses are tough to capitalize. So, that's the reason you start when you have a good career. I was making a great living in the biotech industry. But that allowed me to develop banking relationships, it gave me cash, so I wasn't depending on just that income for the first several years. Real estate and developing offers that because we subcontract a lot of the work. It's not like you're on the job site all day, every day. Once I felt like I had enough reserves to go on my own, I did that. Real estate really is more of a longer-term investment. You look to replace your income. I bought Lake McBride Golf Course in 2010. They had a fire, and I rebuilt it, and that offered me a cash flow situation that was able to replace my day-to-day income along with developing real estate. I really got out of the biotech industry around 2010.
What other business interests do you have beyond real estate development? 
I'm the owner of a company that's completely opposite called Buck Creek Distributing, which is actually a fairly sizable company. We distribute all the raw materials used by craft breweries and distilleries. We distribute everything from barley malt, to hops, to beer cans, cleaning chemicals – every raw material the craft industry would use, we sell to them. 
How did that come about? 
I had a couple beers on the market years ago. And I had some farm ground and said, 'hey, let's grow hops, so we can advertise it as brewed with our own hops.' Quickly we figured out maybe we'd be better in the raw material market than the beer market. That was back in 2013. And we went from having maybe five line items of hops in our warehouse to 330 line items now in our warehouse that we distribute to craft breweries. 
How do you balance your time between your companies?
It's really having good people. I probably spend; honestly, 80% of my time to 90% on my Buck Creek Distributing business. I have an executive/project manager who handles all my real estate stuff. And the same thing on the distributing side – just good people.
What type of projects are you working on now?
We just completed a bakery called the Eat Shop, which is on Main Street (in Solon) in a building we completed towards the end of last year, which has a bike shop and a beautiful penthouse up above. We are in the planning stages of a commercial building in Ely that has 1,800 square feet of commercial on the lower level and two apartments above. And we're currently building a 2,500-square-foot custom-built ranch on Sugar Bottom Road and are currently working on a couple small remodels.
Why is it important to develop Solon – the community where you live?
I want to leave a lasting legacy that I left a place better than I found it. I live here, and this is where the opportunity is. You definitely find more and more people coming to these smaller towns, especially like Solon, where we have new schools, new churches, tons of opportunities. It's been the place to focus; it was an unmet need. Obviously, it was very risky at the same time because you don't know how it's going to be accepted. There's a big brick building next to Big Grove that I built three or four years ago. We moved one house and tore two down. I built this big commercial building – something nobody in Solon has ever done. It's got eight condos above and a bunch of commercial space. It's pretty cool to go down Main Street; I've done quite a bit of work on it.  |
To read more stories from this fall's Lure magazine, visit here.