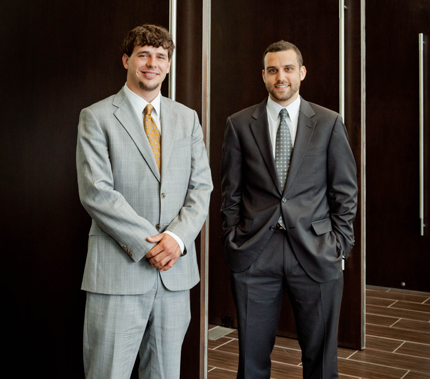 By Gigi Wood
CORALVILLE — It's been five years since John Slump and Jared Garfield started their company as students at the University of Iowa.
The two were 20 years old when they came up with the idea to improve a medical device used in cancer care. Now 26, Mr. Slump said the company is a major step closer to launching the product commercially.
Since then, their business plan has won numerous competitions and they graduated from the Bedell Entrepreneurship Learning Laboratory across from the business college on the UI main campus, to theTechnologyInnovationCenter, UI's business incubator, at the UI Research Park in Coralville.
The company, which started as J&J Solutions and is now called Corvida Medical, is entering a new phase of development and recently received a monetary award that will allow the business to accomplish a major goal.
The two entrepreneurs developed a medical device designed to protect healthcare providers and patients from toxic exposure to chemotherapy. In May, the Iowa Economic Development Authority awarded Corvida Medical the first PROPEL commercialization funding award from the state's new Iowa Innovation Acceleration Program. The $500,000 award has allowed the company to secure top healthcare experts as part of its management team and will fund the device's Food and Drug Administration approval process.
"The $500,000 is pretty significant and we're pretty excited to be the first to receive the Iowa Acceleration funds," Mr. Slump said. "The funds are to be used primarily for commercialization of the product, but there's also ongoing patent fees, ongoing intellectual property (costs), bringing on some additional personnel to help execute on the commercialization plan and help the company progress to the next level."
Corvida has also received federal grant startup funding from the National Institutes of Health's National Cancer Institute.
The funding has helped Corvida hire as CEO, Kent Smith, who worked for Baxter Medical for 20 years before working for startup medical device companies and as senior vice president, Steve Mitchell, a pharmacist formerly with Baxter Medical who worked on launching new medical devices for the company. Mr. Slump and Mr. Garfield met the two through industry contacts and trade shows.
"We're excited to have a couple grey-haired, been-there-done-that-type industry professionals helping us," Mr. Slump said.
The new management team will help lead Corvida through the remaining FDA-510(k) approval process for the device. The process does not require clinical trials like medical drugs do, but does involve a 90-day review-and-respond process and the device must be ready to manufacture, not a prototype.
"Bringing a medical device to market is a long, arduous process, it's not for those who are faint of heart. And it's capital-intensive to bring a medical device product to market," he said. "We're on a trajectory where we're sufficiently capitalized to get through the FDA approval process."
It took about two years for Corvida to go from having a product idea to becoming a company that is investable to venture capitalists. Since then, the company has focused on design, development, intellectual property rights and staffing.
More than a dozen cancer centers throughout theUnited Stateshave agreed to use the device on beta testing of the device. Hopefully, those centers will convert into first-launch customers, he said. Corvida is working toward receiving similar approval fromEurope's FDA equivalent.
Once the product does hit the market, Mr. Slump expects the company to be purchased by a larger medical device corporation. If that happens, he hopes to be part of the startup of other medical device companies.
"There's no scarcity of good technology," he said. "There's a scarcity of experienced entrepreneurs and people who can take those companies through all the hurdles of technology transfer and commercialization."