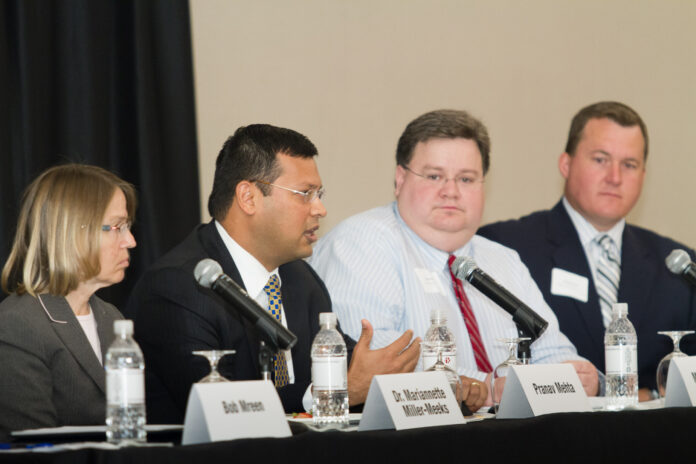 By Gigi Wood
CEDAR RAPIDS — Businesses and industry experts in the Corridor are preparing for changes accompanying federal healthcare reform.
Several discussed healthcare reform and the recent U.S. Supreme Court decision regarding the legislation at the Corridor Business Journal's Health Care Reform Breakfast Aug. 7 at The Hotel at Kirkwood Center in Cedar Rapids.
Panelists represented a variety of industries, from healthcare and insurance to tax and law. They included Dr. Mariannette Miller-Meeks, director of the Iowa Department of Public Health; Bob Mreen, employee benefits account manager with TrueNorth Companies; Pranav Mehta, vice president of marketing and president and CEO of Wellmark Health Plan of Iowa; Mark Hudson, vice president at Shuttleworth & Ingersoll and Douglas Funke, a certified public accountant and partner at Honkamp Krueger & Co.
On June 28, the U.S. Supreme Court upheld a key provision of the Patient Protection and Affordable Care Act, which mandates Americans buy health insurance or pay a penalty. Politics aside, the decision makes the legislation more of a reality, affecting nearly every business and industry in the country, including the Corridor.
The goal of last week's breakfast event was to explain to area employers what the legislation means to them.
"The reality is that the Supreme Court case has now been settled and we need to start to implement, regardless of what you think about the political status or the election," Mr. Hudson said. "The reality is, to unwind a law that is the size of the Affordable Care Act is going to take some time. Even if you're hoping we're going to repeal it come November or come January upon inauguration, it's not likely to happen that quickly. So the reality is, we have to start planning now."
A concern to businesses this year will be putting the costs of healthcare plans on W-2 forms, as well as providing a summary of benefits and coverage.
"I think small businesses didn't want to deal with healthcare, so that's why they didn't apply for the tax credit. I think they thought it was cumbersome, they thought it was complicated – 'I don't want to deal with it and I certainly don't want to add to it if I don't have to,'" he said. "But the reality now is we're going to see some of those issues come through and it might be a good benefit to look at. But you're going to have to go through it, see what the process is."
He estimates 30 percent of businesses nationally will drop health insurance as a result of the reform.
Some of the tax changes include a tax on tanning salons, a tax credit for small businesses healthcare and increased penalties for certain uses of flex spending accounts.
"From a tax perspective, it probably ends up being one of the most wide-ranging tax law changes in the last 20 years," Honkamp Krueger's Mr. Funke said. "The provisions of the tax law, some came into effect in 2010 and will continue all the way into 2018. There are actually a couple of portions of the act that have come and expired already, a couple portions of it that were enacted and then subsequently repealed. To say that the picture is clearer today than what it was, based upon the Supreme Court decision is true. However, to say that everything is settled is probably not a true statement at this point."
Mr. Mehta said Wellmark has worked since 2010 on implementing provisions to deal with the reform changes, such as preventative care services and summary of benefits.
"Moving forward and continuing to implement is better than the alternative option because the magnitude of the complexity is so much," he said. "There is much uncertainty in the foreseeable future and that's been the driver to move fast and furious and making sure we're completely prepared for everything that comes in 2014. I have a calendar at my desk and as of today, we have 296 business days until open enrollment. That is very well close to not enough time."
Starting in 2014, businesses with fewer than 100 employees can shop in Affordable Insurance Exchanges. An exchange is a new marketplace where individuals and small businesses can buy affordable health benefit plans.
"We're awaiting direction from the state on exchanges," Mr. Mehta said. "We fully support the concept of exchanges that establish a level playing field."
Ms. Meeks said the Iowa Department of Public Health has taken a lead role in exchange establishment in the state. Some states, she said, are not taking action, saying it is the role of the federal government to do so.
"No state, not even the early innovator states who got money ahead of time, significant amounts of money, they're not ready either, nor will they be ready by 2014 (to accommodate the reform changes, including exchanges)," she said.
Panelists said some of the policies related to the act could be delayed by a year or more because of the preparation needed to enact them.
The Affordable Care Act does not necessarily create affordable healthcare, Mr. Mehta said.
"The ACA is not the end-all-be-all to get to affordable healthcare," he said. "The ACA provides for and addresses the issue of access. The question of affordability is going to take a lot more than access and the individual mandate."
The typical healthcare coverage routine of many small businesses will change as a result of the act, TrueNorth's Mr. Mreen said.
"No longer will you be able to rely on an agent that shows up once a year with a renewal and an offer to find cheaper rates at another insurance company," he said.
He also said many businesses will likely consider adding a spousal surcharge for providing coverage to employees' spouses.