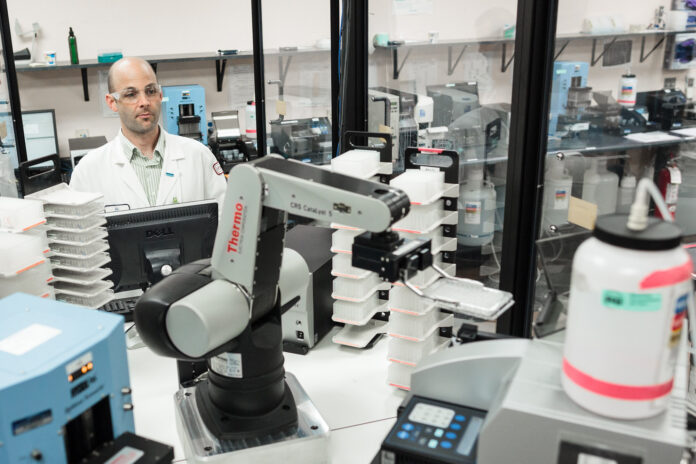 By Gigi Wood
CORALVILLE — They create the building blocks of research, right here in Coralville.
Integrated DNA Technologies is celebrating its 25th anniversary this year, an impressive milestone for a company that started with just a few people up the road at the University of Iowa's business incubator, the Technology Innovation center at the UI Research Park.
IDT, as the company is commonly referred to, is the world's largest producer of custom DNA strands, called oligonucleotides, or "oligos," for use in scientific research. It was started by CEO Joseph Walder, a University of Iowa biochemistry professor who partnered with Baxter Healthcare to create the building blocks of laboratory research that can be tailored to individual researchers' needs.
Today, IDT employees 700 full-time employees and generates $100 million in annual revenue.
"One of the reasons why we expand so much and hire so much is that we are a combination of a service and a product business," said Trey Martin, IDT's COO. "Our product is always custom designed by the customer, we do 35,000 units a day, but each of them is different and they usually will be for 3,000 different groups."
While the company conducts business across the globe, its headquarters are in Coralville, at 1710 Commerce Park, which is quickly becoming sandwiched between large retailers such as Walmart and the new Costco. Just steps away from Interstate 80, IDT plans to remain at its location, because of the significant investments it's made in its property.
"The global call center and customer service center is here, so this is our biggest site far and away. All our other sites are 10,000-30,000 square feet; this is 108,000," he said.
IDT's work, creating customized oligos, is no simple operation.
"The reason why we're so big and broad as far as footprint and employees is that a lot of the inputs that are required for our business are completely vertical for their source," Mr. Martin said. "We have our own group of design engineers, there are 18 of them who design a lot of the platform equipment we manufacture with and our own internal group of 16 that does assembly and servicing of that equipment. We produce the re-agents that go into our process from bulk chemistry. We design and write our own software and of course, maintain our own web systems and Internet services that are responsible for over 90 percent of our revenue."
The company's headquarters has undergone a handful of expansions during the years and will eventually need more space. But IDT has no plans to move.
"We're sitting on $50 million PP&E (Property, Plant and Equipment)," he said.
The property has nine acres of 25-foot and 45-foot wide pipe feeding a $5 million heating and ventilation system. A $2.5 million tank farm would be costly to reproduce at another location. IDT also recently added a $3 million warehouse and distribution center to the site.
"As we continue to add to it (the property) it gets harder and harder to leave," Mr. Martin said. "Home Depot wanted the land in 2001, 2002 but even at that time we felt like we had a lot to move and now I think it's too far gone."
The main building has 30,000 square feet of shell space to move into when needed.
"We're probably going to crack into this this fiscal year," he said. "We expect to continue to grow on this site and we actually own the 11-acre site we site on, including the 3 acres behind us that are just prairie at the moment. We're probably going to build a research building on them."
The company also attributes its growth to its high quality production of oligos at an affordable price.
"We can make a compound usually with higher fidelity and more yield," Mr. Martin said. "It's not a compound that's a black or white thing, it's a preparation that has impurities in it no matter how you do it. We've always optimized our process and controlled it in every way so we have less impurity than the rest of them."
New markets
Expansion into the diagnostics market during the past few years has been a source of growth, as well. IDT expects the new market to double in output this year.
"We have an ISO (International Organization for Standardization) 13485 registered sub-facility at this (Coralville) site," said Christine Boge-Hubbard, IDT's senior vice president of the company's integrated supply chain.
"A lot of our customers, they were doing diagnostic development 10 years ago, now are running clinical trials and have the product in the clinic, so we've had to evolve with them, to support higher levels of control and regulatory need for the production," Mr. Martin said. "Research products are still our bread and butter but that's a nice growing segment."
In addition to diagnostic products, IDT is also growing its synthetic biology, which allows scientists to build designer genes and next-generation sequencing. Since the launch of its synthetic biology division, the company has received so many orders, it will need to scale up capacity.
"These both use our core products, our standard custom oligo products to create the higher-value product," said Stephen Gunstream, IDT's marketing vice president.
As technology improves, the price per genome continues to drop, from millions of dollars per genome to thousands, allowing more scientists to pursue genome research. To work on genomes, scientists require large quantities of custom oligos, increasing demand for IDT's products.
Globalization
During the past several years, IDT has strategically expanded nationally and overseas.
"Since we're a private company with no equity capital, we've had to do things in a pretty methodical way," Mr. Martin said. "We started by just building a branch in the local hub ofSan Diegoin 2005 and then the next step wasEurope. We opened our European facility in July of 2008, so this is the four-year anniversary of that and we just closed on theSingaporedeal in January."
IDT opened a facility inBelgiumto become more competitive in the European market. One of the company's strengths is its turnaround time on oligos. The company is often able to produce high-quality oligos meeting customers specs and ship them out more quickly than the competition. Producing oligos in Coralville and shipping them overseas was slowing the company's competitive edge.
The Belgium operation allows IDT to manufacture its core products in closer proximity to that customer base and ship to them faster, as well. Expanding toEuropealso put more sales representatives on the ground to expand its client base, a strategy that's been successful for IDT.
As IDT planned for its Belgiumlocation, the company already had its eye on Asian markets. The company acquired 1st BASE, an oligo producer inSingapore for the same reasons it expanded to Belgium.
"We're just getting started inAsia, and we have a lot to learn about the needs of researchers working here," Mr. Walder stated in a press release about the acquisition.
As far as the company's future, Mr. Martin said IDT has about five years of globalization yet to complete and expects the business to continue to grow its new market segments, while expanding its core product sales with business-to-business interactions and private labeling.
"There's a long way to go with just those things and I think it's important to stay focused," he said.