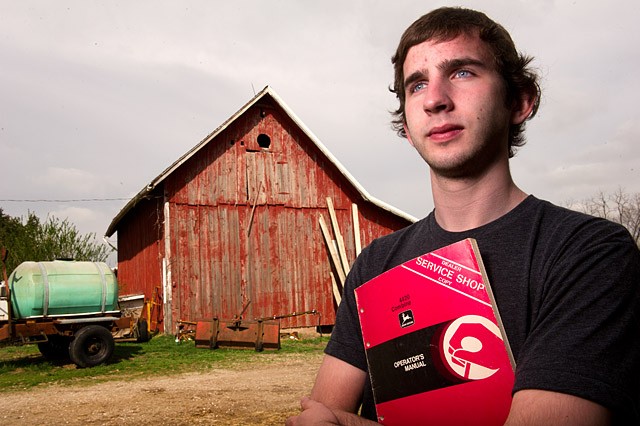 By Conrad Swanson
UNIVERSITY OF IOWA — In his junior year of high school, Muscatine native Tyler Finchum created a simple and unprecedented business.
Farm Manuals Fast sells digital copies of farm equipment instruction manuals.
Using a scanner Mr. Finchum created with his father, he can convert instruction manuals, borrowed from friends and neighbors or purchased online, into PDF files and sell them digitally to people worldwide for a price based on the file's size. Manual prices typically range between $10 and $20, but he has charged as much as $50 for larger-sized files.
Now, three years later, and going into his sophomore year as a business student at the University of Iowa, 19-year-old Mr. Finchum has decided to change his business plan.
With the Farm Manuals Fast website running almost autonomously and planning on netting an estimated $75,000 this year, Mr. Finchum felt he could focus elsewhere.
His goal is to help people in third-world or developing countries who also have a need for informational literature on their farm equipment, but have limited means of obtaining the literature or paying for it.
"I designed it so everything is automated," Mr. Finchum said. "I had all this money and nothing to do. I was looking for a new sort of challenge or something charitable. I also felt that I sort of got lucky and felt the need to give back as well."
With the notion of giving back, Mr. Finchum created the Farm Manuals Fast Foundation with a simple goal, if a farmer needs a manual, but can't afford it, the Farm Manuals Fast Foundation will ship them one for free.
"I had all these manuals already," Mr. Finchum said. "And I wanted to help whenever possible, so if some farmer inSouth Americawanted or needed a manual they can request one for free."
Mr. Finchum has run into several obstacles with his foundation, however. The first is a language barrier, finding instruction manuals and providing them to farmers in the language they understand can prove to be a challenge.
"Sometimes you can do extremely crude translations," Mr. Finchum said. "But the technology is so poor, it can't be trusted too much, especially for manuals with extremely specific instructions, it could be very unsafe."
Another and more formidable challenge is his lack of exposure, especially when compared to his willingness to help those in need. By his own estimation, Mr. Finchum has donated 15-20 manuals to people in developing countries.
"It's disappointing," he said. "The need is there, it just a matter of people finding me, there's a lack of Internet and a lack of technology, that's the main hurdle."
For many of these donations, Mr. Finchum purchased the physical manual on the Internet and shipped it to the recipient as a way of bypassing any lack of technology that might interrupt his donation.
Julio Morales, from Vinchina, La Rioja,Argentina, is one recipient of Mr. Finchum's donations. In the summer of 2011, Mr. Morales, a professor at the Agricultural Technical School of Vinchina La Rioja, asked Mr. Finchum for several manuals discussing safety.
Mr. Finchum already owned one manual that fit Mr. Morales' request, but took it upon himself to buy two more online and send the physical copies, all of which had already been translated by the manufacturers, to Mr. Morales in Argentina.
After communicating through crude translations and sending Mr. Morales three operation manuals for different machines, a Ford 1120 tractor, a New Holland 472 haybine and a John Deere 2510 tractor, Mr. Finchum received a short e-mail of thanks.
"I inform you that today I received the catalogs and operators manuals that you sent by post. We thank you for your kindness and contributions of the specifications to the new technologies we can see through people like you," Mr. Morales wrote.
Though sales are currently booming, Mr. Finchum acknowledges the limited time span of his business. He is limited by the dates on the manuals. As long as the manual was published before March 1, 1989 and carries no copyright, it is in public domain and can be legally sold.
As time forwards, however, his collection of manuals grow more dated. Farmers in first world countries will begin to purchase newer equipment in turn leading to fewer sales in Mr. Finchum's business.
By his own estimate, Mr. Finchum expects his business to drop sharply in the next five to 10 years, but he plans to keep moving forward on to new business ventures or opportunities, using the creative process as motivation.
"It's a business and I make money from it," Mr. Finchum said. "But I created a solution to a problem that wasn't there previously, and I like that."