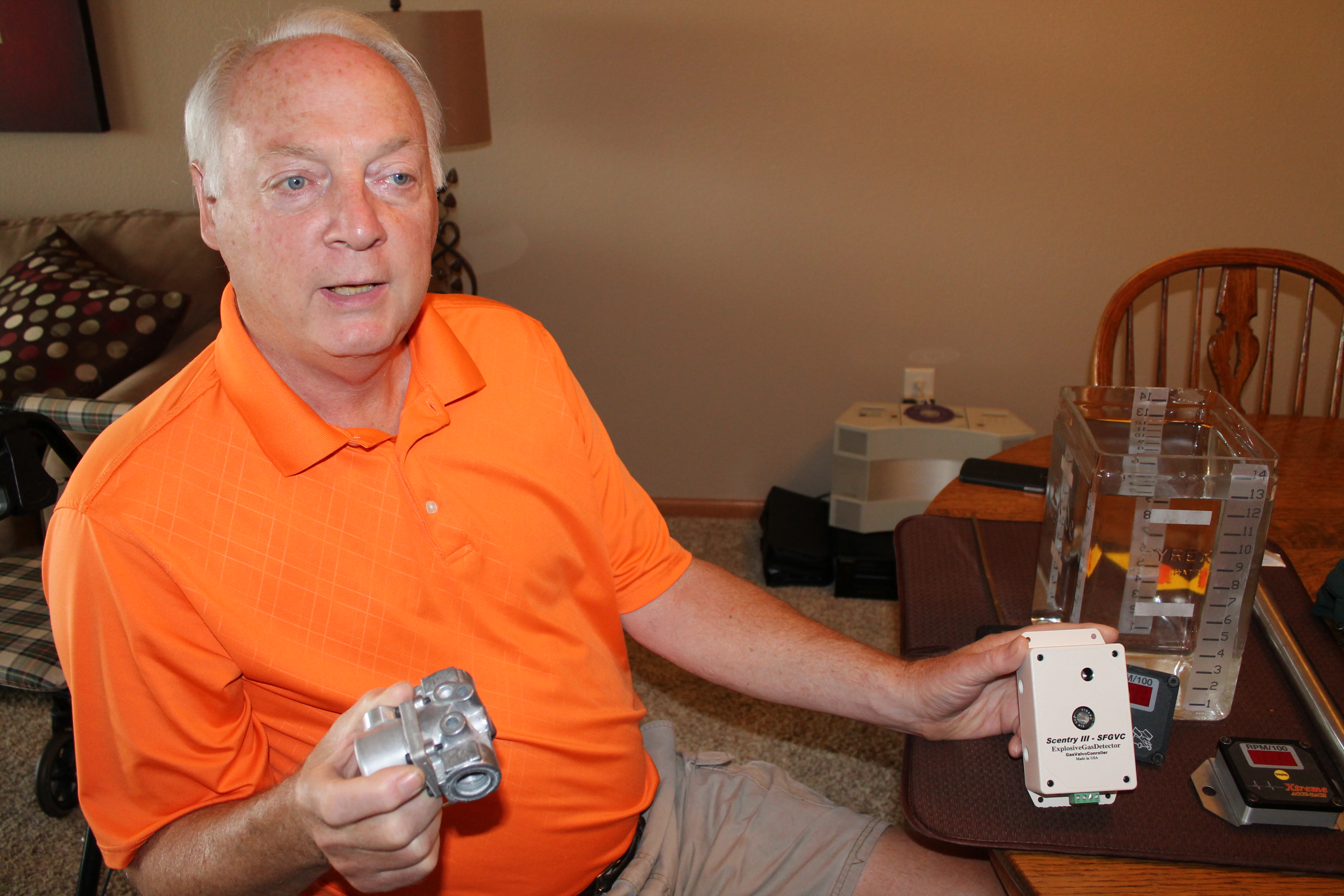 By Dave DeWitte
CEDAR RAPIDS—Independent inventors hoping to profit from an invention face long odds, but one Corridor-based group is working to give them a better shot.
The Iowa Inventors Group, which celebrated its first decade of existence last year, is the only club in Iowa for independent inventors, according to group President Frank Morosky. It's a place where inventors can gain valuable insights on patents, prototyping, marketing and other steps along the path toward commercializing an invention.
Each inventor is different, Mr. Morosky said, but most share a common dream.
"The main goal of all inventors is they want to make money on their invention," he said. "For the most part, they want to sell it to a big company and make millions on it."
The group's members gather once a month, gaining insights from such speakers as intellectual property lawyer Tim Klima of Cedar Rapids or entrepreneurship advocate Andy Stoll of Seed Here Studio. Most of the meetings are held at Community Savings Bank in Robins.
But the greatest value of the club to members may be the network, according to Mr. Morosky, an inventor of odor control products and co-founder of Flat-D Innovations in Cedar Rapids. He said many members are happy to share the knowledge and contacts they've gained, and the conversations have gone on for as long as an hour after the formal meeting has ended.
Mr. Morosky is a specialist in marketing. Tom Maring, vice president of the group, is an electrical engineer and inventor who designs electrical panels and circuit boards. Other members of the group also have specialized knowledge.
"The goal of the club is to help people avoid making the 1-800 calls in the middle of the night to the 'Invent Help' company," said Mr. Maring, whose company, Safety First, markets an automatic gas leak detection and shutoff product, and a line of tools for race cars.
Paying extravagant sums to companies that make false promises about their ability to get inventions sold to big companies is just one of many mistakes an inventor can make, according to Mr. Maring, of Marion.
Many inventors realize before they get too far along that there simply isn't a profitable market for the product, or that "parallel inventions" by other inventors are likely to make the going rough for them.
The expense of the patent process is more than some inventors can afford, Mr. Maring noted, adding that he personally has deliberately omitted patenting several of his successful products.
"Sometimes the market's not worth chasing for a big company," Mr. Maring said.
Connecting the dots
Among the numerous connections the inventors group has helped make for its members was a recent opportunity to appear on television. Television personality Mike Rowe, best known for his show "Dirty Jobs" and Ford truck commercials, recently came to Iowa to tape a segment with several club members for a segment on his next TV series, "Somebody's Got to Do It," Mr. Maring said.
Conversations about inventions are protected by a legally binding confidentiality agreement.
"When you become a member, you pay your $30 and sign a confidentiality agreement," Mr. Morosky said. "Then you have confidence that you'll be able to speak openly about your invention to the other members."
The degree of openness members practice within the group varies.
"Many of them are keeping their invention close to the vest and don't want to talk about it," Mr. Morosky said. "Others can't wait to tell everybody what they came up with."
A portion of every meeting is devoted to bringing members up to speed on opportunities such as invention contests, business pitch competitions and trade shows where they can gain exposure. The Iowa Inventors Group is a member of a national organization, the United Inventors Association, which provides resources to its affiliates.
Most of the inventions discussed at meetings are not software or high-tech computer hardware, Mr. Morosky noted. Rather, they tend to be simple ideas and improvements on existing products.
Joey Svejda of Atkins participated in the group while developing his first product, a block heater tester for diesel engines, designed so that truck drivers can have assurance their engines will be able to start during cold weather. He said members of the group provided valuable contacts and insights.
"They really try to help as much as they can," said Mr. Svejda, who is having the product manufactured under contract and marketing it himself. He said he hasn't had time to go to a meeting in about 10 months because he's so busy between his new product and his day job.
Brian Mauer of Crane Creek Kayaks in Denver, Iowa, has been a member of the group almost since the beginning. It has come in handy for Mr. Mauer, who was laid off over a year ago from his job as a route driver for Wonder Bread and has had more time to commercialize his invention.
The Styrigger is an outrigger for kayaks that can be flipped up out of the water onto the boat when it is not needed for stability. Mr. Mauer launched Crane Creek Kayaks to develop the product. He doesn't mind driving an hour to meetings in Cedar Rapids, although he's missed a few when they were held in the Quad Cities.
"I always get something out of it because of the different people they bring in," Mr. Mauer said. "I use it as a networking opportunity."
Fighting the odds
Mr. Morosky said that, statistically, only about 5 percent of independent inventors are profitable enough to recover the amount they invested in developing an invention. It's been a frustration, according to Mr. Maring, that not more inventors in the group succeed in commercializing their products.
Out of a membership that tends to range from 25 to 35, Mr. Maring estimated that only five have taken their inventions to market and profited from them.
Mr. Morosky is among the inventors who've profited. He worked with Brian Conant of Hawaii to commercialize an odor-absorbing pad for undergarments. The men went on to develop a line of products using activated charcoal fabric to reduce odors in applications ranging from garment storage bags to breathing masks.
The company remains soundly profitable, and has continued to grow sales and add products every year.
Mr. Morosky said many people join the Iowa Inventors Group for a year or two after becoming interested in commercializing an invention. Many drop out after deciding that commercializing their invention isn't viable, or that they aren't committed to following through the commercializing process.
The group allows inventors considering membership to attend one meeting for free. Attendees have even included parents trying to help their school-aged children figure out what to do with an invention.
The Iowa Inventors Group was founded by "serial inventor" Mike Hill of Cedar Falls in 2003. Mr. Morosky took over the leadership post more than six years ago and moved the meetings of the club, which appeared to be stagnating, to Cedar Rapids in hopes of gaining membership from the many talented engineers in the area.
The biggest reward for Mr. Morosky and other veterans of the group is helping new members.
"It's heartwarming and fulfilling to me helping others with the resources and trying to get their ideas to market," said Mr. Morosky. "I want everybody to be more successful, because I've done it myself, and it's been tough."