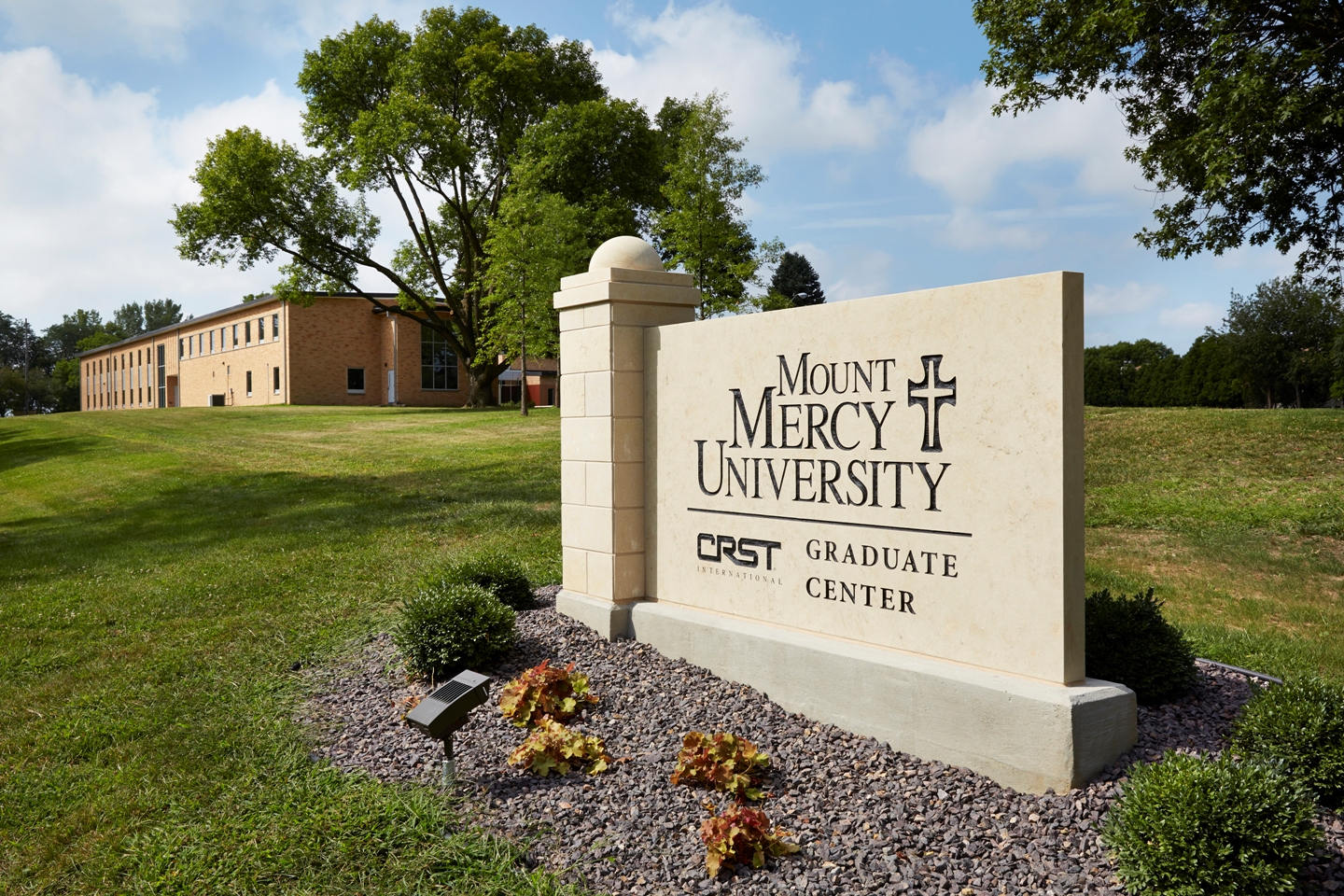 By Dave DeWitte
When it comes to educational preparation for business leadership, the gold standard for years has been the MBA. But master's degrees and certificates that focus specifically on leadership skills are growing in the Corridor.
Among the recent developments are the addition of a Master of Strategic Leadership program this year at Mount Mercy University, and a leadership certificate program at the University of Iowa three years ago.
The question of whether to pursue an MBA or MOL (master of leadership) degree is one that former corporate trainer and job-seeker Tim Arnold of Cedar Rapids has spent considerable time considering.
Mr. Arnold said he was looking for a particular skill set when he decided on the MOL program in 2011 after being promoted to a leadership position with 32 reports in the field service unit of Clipper Windpower. As a new leader, the former corporate trainer wanted to be a strong advocate for his team within the organization, engaging team members and understanding their needs, while remaining focused on corporate objectives.
During a discussion on professional development with his own supervisor, who was pursuing an MBA, Mr. Arnold received support for the idea of pursuing an MOL. He began the program in 2011, and is about halfway through after taking an extended break following a restructuring-related layoff at Clipper Windpower.
When interviewing for new jobs, Mr. Arnold said he is often asked why he chose an MOL program.
"It's constantly being compared to an MBA," Mr. Arnold said. He added that the MBA is clearly the assumed choice when someone mid-career goes back to college to improve their business career path.
The difference is large but difficult to explain, Mr. Arnold said. Leadership programs often lack the established business disciplines of executive MBA programs, such as marketing, economics, accounting and human resources management. They focus instead on the dynamics of leadership such as team-building, conflict management, leadership theory and interpersonal relations that can be highly valuable to business veterans who mainly want to be better leaders.
"I think there are some very strong leaders coming out of these programs," said Mr. Arnold, a 38-year-old Air Force veteran, who is using the GI Bill to help pay his expenses. "They have a better understanding of themselves and how they interact with other people, and the influence they have on other people."
In employment interviews, Mr. Arnold has sensed that MOL degrees aren't yet well understood. He said hiring managers don't seem as certain how to evaluate the leadership skills of a candidate as well as other business skills. He said some seem to feel the leadership strategies taught in the degree program are unproven, even though most have been practiced with great success for decades.
Mount Mercy University has its first class of about 30 students in its new Master of Strategic Leadership program, which began in the spring 2014 semester. The program can be completed in 16 months for $16,000 to $17,000, although many enrollees receive financial aid or tuition reimbursement through employers.
"It's designed for a broader range of people than an MBA program," said Tom Castle, dean of adult programs and assistant provost at Mount Mercy University. "Most of our students are working full-time, and just reaching that point in their careers where they want that extra edge."
The program includes leadership curriculum one might expect, but includes other aspects such as systems theory, which can be used to help understand the dynamics of a group.
The developers of graduate programs in leadership have learned from executive MBA programs how to appeal to mid-career learners. Classes at Mount Mercy meet once or twice a week, or on weekends.
St. Ambrose University offers its nine core MOL classes during eight-week sessions that require students to attend four hours of class each Monday night at Kirkwood Community College, according to Megan Gisi, program coordinator for the university's Master of Organizational Leadership program. She said enrollees come from not only the nonprofit world, but from major area corporations such as Quaker Oats and Deere & Co.
The 12-course curriculum includes a few electives, some of which are offered only in Davenport, although students can complete the program in Cedar Rapids if they select the electives offered locally.
Certified leadership
Interest in gaining recognized leadership knowledge and skills has also grown at the undergraduate level. The University of Iowa introduced its Certificate in Leadership program and Upper Iowa University offers a Certificate in Organizational Leadership.
At the UI, 100 graduates have received the Certificate in Leadership Studies during the first three years of the program, according to Kelley Ashby, director of the Career Leadership Academy in the UI's Pomerantz Career Center.
Students complete a three semester-hour core course, a three semester-hour experiential learning course and take electives from five areas: self-leadership, group leadership, communication, cultural competence, and ethics and integrity.
Obtaining the certificate can be a useful career tool, according to Ms. Ashby. She said research has shown that employers consistently value such leadership traits as problem-solving skills, analytical and decision-making skills, and the ability to work well in teams.
A common perception is that leaders take charge and tell others what to do, Ms. Ashby said. One of the things students learn in the certificate program is that leadership is less about giving orders and taking charges than influencing others and changing opinions, issuing calls to action when necessary.
"Part of it is educating people about what leadership is and is not," Ms. Ashby said, "and the difference between leadership and management."
Upper Iowa University's certificate program primarily involves five courses: management principles, supervision, leadership theory, complex organizations, and a choice of business ethics and entrepreneurship. Twenty-three students have obtained the certificate since it was first offered in 2002, according to Upper Iowa University spokeswoman Monica Heaton.
Change agents
The rapid pace of change in the workplace is one reason leadership skills are getting more attention these days, according to Ms. Gisi. She said the St. Ambrose MOL program focuses on leading adaptive change.
"Change will happen whether we're onboard or not," she said. "We want to influence others to make and create a positive change, and make adaptive change part of the everyday life experience."
Competition for master's degree students in leadership for Mount Mercy and St. Ambrose comes mainly from higher educational institutions offering online degree programs.
Both of the Iowa universities point to faculty strengths in selling their program, but Ms. Gisi also points out the importance of human interaction at St. Ambrose.
"The subject matter does not have the same feeling if you are communicating through a computer screen," Ms. Gisi said. MOL program classes rarely involve professors lecturing students, she said, but rather professors eliciting students' input in a circular seating arrangement.
Mr. Castle recommends that students considering graduate programs in leadership look for regionally accredited institutions with strong and experienced faculty.
Ms. Gisi said the price of St. Ambrose's MOL program, at about $20,000, is significantly less than a master's degree program offered by a leading online university, and is less expensive than a University of Iowa MBA program.
As he resumes his studies at St. Ambrose, Mr. Arnold said he's found the MOL program a refreshing difference from his previous educational experiences, and he's learning things he can use everyday in dealing with others. It's a program, he said, that literally changes you in order to become a more effective leader.
"It requires you to relinquish some of the more prideful instincts that you have," Mr. Arnold said.