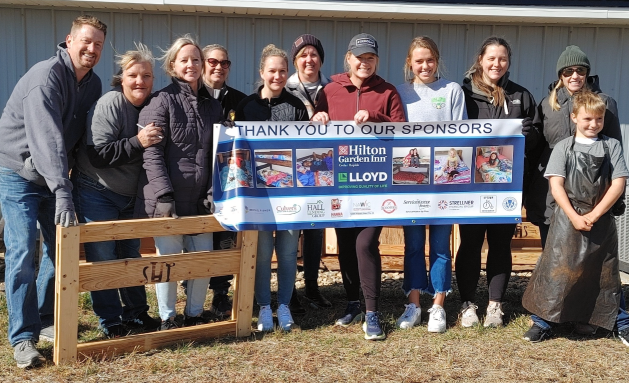 A group of Lloyd team members drove from Sioux Falls to Cedar Rapids the weekend of Oct. 15-16, joining the Hilton Garden Inn Cedar Rapids team to build 40 beds for kids who otherwise would be sleeping on their floors, as part of a partnership with the Linn County chapter of the national nonprofit Sleep in Heavenly Peace.
"This was our hotel's first time participating in a bed build, and it checks off every one of Lloyd's company core values: Do the right thing, solve it, build relationships for life, and have fun," Ginger Sickels, general manager of the Hilton Garden Inn Cedar Rapids, stated in a release. "Lloyd's purpose is to 'improve quality of life' and it is important to us to give back to the communities we serve. We are very intentional on living out our company's mission."
Along with team members and their families, volunteers from local Cedar Rapids companies joined with Lloyd to sponsor the bed build.
There were some bonus passengers on the trip to Iowa, too. Lloyd held a stuffed animal drive to make sure every child who received a bed had a stuffed animal to go with it, plus extra for siblings.
To encourage the hotel to make an even bigger impact, "Lloyd challenged us as leaders to find local partners to match our gift," Ms. Sickels said. "Our community stepped up in a huge way, and we were supported by a dozen area businesses. I think they all found the experience just as impactful as we did."
Business included: Allstate, American Family (Heaton & Associates), Berthel Fischer, Culvers Garden Center, Hall Lending, Hanna Plumbing, NAWIC, Scooter's Coffee, Service Master, Strellner Agency, UpTown Coffee and Vanguard.