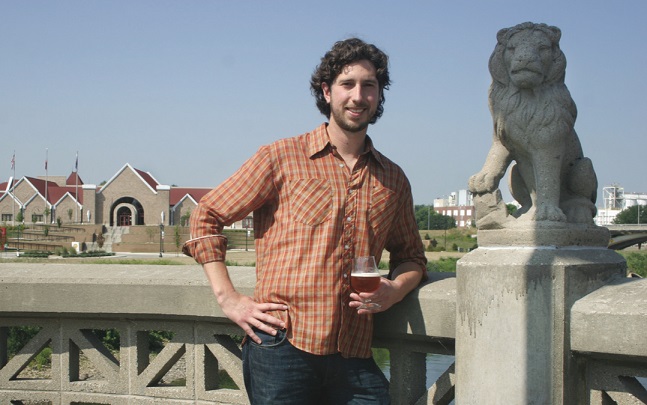 By Chase Castle
Months ahead of the brewery's second anniversary, the Lion Bridge Brewing Company in Cedar Rapids is poised to break into the Des Moines market.
The brewery's beers were scheduled to be available this week at 20 bars and restaurants in the capital city, where founder Quinton McClain hopes the company can establish its brand amid a competitive microbrew market in Iowa.
"It won't be a massive stir, but it will be a good start," Mr. McClain said. "And when we get future expansions, we'll have a nice following, we hope, in Des Moines that we can grow off."
Also on the business' agenda is a limited release of hand-bottled beers for the brewery's anniversary in March. Lion Bridge plans to sell 450 hand-signed and numbered bottles of a special edition Belgian-style ale. In May, it will embrace the barrel-aged beer scene by selling porter beer infused with maple syrup that's been aged in whiskey barrels from Cedar Ridge Winery & Distillery in Swisher.
Although the sale of its beer is limited to bars, restaurants and "Market Cafes" within Hy-Vee Grocery stores, Lion Bridge is licensed to distribute to retailers. Mr. Quinton said a move to bottle Lion Bridge on a mass-scale, however, is unlikely to happen anytime soon.
"We can do anything, but it's something that's a big step, so we want to be sure when we do get there, that we do it correctly," Mr. McClain said. "You want it to get in people's hands as fresh as possible, and in bottles and cans, it can get out of the door and get lost on the shelf if you don't have the staff to move it and sell it."
Lion Bridge presently has five full-time employees and about 15 part-time workers. The brewery produced about 600 barrels in its inaugural year, and about 2,000 last year. It's on course to brew about 3,000 barrels in 2016.
Mr. McClain didn't rule out the possibility of one day producing beer for other regional breweries, as Backpocket Brewery in Coralville did in 2012 for The Saint Louis Brewery in Missouri, maker of Schlafly beer. Such a partnership, however, would likely be 10-15 years away, he said, and accompanied by a major facilities expansion.
"I think we've got our hands full and feel like we're growing at a pace where we'll fill up the capacity we have," he said.
By the end of 2014, Iowa had about 54 operational breweries and brewpubs, according to a report completed by Strategic Economics Group and the Iowa Wine and Beer Promotion Board. Since then, several additions have come online in Eastern Iowa alone, including Turner Alley Brewing in Cedar Rapids, Quarter Barrel Arcade & Brewery in Cedar Rapids and the Iowa City Brewlab.
The depth of Iowa's beer scene will be on display Feb. 10 in Des Moines at a legislative-session welcome event at the Iowa Tap Room, which Mr. McClain said is expected to carry 120 Iowa beers on tap, including about seven by Lion Bridge.