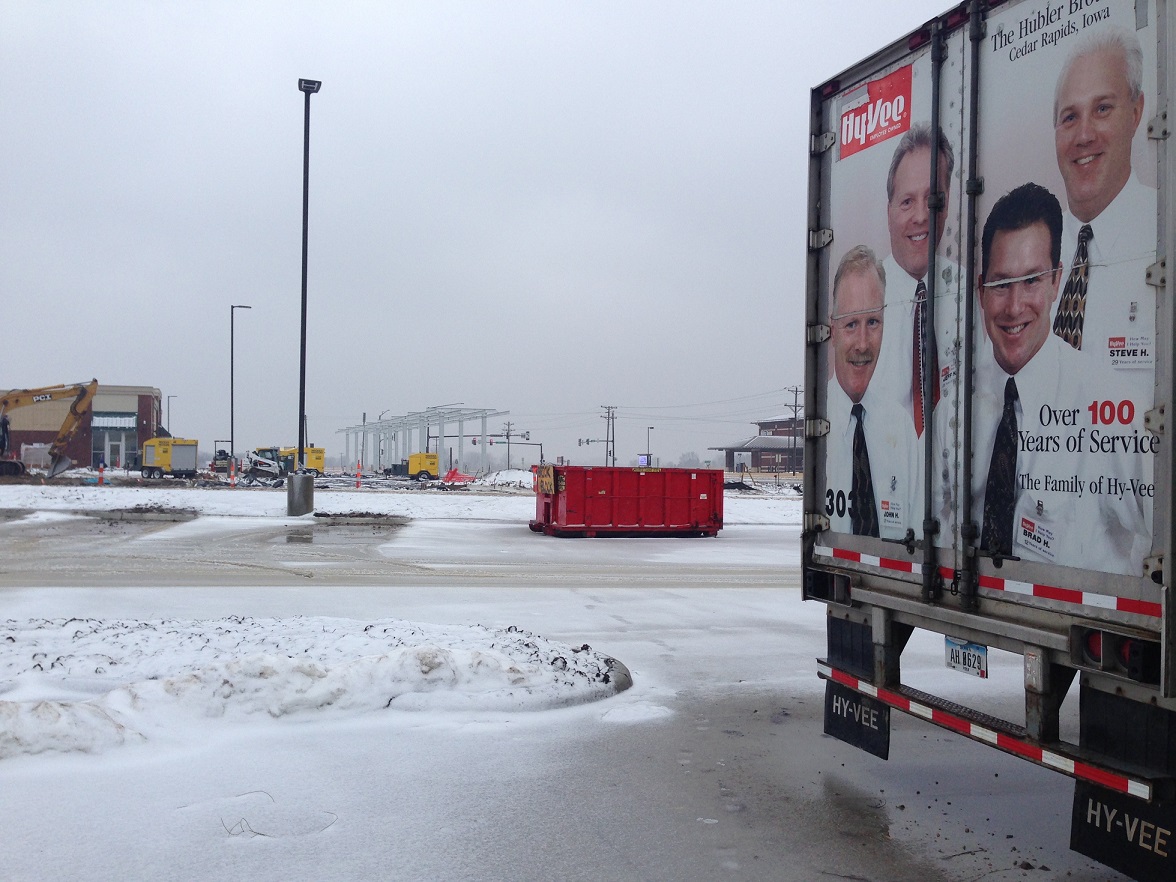 By Chase Castle
chase@corridorbusiness.com
The opening of a new Hy-Vee grocery store near the border of Coralville and North Liberty has been delayed to 2017, which comes as property owners and transportation officials try to keep pace with development in one of the Corridor's fastest growing areas.
Tina Potthoff, senior communications manager for Hy-Vee, said the grocery store will open in spring 2017, despite original plans to open sometime this year. The roughly 96,000-square-foot store at Forevergreen Road and Ridgeway Drive will be slightly larger than the Hy-Vee on Waterfront Drive in Iowa City, and will be the chain's fifth store in Johnson County. An adjacent Hy-Vee convenience store and gas station, meanwhile, should open sometime next month.
Ms. Potthoff said in an email the revised schedule was prompted by changes to the grocery store's architecture.
"The timeline for construction on this store was impacted by changes to the store layout and design," she wrote.
The store's new arrangement will include an interior "streetscape" design meant to evoke an outdoor market, Ms. Potthoff said, mirroring a layout recently rolled out at a Hy-Vee location in Rochester, Minnesota. She said the delay was not related to pending improvements along Forevergreen Road and nearby Interstate 380.
The Iowa Department of Transportation's most recent five-year plan includes the construction of an interchange at I-380 and Forevergreen Road, starting sometime after July 2018, according to Cathy Cutler, transportation director with the DOT's district office in Cedar Rapids.
The department is pushing to expedite the project, however, in an effort to have it completed before work begins on an interchange upgrade at I-380 and I-80 about two miles south. Efforts to advance the construction include outsourcing the completion of a preliminary report required by the Federal Highway Administration (FHA) to a private consultant, Ms. Cutler said.
The FHA is expected to approve the report early this year. At that time, the Iowa DOT will begin designing the Forevergreen interchange and acquiring the necessary land – a process she said typically takes about a year.
In anticipation of the increased traffic along Forevergreen Road, Ms. Cutler said the DOT is also working with North Liberty, which has the most jurisdiction over Forevergreen locally, to loan the city funds for paving the gravel road there.
A draft agreement for the project has been sent to the city, but details have not been finalized, she said.
"The Iowa DOT finds value just having an interchange there, but we know you don't just drop in an interchange and walk away," Ms. Cutler said. "We've been very appreciative of our partners."
Even if the Forevergreen interchange isn't completed prior to construction on the I-80 interchange, Ms. Cutler said the latter project isn't likely to be delayed. If those projects happen in tandem, drivers along I-380 will be rerouted to Penn Street to the north and Melrose Avenue to the south.
Van Miller is a real estate broker with Gibbs Lamb Drown, a Cedar Rapids-based commercial realty advisory firm representing the seller of about 12 acres of property just south of the Hy-Vee location.
"Some of those improvements are misery to live through," Mr. Miller said. "But you know there is an end to it, and when it is completed, traffic's going to be flowing a whole lot better there."
Once construction is finished, the new roadways should be welcomed by a growing number of businesses and residences alike. The population in North Liberty increased from 13,374 people in 2010 to 18,228 residents last year, according to preliminary U.S. Census data, marking a 36 percent jump that even outpaced the city's own projections.
"It's an up-and-comer, no question," Mr. Miller said. "North Liberty has been a strong growth area for some time, so that area continues to be on an upward path."
Edgar McGuire, owner of the specialty liquor store Bootleggin' Barzini's in Coralville, is among the business owners closely watching development at that site. He said he had tentative plans to open a second location near Forevergreen Road and Coral Ridge Avenue this year, and went as far as submitting a formal letter of intent to a nearby property owner.
Late last year, however, he decided to wait at least 12 more months before expanding, in part to gauge the impact of Hy-Vee as a potential competitor, and because of the changing infrastructure.
"We're going to wait another year, just because there's a lot of stuff going on there right now," Mr. McGuire said.
According to the Johnson County Assessor, the roughly 12-acre property just south of the Hy-Vee location is valued at $105,000. County records say the property is owned by 965 Development Inc., which was registered with the state by Michael T. Gatens, of Mike Gatens Real Estate.
Mr. Miller said his firm is set to close on at least one of those parcels with a fast food restaurant he declined to name, and said similar restaurants and other businesses have made inquiries about the land since Hy-Vee broke ground at the site.
"There are a lot of people that would like to be a near a Hy-Vee, so that's sort of been a catalyst, obviously," Mr. Miller said.
The area is presently home to a Hills Bank branch just north of the Hy-Vee convenience store lot, along with the Coralville Youth Sports Park to the southeast. A three-story, Healthcare Support Services Building (HHSB), part of University of Iowa Health Care, is also on Ridgeway Drive and was completed late last year.
Located about a half mile from the Hy-Vee site, the HSSB houses about 1,000 employees, largely comprised of UI health care administration as well as technical and record-keeping staff. A spokesperson for the university said employees started transitioning to the site from other campus locations in January, and the space should be fully occupied later this month.