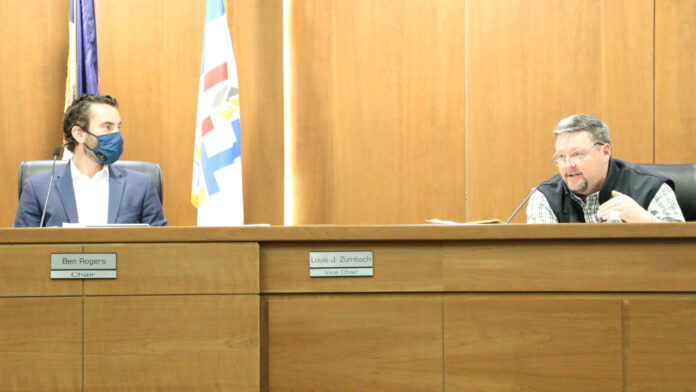 The Linn County Board of Supervisors voted 2-1 Feb. 7 not to move ahead with a six-month moratorium on consideration of industrial-scale solar proposals in the county.
Supervisor Louie Zumbach cast the lone vote to approve the proposed moratorium, with supervisors Stacey Walker and Ben Rogers voting to oppose it.
The proposal surfaced in the wake of the arduous and, at times, contentious consideration of the 750-acre Coggon Solar project, which was approved by supervisors 2-1 Jan. 24 after a series of public meetings and will become the county's first industrial-scale solar installation.
Charlie Nichols, Linn County's planning and development director, said the proposed moratorium was not intended to stand in the way of future industrial-scale solar projects, including a pending proposal from NextEra Energy on land at and surrounding the former Duane Arnold Energy Center near Palo and projects near Mount Vernon and Fairfax.
Rather, he said, county officials wanted time to codify several issues raised during consideration of the Coggon Solar project, including agricultural impact mitigation plans, vegetative management plans at installation sites, updating setback requirements, removing salvage values from decommissioning cost estimates, and addressing minimum solar panel heights. He also said the proposal, as drafted, could span less than six months if county officials were able to work out details more quickly.
Mr. Zumbach, who voted against approving the Coggon Solar project, said he felt that whatever the needed length, a moratorium would provide time for county officials to complete their evaluation of proposed changes.
"Experience is the hardest part of education, because the test comes first and the lessons come afterwards," he said. "This is a great indication that we got the cart a little bit before the horse last month, and you (Mr. Nichols)  just want to circle the wagons and make sure that the county is more prepared. I think that's an honorable thing to do."
A number of speakers at the Feb. 7 meeting were opposed to the moratorium. Former state senator Swati Dandekar, chairperson of Bright Future Iowa, an organization supporting renewable energy development, said she didn't understand the need for a moratorium.
"You approved the Coggon Solar farm after a long and painful process," she said. "You heard from all sides and ended up with a plan that addressed residents' concerns while allowing the project and all its economic benefits to move forward … You're aware of the fact that the business community is seeking access to clean renewable energy. Having both Coggon and Duane Arnold solar farms producing clean energy makes Linn County an attractive place to open for new business. They strengthen our community, increase our economic vitality and make Linn County a better place to do business and grow a place with opportunities for our children and our grandchildren. Solar progress can make Linn County a 21st century leader in Iowa."
Danny Hemminger of Cedar Rapids, a local labor leader, outlined the economic benefits of solar energy development in Linn County.
"I would like to remind everyone what's at risk here with this timeline," he said. "$700 million in capital investment for Linn County. Over $40 million in tax revenue, 300 construction jobs, over $500 million in landowner payments … We're at an historic crossroads right now in the state of Iowa with renewable energy and our opportunity to be a leader."
James Pray of Des Moines, an attorney representing NextEra Energy and the Duane Arnold Solar project, said developers had requested a pre-application meeting with Linn County regarding their project, and the request was denied due to the pending moratorium proposal. He said Duane Arnold Solar officials would have no issues with the contingencies added to the Coggon Solar project regarding setbacks, decommissioning issues and vegetative requirement, and that any moratorium shouldn't apply to the first two phases of the Duane Arnold project since that project has already been substantially developed under existing county requirements.
Kelly Merta of Center Point, however, questioned whether county officials could continue evaluating the Duane Arnold project without being given time, under a moratorium, to implement changes in county requirements. "It's in the county's best interest to have time to focus and not be distracted," she said. "I worry about the stress that proceeding in parallel will put on them to be focused and have the best possible outcome. So please support the moratorium and let's do it right."
Just before voting against the moratorium, Mr. Rogers, the board's chair, said he felt the county needed to move expediently based on several issues, including a proposal working its way through the Iowa Legislature that could impose several conditions, including a setback of up to 1250 feet, that would effectively "choke out" industrial solar development in the state.
"We have 90% of this virtually agreed upon," he said. I don't think we're going to negotiate anything less than what was at Coggon … I do think that there are benefits to being able for us as an organization to walk and chew gum at the same time, that we can accept applications and negotiate in good faith with all of our lessons learned."