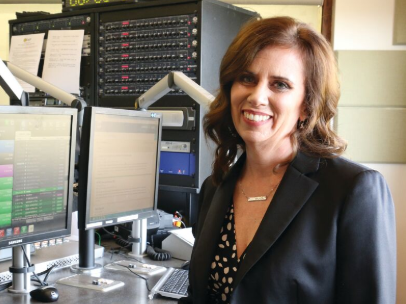 KZIA CEO Julie Hein stands in the Z102.9 studio on a recent afternoon. The station's broadcast booth is staffed by a local employee 24 hours a day, seven days a week. PHOTO ADAM MOORE
By Dave DeWitte
dave@corridorbusiness.com
After two initial applications for her first radio job wound up in the trash, Julie Hein came back a third time and landed the gig.
When she had almost decided she was a bust at selling radio advertising six months into her new job, Ms. Hein refused to quit and stuck with it.
It's a persistence that has paid off. In February, Ms. Hein was promoted to CEO of KZIA Inc. in Cedar Rapids, where she began her career 22 years earlier. The promotion made her one of the few women leaders of an Iowa-based radio broadcasting company, joining pioneers such as Mary Quass of NRG Media in Cedar Rapids.
In an era of media change, KZIA is one of the dwindling number of independent local broadcasters still thriving in the state. It operates top-40 station Z102.9, sports-focused KGYM (1600 AM and 106.3 FM), and one-year-old Smart FM, an HD2 channel relayed through FM translator stations 95.1 K236AA in Cedar Rapids and 98.5 K253BE in Iowa City. It is majority-owned by women, including Sandra Keller of Iowa City and daughter Nicole Keller of Indianapolis.
Ms. Hein, 48, was promoted from her longtime position as COO after the Jan. 29 traffic accident death of CEO and KZIA co-owner Rob Norton, 69. And while she's glad she went back to college to earn an MBA during her years at KZIA, Ms. Hein said much of what she's learned about the industry came from observing Mr. Norton and his former partner, Eliot Keller, who died in 2009. She took on more responsibility with each leader's passing.
Ms. Hein is a true believer in the power of radio – as a companion, a community voice and as a way for listeners to connect emotionally with their own moods. It's a kind of magic she can see when KZIA's station talent meets with the public.
"You'll see it at events when a listener meets one of our personalities," she said. "Maybe they've never met Scott Schulte, but you can tell by the way they act that they feel like they've known him for years."
Ms. Hein's career has encompassed a long period of station consolidation under a few huge broadcast chains, which has greatly reduced the amount of local creative and on-air talent. She's talked to people in the industry whose station had only one on-air staffer. KZIA's stations have a staff of 29, including four full-time sports announcers.
"I think it [consolidation] has hurt the industry," Ms. Hein said. "I don't think it's hurt us, necessarily. When we want to do something, we don't have to worry about what Atlanta or New York says. And when we advertise for on-air staff, we get a lot of great applicants from around the  country. It has also kept people from leaving who might have pursued other things."
The internet and disruptive digital technologies have also been reshaping the broadcast business throughout Ms. Hein's career. Stations now must compete for advertising dollars with Google and Facebook, and for listeners with streaming services like Pandora and Spotify and satellite radio providers like SiriusXM.
As daunting as that might sound, Ms. Hein doesn't doubt radio's ability to compete, noting it doesn't matter whether listeners hear it through their smartphone via KZIA's web stream or through their car stereo.
"The shiny object for people who write the [broadcasting industry] trade journals is digital," Ms. Hein acknowledged. And while she agrees that digital strategy is important, she doesn't believe everything's going online. Terrestrial radio still reaches 91 percent of Americans each week and has been rated the number one "mass-reach" medium by the research service Nielsen. She believes radio can build a stronger connection with consumers than Google ads.
"We're trying to get it to where consumers like and know you best," Ms. Hein said. "They go straight to your website and skip Google."
Three of the company's most recent sales hires were millennials who came to KZIA from jobs in digital ad agencies, Ms. Hein added, indicating they must believe there's a future in radio, too. Prominent millennial staffers include Jenny Valliere, Miss Iowa 2018.
Ms. Hein said her original goal in coming to work at KZIA wasn't to go on the air, but to learn sales. She applied for a job at KRNA, which was then the company's largest radio property and later sold.
"I was a big fan – I loved the product and wanted a chance to learn sales," she said. "When you learn how to sell, you'll always have work."
Despite those expectations, her early efforts seemed to fall short. After about six months she was ready to quit, and told her husband she would put in her notice at the end of the year.
"My husband said, 'Oh! I didn't know you were a quitter,'" Ms. Hein recalled. "And that was the perfect thing to say."
She buckled down and began to make some sales. The real problem wasn't her selling skills, she later discovered, but the fact that the sales cycle in radio can be surprisingly long.
Ms. Hein prefers to stay away from microphones at the station, saying she doesn't feel comfortable doing voice work unless she knows it will be carefully edited by one of her employees. She says the work atmosphere in a radio station is still infused with creativity, although perhaps not exactly as its portrayed in the media, or even during the early days of KZIA when it's corporate mission statement was literally "Party! Party! Party!"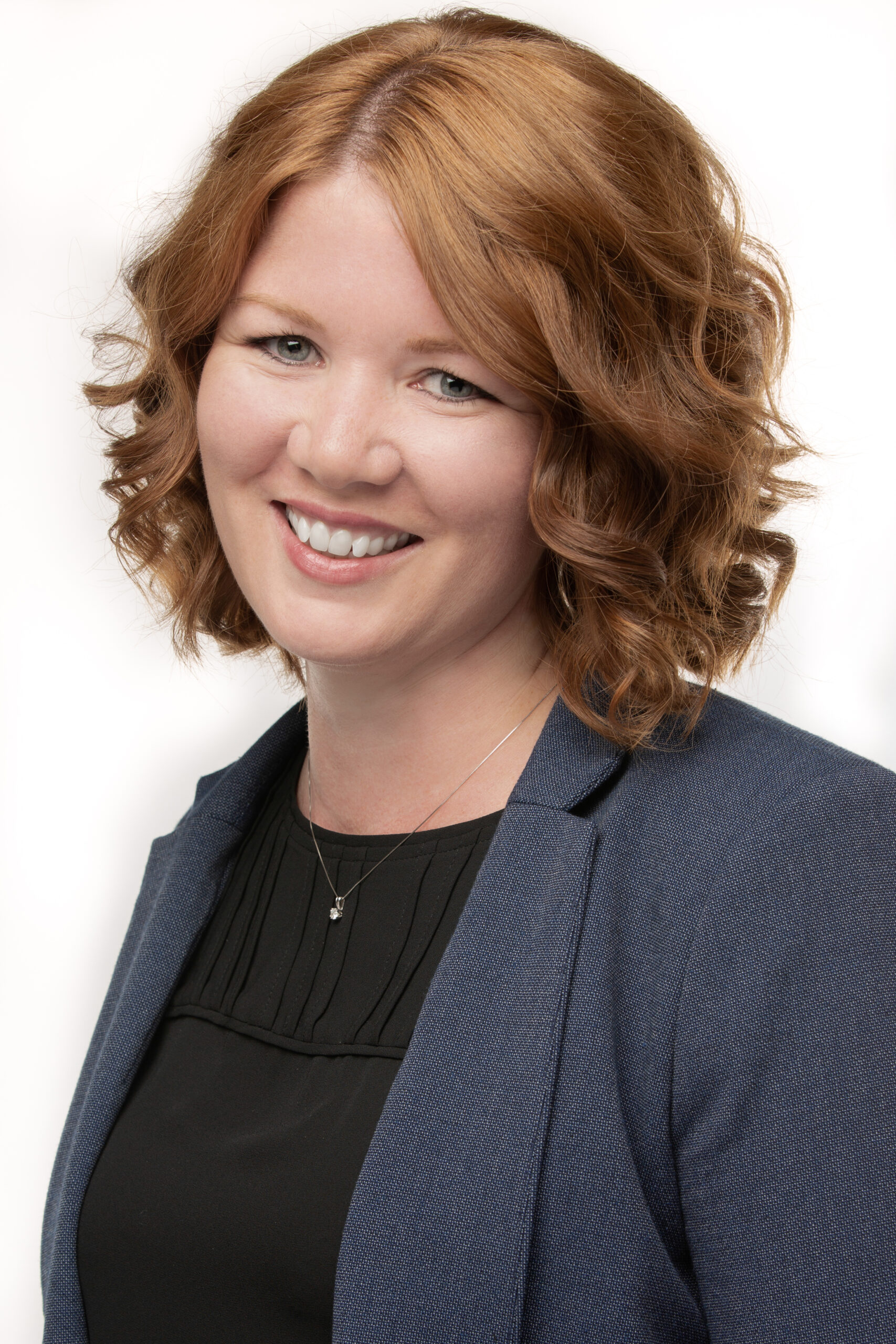 "Even if the mission statement had not been 'Party! Party! Party!', I would have been attracted to the fun and lively work environment," Ms. Hein said. She professes to being "the most boring person on the staff," whose wildest act may have been ordering a treadmill desk, but says it's great to work at a place where someone is playing with a puppy in a cubicle down the hall while others work out the kinks on a parody tune.
Broadcasting may not be the field most accessible to women judging from the number of women Ms. Hein encounters in industry leadership. She said it's often about 20 percent of station leaders.
Although she won't deny she's heard some comments that came off as sexist in the radio world, Ms. Hein doesn't feel that gender issues have been an obstacle to her career. Her advice to other women is to be "present in the moment," learn from those with more experience and not be afraid to take the next step in your career, even if you might not feel entirely prepared.
"I think Martin Luther King Jr. said it – take the first step in faith. You don't have to see the whole staircase," Ms. Hein said.
She also recommends that women think hard early in their career about the kind of work environment they want. After her unsuccessful early attempts to get into radio sales, she tried a career on a Walmart team that traveled a five-state region opening some of the earliest Walmart Supercenters. The work had its rewards but involved a very bureaucratic process.
"I felt sort of like a hostage when I was in that environment," she said.
Finding joy in the job is probably the most important key to success in radio, Ms. Hein said. Someone who can't find hapiness in passing out balloons to children at a live event or spending time talking music or sports with a listener probably isn't cut out for KZIA, she said.
Ms. Hein uses the word "joy" freely in describing her work life, saying it's an emotion she feels almost every day at the station.
"I want to retire from this job," she said.