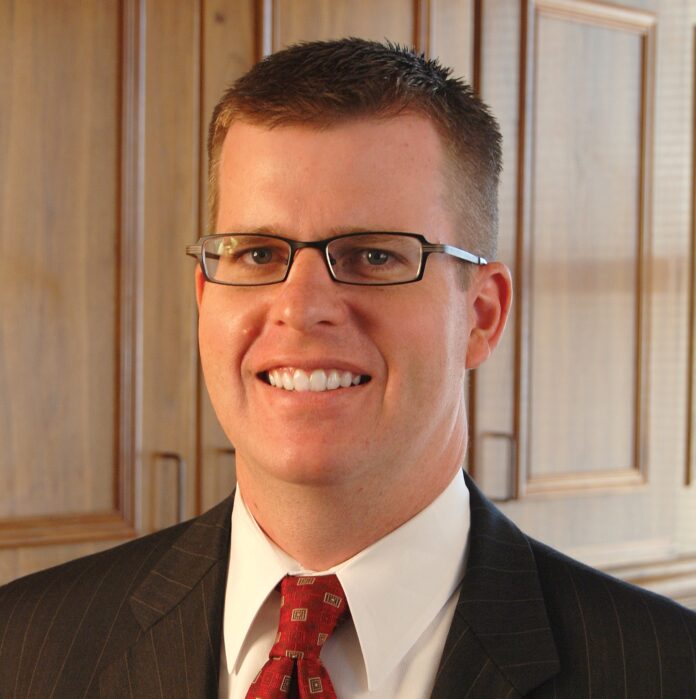 Attorney at Law, Member
Simmons Perrine Moyer Bergman PLC
Age: 36
He makes a fine example.
Kyle Wilcox has worked at Simmons Perrine Moyer Bergman PLC in Cedar Rapids since 2006, and became a partner (member) this year, a promotion that he calls one of his most proud achievements. His life is much more than his day job, though.
Mr. Wilcox is a member of several professional organizations. He is president of the Cedar Rapids Area Estate Planning Council, a member of committees and sections for the Iowa Bar Association, a member of the Iowa Academy of Trust and Estate Counsel, member of the Linn County Bar Association and is a frequent speaker at tax-related legal education seminars.
Heavily involved in the community, Mr. Wilcox is a member of the finance committee for his church, First Presbyterian; is a member of the Cedar Rapids Downtown Rotary, is an advisory board member of the Salvation Army of Cedar Rapids, an advisory board member of the Kirkwood Foundation. He also is a 2009 graduate of the Leadership for Five Seasons program and is a former member of the Kirkwood Paralegal Program Advisory Board and Cedar Rapids Grants and Programs Committee.
"Kyle is the finest example that I know of the 'citizen lawyer' that was once the norm within the profession in our country," Leighton Smith, vice president of financial planning at U.S. Bank, stated in his nomination of Mr. Wilcox. He earned his bachelor's degree in business administration from the University of Northern Iowa, graduating magna cum laude and law degree from the University of Iowa, graduating with distinction.
He lives in Cedar Rapids with his wife, Kristen, 6-year-old son, Aidan and 4-year-old daughter Abby.
-Gigi Wood