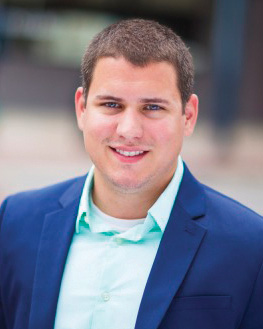 Age: 27
Occupation: Mechanical/ Electrical Group Leader, Electrical Engineering at Shive-Hattery Architecture & Engineering
What's the best advice you ever received?
"Keep your idealism practical" via a Hy-Vee fortune cookie.
What do you consider your greatest professional accomplishments?
Accepting the opportunity to lead seven talented engineers and design professionals as we work to grow our capabilities and build careers that make us happy.
What would most people be surprised to learn about you?
I was on a competition cheerleading team in high school called the CR Storm.
What do you know now that you wish you had known earlier in your career?
Decisions don't have to be perfect. It's more important to make the best choice you can, rally around it and then be willing to change direction if it doesn't work.
What's something people should know about your generation in the workplace?
That we are at our best when assessed by our ability to creatively solve problems, collaborate with our teams and meet our deadlines rather than by how many hours we spend at our desks in the office.
If you had $1 million to give, what causes would you support?
Building a flood wall in Cedar Rapids. Flood walls, actually – we need two of them.
What profession other than your own would you like to attempt?
Journalism.
What is the biggest issue facing the Corridor?
Retaining and attracting young professionals.
What do you want to accomplish by the time you are 50?
Be ready to retire from my first career and start my second.
Who are your local mentors?
Shawn Leuth, vice president, Shive-Hattery Architecture & Engineering; Mike Wehr, COO, Raining Rose; and Matt Gordon, senior electrical engineer, Shive-Hattery Architecture & Engineering.