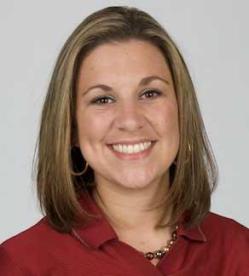 Kendra Fish
Director of Marketing
Lattice Communications
Age: 30
As the marketing director at one of the fastest growing companies in the Corridor, Kendra Fish knows how to adapt to change.
Ms. Fish works for Fairfax-based Lattice Communications.
"It's really fast-paced, and different day every sing day of week. We all work together to make things happen," Ms. Fish said.
She also founded her own marketing company, GoFish Marketing, which has grown over the last few years.
"After college, I was looking to start something creative to do on the side in addition to starting a career fulltime. I started doing odd jobs for friends and colleagues. Over the years it has grown to something a little bit more, especially over past two to three years," Ms. Fish said.
Ms. Fish, who grew up in Mount Pleasant, moved back to Iowa from Minneapolis in 2008. Soon after, she became involved with local young professional groups, EPIC and ImpactCR. She is part of the EPIC leadership council.
"I really wanted to meet some new people. Most of my college and high school friends were off doing their own things and I really want to find way to make new friends," she said.
She earned a bachelor of arts degree in graphic design from the University of Northern Iowa and lives in North Liberty.
"My goals are ever changing. Being in marketing, I think it's true for a lot of fields, things change every day, every week, every hour," Ms. Fish said. "Some big picture things for my career are to feel empowered in making a difference in the organization, my community and making sure the leaders of tomorrow are set up in any way possible."
Ms. Fish has also volunteered her time to the Marketing Professionals Network, United Way, Aiming For a Cure and the Muscular Dystrophy Association.
"Kendra has a great deal of stamina and works hard. She is intrigued with the unique qualities of other she works or serves on committees with and has a gift for figuring out how people who are different can work together," stated Karen Schumacher in her nomination of Ms. Fish.
-Pat Shaver