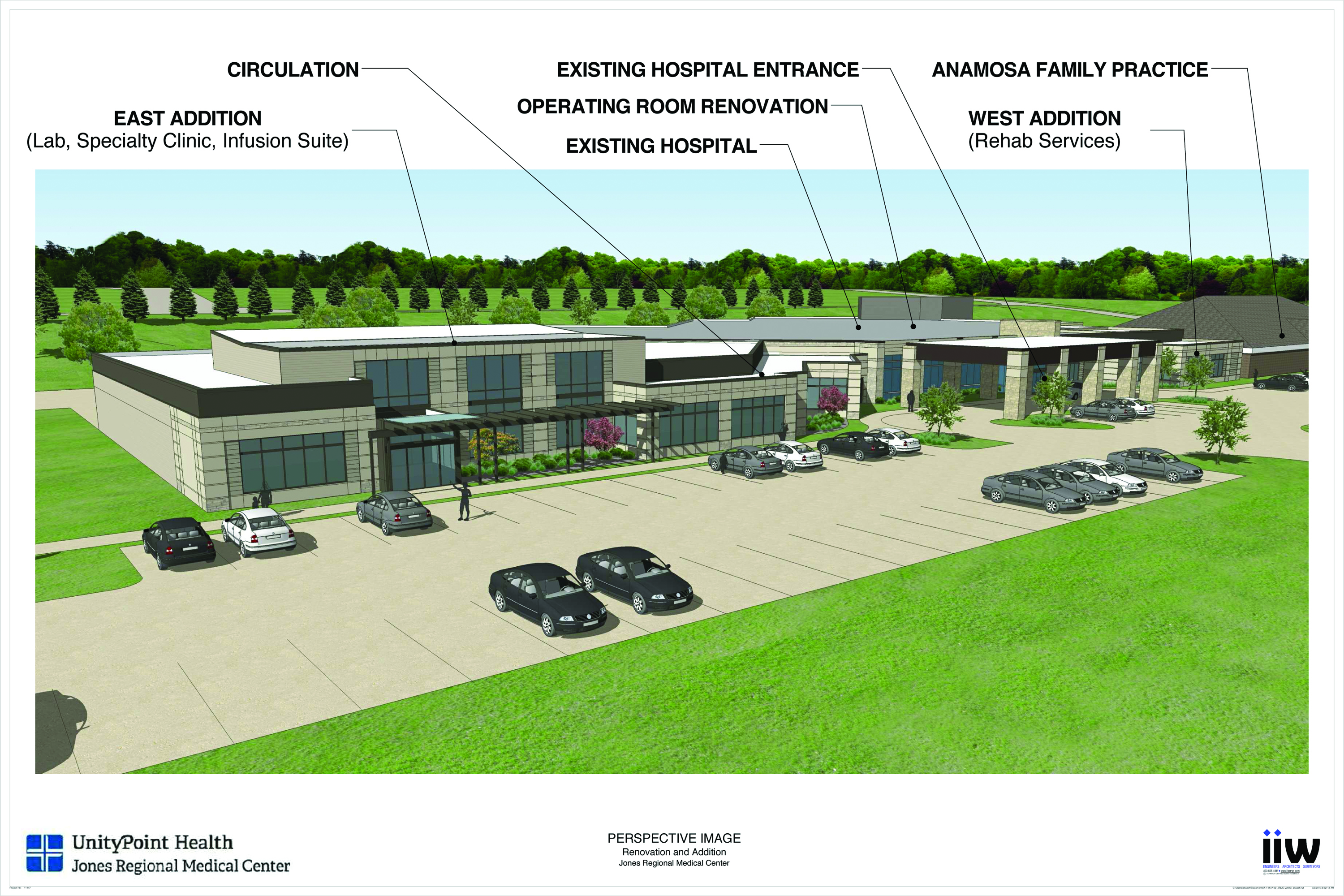 By Dave DeWitte
ANAMOSA—When UnityPoint Health – Jones Regional Medical Center opened the doors to a new hospital facility five years ago, nobody quite expected that a major addition would be needed in less than five more.
That prospect became reality Sept. 22, when ground was broken for an $11 million addition that will include an extensive renovation of the hospital to meet changing needs.
What happened?
Gradually, patients who'd been receiving care in Dubuque and Cedar Rapids began coming to the Anamosa hospital, which replaced an outdated and obscure location near the Anamosa State Penitentiary. The new facility is conveniently located near the busy intersection of Highway 151 and Highway 38, and Anamosa's main area of retail growth.
Visits to the hospital's emergency department, which is closer for many patients and advertises a four-minute wait time, grew rapidly from 6,560 in 2008 to more than 8,900 in 2014. But the biggest growth area for the hospital was its specialty clinics, according to Jones Regional Medical Center CEO Eric Briesemeister.
The number of specialty clinics at Jones Regional grew from nine in 2008 to 18 in 2014. Mr. Briesemeister said patients appreciated the convenience and level of personalized care they received at the new hospital, which often saved them a trip into unfamiliar territory at hospitals in a more distant community. The number of specialty clinic patients more than doubled on an annual basis, to 5,480 in 2013.
Patient visits to the hospital's Wound Clinic grew from about 150 to more than 1,100 in the five years since the new hospital opened, according to Mr. Briesemeister. He said the hospital is exploring the possibility of adding even more specialty clinics, such as obstetrics and gynecology, to provide more local services for the region.
Ted Townsend, president and CEO of UnityPoint Health – St. Luke's Hospital in Cedar Rapids, worked with Jones Regional Medical Center to request $10 million in UnityPoint funding for the project.
Mr. Townsend said the project is an example of UnityPoint's commitment to local autonomy for its affiliates, and its shift in emphasis toward providing coordinated health care for patients that keeps them well rather than waiting for them to become sick.
For two straight years, Jones Regional Medical Center was rated one of the 40 fastest-growing hospitals in the United States by Modern Healthcare magazine, according to Mr. Townsend.
UnityPoint Clinic's cardiology practice is one of the larger specialty clinics in operation at Jones Regional, which it has been serving for over three decades. Dr. M. Naser Payvandi, a longtime cardiologist in the clinic, said patients come from 25 communities, mostly outside Jones County, from places like Clarence, Cascade and Monticello.
"They really don't want to deal with the traffic on First Avenue in Cedar Rapids," Dr. Payvandi said. "They take Highway 151, but they come to Anamosa."
Dr. Payvandi sees continued growth for the cardiology clinic, predicting that it will offer cardiac catheterization services to install stints in five years.
"Clearly, the growth of our clinic validates our expansion and continues to promise more growth in the future," Dr. Payvandi said.
The expansion of Jones Regional Medical Center will add 20,000 square feet of outpatient specialty clinics, an infusion center and laboratory services.
The project also includes renovation of 11,000 square feet of space for expansion of the emergency department, the addition of four surgical prep and recovery rooms, doubling of the pharmacy space and tripling of the rehabilitation area.
The local community has already raised nearly $800,000 in donations toward a $2 million fundraising goal for the project, which is slated for completion in 2016.
Mr. Briesemeister said the hospital expansion will mean more than better medical care for the region. It will also be a boost to the local economy, he said, adding 25-30 jobs to the hospital's current staff of 200, and providing work for contractors.
Graham Construction Co. of Des Moines is general contractor for the project, which was designed by IIW of Dubuque.