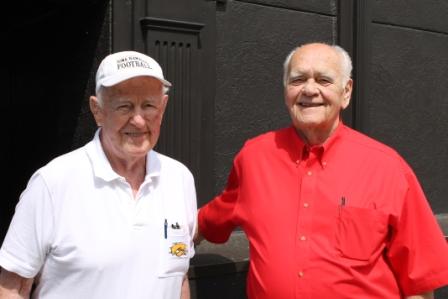 By Gigi Wood
IOWA CITY – The Johnson County I-Club is in its 41st year and many of the inaugural committee members of the club are still actively involved.
Two members in particular are Pat Foster (left in above photo) and Dick McKeen (right in above photo). Mr. Foster, who is 87 years old, is a 1949 University of Iowa graduate and football player. He founded Foster Maytag in 1950 in Iowa City, which became one of the largest Maytag dealerships in the state.
Mr. McKeen, who is 79 years old, a broker/owner at First McKeen Realty until 2002, is now a real estate agent at Lepic Kroeger Realtors. He has served as president of the National Association Board of Realtors and was the first president of the Johnson County I-Club, back when it was founded in 1972.
"They started 40 years ago and have been with it ever since then," said Scott Pantel, Johnson County I-Club president and vice president of marketing with Merit Construction. "Their contributions to the club have been extreme leadership, handing down the history and how they've done it. They generate enthusiasm, leadership and they bring good, quality people into the club."
Mr. Pantel said there have been many other important contributors to the Johnson County I-Club throughout the years, and named Dean Jeter and Earl Murphy, also Iowa City businessmen, as two additional early leaders.
"In order to be a leader, you have to say your opinion, regardless of what someone else thinks of it," Mr. Pantel said. "It might be right, it might be wrong to somebody else, but you're going to hold your ground and make tough decisions. And I think they've made good, solid decisions over the years. It's tough to be a leader and they've done that and haven't shied away from that."
The I-Club is an organization that fundraises and advocates for the University of Iowa and UI Foundation. Throughout the years, the Johnson County I-Club has helped raise thousands, if not millions, of dollars for Hawkeye athletic expenses, from scholarships and equipment to facilities and medical services for teams. The Johnson County I-Club pledges $35,000 to the foundation annually.
There are 23 I-Clubs in Iowa, but the Johnson County I-Club is in heart of Hawkeye country, allowing members to form bonds with coaches, staff and players. Johnson County I-Club members have found a number of ways to help the athletic teams and be involved on a monthly, weekly or daily basis.
Mr. Foster, for example, attends most of the UI football practices and often takes the coaches and staff pretzels. UI Football Coach Kirk Ferentz prefers animal crackers, Mr. Foster said.
"He just does niceties that go above and beyond," Mr. Pantel said. "I know he's retired, but he's been doing it for years."
Mr. Foster also blows a whistle to signal the start of each I-Club breakfast. Meanwhile, Mr. McKeen greets people at the fall monthly breakfasts and strategically seats them at various tables.
"Dick is the one who always makes sure the dignitaries get good seating, so he's always there early and making sure everyone is properly seated and directs traffic," Mr. Pantel said.
Mr. Jeter arrives at the I-Club breakfasts at 5 a.m. to help take tickets and Mr. Murphy started the I-Club's Garden Club, which meets over the lunch hour.
Johnson I-Club history
Back in 1972, Mr. McKeen noticed there was a Hawkeye football banquet in the Quad Cities, a basketball banquet in Monticello and a wrestling banquet in Manchester.
"The banquets were scattered all over and I asked Bud (Suter, the executive secretary of the Johnson County I-Club and the UI athletics relations director from 1955-1974) one time, 'why aren't those in Iowa City?' Well, we don't have an organization here," Mr. McKeen said. "I said, 'why don't we start one?'"
A 25-member committee was assembled and the Johnson County I-Club was born. Since it started at Mr. McKeen's request, he served as president for the first two years.
The group first met in the basement of the Carousel Restaurant, which later became the Green Briar, until there were too many members. Meetings then moved to the Highlander Hotel.
When former Football Coach Bob Cummings was hired, he quickly became involved in the I-Club and helped grow the program.
"We had the first game against Iowa State in 1975 and that breakfast, we had 729 people," Mr. McKeen said.
Later, former Football Coach Hayden Fry shared the same enthusiasm and was heavily involved in the I-Club.
During the first few years, the Johnson County I-Club had about 200 people who contributed $10-$15 a year for a $20,000 total. They increased membership to 2,000 who contributed $250,000 from membership dues. Whenever the group was asked to raise money for a Hawkeye athletics project, the group always exceeded its goal. For example, when the I-Club was asked to raise $1.2 million for Carver-Hawkeye Arena, the group raised $2 million.
"We grew so fast and so big, we were a challenge to Cedar Rapids, we were a challenge to Des Moines, we were a challenge to all of the I-Clubs throughout the state," Mr. McKeen said.
Mr. McKeen and Mr. Foster seem most proud of the Town Hawk program, where Johnson County I-Club and other local business professionals were asked to meet with athletics recruits, take them to lunch and talk to them about Iowa's athletic program. That was back before the NCAA upped its recruiting restrictions. Mr. McKeen remembers one football player asking for advice on what bank to choose in town.
"We became friends with them and they looked to us for a lot of direction," Mr. McKeen said.
They did the same for potential coaches, as well. Mr. McKeen remembers when former Women's Athletic Director Christine Grant was recruiting former Women's Basketball Coach Vivian Stringer. Mr. McKeen spent several hours with UI leadership as part of the recruiting efforts.
"It's been a wonderful opportunity for us meet some truly outstanding people," Mr. McKeen said.
Mr. Foster said they have seen many coaches from many sports come and go throughout the years.
"Watching them leave is the hardest part," Mr. Foster said. "Our lives have revolved around Hawkeye athletics. It's just another form of advocacy."
I-Club today
Johnson County I-Club members have always volunteered at UI athletic events, from providing fruit and water to athletes to acting as timers for swimming meets. Mr. Pantel said as the group continues to evolve, it is putting additional emphasis on its volunteer efforts.
"We want to let the coaches and their right-hand people know that we're always there for them," he said. "If they need volunteer opportunities, we're here to help. Those guys have done it all the time."
This year marks the 75th anniversary of the National I-Club, a milestone for the University of Iowa Foundation's fundraising program for intercollegiate athletics.
"The 75th anniversary of the National I-Club is a wonderful example of the tradition and loyalty exhibited by thousands of Hawkeye fans throughout the years." Gary Barta, UI's athletic director, stated in a press release. "Without this continued support, our 24 sports and over 600 student-athletes would not have the competitive edge they need to compete successfully in the Big Ten Conference and across the nation."