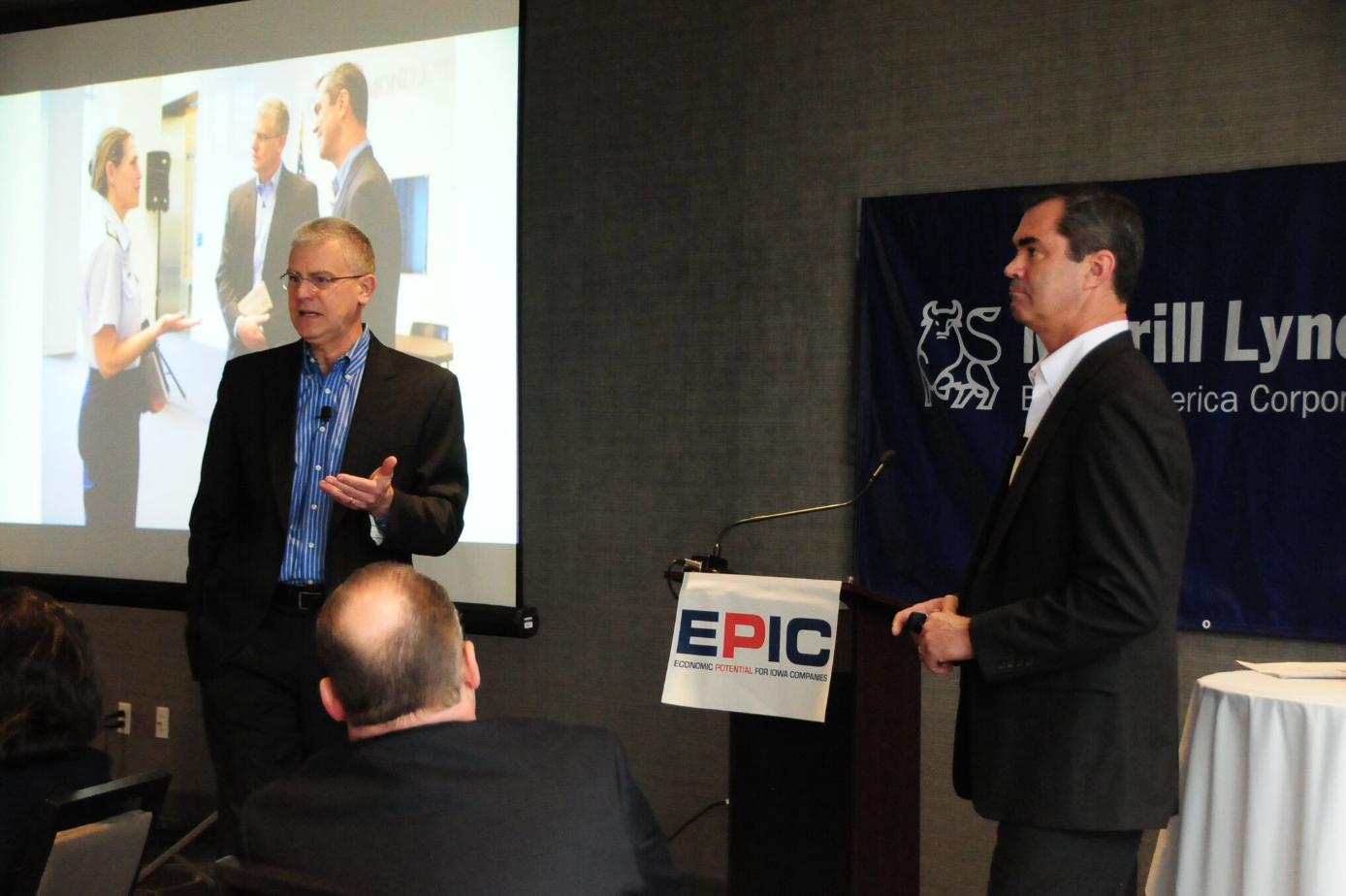 Authors and Naval Academy instructors Drs. Brad Johnson and David Smith speak during the inaugural men's track at IWLC's Eastern Iowa conference in 2016.
By Adam Moore
adam@corridorbusiness.com
The leaders at Iowa Women Lead Change weren't necessarily looking to address issues of sexual harassment when preparing for 2018, but that conversation seems all but inevitable now.
The Cedar Rapids-based women's development organization unveiled the theme, "Iowa Women [and Men] Lead Change," in mid-November, a little more than a month after accusations of sexual harassment and assault against Hollywood producer Harvey Weinstein set off a cascade of other charges against high-profile men including NBC's Matt Lauer, NPR's Garrison Keilor, Alabama Senate candidate Roy Moore and Minnesota Sen. Al Franken, who announced his resignation plans last week.
The tag line is intended to focus the organization's year ahead on the importance of engaging "male allies" and making them part of advancing women leaders, said IWLC CEO Tiffany O'Donnell, but it is becoming "clouded" by the nation's struggle over questions of power and abuse. Many men have begun questioning their own actions and behaviors in the workplace, but others have simply retreated inward, hoping to avoid any trouble as the #MeToo Movement – just last week named Time's "Person of the Year" – gathers steam.
Ms. O'Donnell hopes the organization's theme and approach can convince men that it's safe to engage on these issues, and that they are, in fact, needed for women to move forward in the workplace.
"There are men, because of all the color around the conversation right now, that are just shutting the door out of fear," she said in an interview with the CBJ. "We're not interested in addressing sexual harassment – we're interested in how we share best practices for being a male ally. What does being a good mentor look like? What does being a good sponsor look like?"
"I believe if that happens, the other stuff goes away," she added.
Men have always been involved in IWLC's events and initiatives, Ms. O'Donnell noted. The organization's CEO Forums, which gather high-level leaders of regional organizations for frank conversations, have always included men; it also added specialized men's tracks to its conferences in the Corridor and Central Iowa last year. Men's attendance was never strong, however, leading IWLC to be "more intentional" about drawing in male allies – generally defined as those who advocate and support women's rights and advancement in the workplace – in 2018.
"We recognize that we must have everyone in on this conversation," Ms. O'Donnell said.
The organization is making some changes to its most popular events to better include men. It will replace the CEO Forum from its first conference of the year, set for Feb. 15 in Sioux City, with a breakfast reception and a keynote speaker – in this case, Iowa Economic Development Authority Director Debi Durham. The idea is to "get more of those guests of the typical CEO Forum to attend a portion of the conference," Ms. O'Donnell said.
Depending on its reception, the new format could spread to the four other IWLC conferences scheduled for this year: the Quad Cities (March 29), Cedar Rapids (April 26), Dubuque (Oct. 16) and a two-day conference in Central Iowa (Nov. 6-7).
It has also made the somewhat controversial decision to begin including men on the advisory boards of its Women Connect groups, which meet monthly to share best practices and plan quarterly programming around the mission of women's leadership and development. The Corridor will have at least two men joining the region's 30-member board in 2018, Ms. O'Donnell said – a decision that initially generated some pushback from existing members before IWLC leaders were able to explain the reason behind the change.
"It's critical that women have an organization that's dedicated toward their development needs – that's still our mission. We're not shifting who we are," Ms. O'Donnell said. "But inviting men to be a part of this conversation is how we're going to make change happen."
IWLC is also looking to expand its reach in the coming year as part of the effort to keep the conversation going. It will for the first time offer a livestream of its conferences to its corporate partners, providing employees in more rural areas of the state and Midwest access to the organization's professional development content. The organization may eventually offer centralized viewing locations for livestreams, perhaps even for the general public.
Many things will stay the same with the organization's conferences, however, including its focus on educating, challenging and inspiring attendees through strong keynote speakers. A sampling of speakers for the organization's statewide conferences in 2018 include Joanne Lipman, chief content officer at Gannett and editor-in-chief of USA Today; Jeannette Walls, best-selling author of The Glass Castle; Jeffery Tobias Halter, president of YWomen and a TEDx speaker; and nationally known neuroscientist Dr. Steve Robbins.