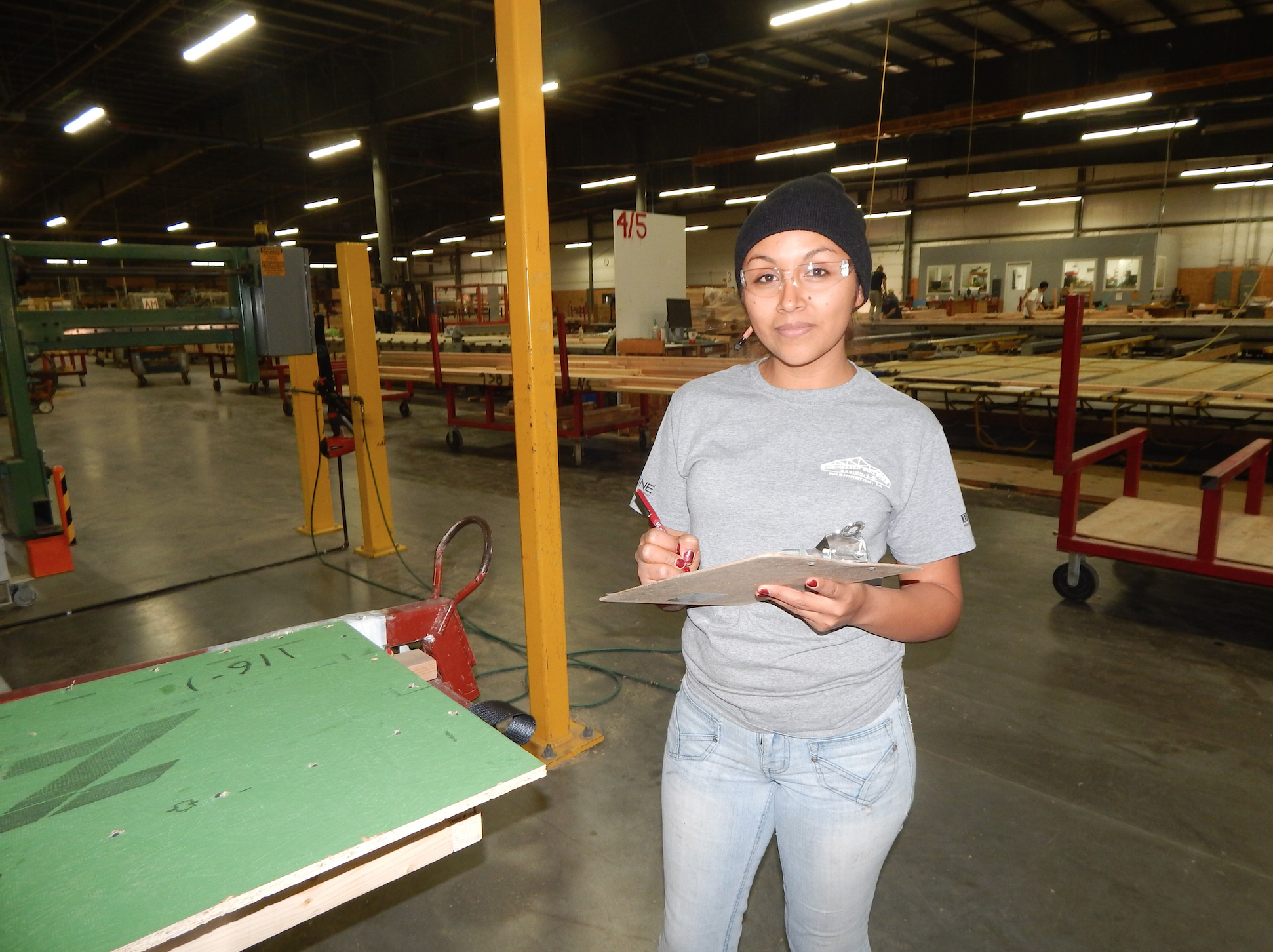 Belgica Murillo, a production assistant with Engineered Building Design, poses for a photo in the company's Washington facility. The company has increasingly attracted women to work on its production floor, thanks to an emphasis on safety and positive culture.
By Emery Styron
news@corridorbusiness.com
Agricultural and single-family home construction drove demand for Engineering Building Design's roof and floor trusses from Day 1 in 1995 until 2007, when the housing market collapsed, said co-owner Dave Mitchell. That's when the Washington-based manufacturer hired an estimator and began focusing on the multifamily housing and commercial construction markets.
The move paid off. EBD now supplies panelized roof, floor and wall components for many high-profile projects in the Corridor, as well as select developments in Chicago and St. Louis. The 7 million board feet of lumber EBD used last year – enough to load more than 60 railcars – represented a 260 percent increase in volume from the depths of the recession.
"We couldn't have done it without our people," said Mr. Mitchell, who carries psychic scars from the darkest days. "When Lehman Brothers went down, we had orders cancelled and none coming in."
Sales fell by half in 2009-10, and Mr. Mitchell had the grim task of laying off of much of his workforce.
Thanks to better times and the pivot to commercial work, EBD has bounced back. It now employs 82, including 10 workers from temp agencies. In many cases, temp employees turn into full-time company employees, he said. Another workforce bright spot is the increasing number of women applying for and landing jobs on the production floor.
"Women are an untapped resource" for EBD and many other construction-related industries, Mr. Mitchell said.
Relationships, are key
EBD uses a sophisticated software package to estimate and design projects, but relationships with general contractors are also vital. The first estimator came on board with contacts in place, which helped kickstart the new business focus. The current estimator, Jamie Ferst, followed two years later.
The company's five-person sales team focuses on commercial projects in the Corridor, but "in the multifamily world, we travel a little further," said Mr. Mitchell.
"We love it when it's in Iowa City and Cedar Rapids." As for Chicago and St. Louis, "we pick and choose projects in the cities," he said.
EBD has been a major supplier for fast-rising, high-visibility Corridor developments such as the new mixed-use development across from 30Hop in Coralville's Iowa River Landing, the Comfort Inn & Suites near the Eastern Iowa Airport, Fairfield Inn & Suites on the Coralville Strip, Blairs Ferry Senior in Cedar Rapids and The Depot behind NewBo City Market.
"Our emphasis is to make the life of the general contractor as easy as possible, to have as much work as possible completed off site so they can finish their projects quick and on time," said Mr. Mitchell.
At a time framing contractors have trouble filling crews, EBD offers the advantages of both labor and process.
"A framer can't work every day of the year, but our guys are in an interior environment," Mr. Mitchell noted.
Due in part to the labor rate differential, EBD is able to offer pre-built components at an attractive price, compared to site-built construction.
EBD's manufacturing process means "our material is handled in the same fashion every time," Mr. Mitchell said, That means building with jigs where items are laid out and squared, then properly nailed to code. That kind of consistency is hard to match outside of a factory, he said.
Building a culture
An emphasis on safety and a positive workplace culture has helped EBD keep a core of long-tenured employees. In a workplace filled with staplers, saws, nail guns and presses, "there are ways people can get hurt," said Mr. Mitchell. "We educate people about the environment. If someone gets injured, we work to get them healed and back to earning."
"Teamwork is huge," said Larry Northway, a 25-year industry veteran who has overseen EBD's 64,000-square-foot production facility for the past year-and-a-half. "We really push a family environment. Sometimes you spend more time with these people than you do at home. We want them to come to work knowing they are not going to get bullied, harassed or treated unfairly."
One fun activity that played up safety was a peanut-butter-and-jelly sandwich-making contest, with one team member blindfolded and the other with one hand tied behind their back. Twenty employees were also trained in Lean manufacturing at Kirkwood Community College last year, a program that will be repeated.
Mr. Northway and Mr. Mitchell say they are always looking for new employees, especially self-starters with leadership skills who will "be good team members and embrace our culture."
"Anyone with assembly line or construction experience can come in here and be comfortable," Mr. Northway said. "As we continue to move forward, basic computer skills are absolutely needed." The ability to measure accurately is another big plus for applicants.
He acknowledged that the labor pool "has been a bit challenging," but an upsurge in female applicants has helped fill the gap. EBD employs five women on the shop floor, up one a few years ago. Two other women work in the office. Employees' ethnic backgrounds are now reflective of the diversifying Washington community, Mr. Mitchell said.
The company is also working to connect with new generations of workers via internships, support for STEM (science, technology, engineering and math) programs at Kirkwood Community College and Clear Creek Amana High Schools, and the On the Job Training program at Washington High School. Students seeking summer work often find a place at EBD, where, as Mr. Mitchell puts it, "We want to give students in our area insight into careers and opportunities in construction."