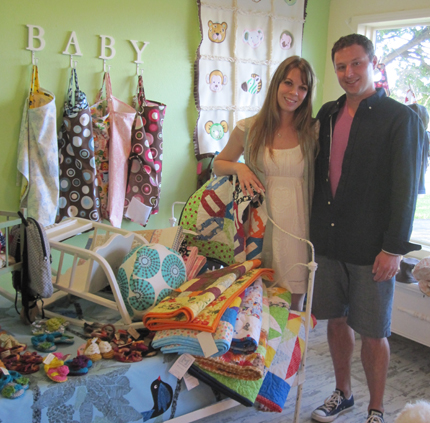 By Gigi Wood
NORTH LIBERTY — They won't have to ask "what if" later on in life.
Nic and Kelly Mercer opened Itsy Bitsy Boutique, a children's store along Highway 965 in North Liberty, on March 3. In doing so, Mr. Mercer left behind a stable, 13-year career in pharmaceuticals at the University of Iowa, and Ms. Mercer left her nursing job at the UI. She now works for Infinity Skin Care & Spa in Coralville in addition to running the store.
"I think a lot of people in theUnited Statesand inIowaand probably right here inIowa CityandNorth Libertyhave lots of great ideas but they're too scared because there's a lot of risk," Mr. Mercer said. "Ten years from now, we won't have to go, 'What if?' We took the chance."
Itsy Bitsy is the culmination of Ms. Mercer's dream of owning a business, interest in crafting jewelry and handmade items and the couple's desire to try something different. Ms. Mercer has a studio arts degree from theUniversityofIowaand always wanted to sell her wares, but found she didn't have time to attend craft fairs and trade shows to sell her work.
"I know what it's like to try to sell your stuff on Etsy.com, and I love the unique, handmade items," she said. "Selling on Etsy is really hard; you feel like a needle in a haystack. I wanted to give an outlet to people to sell their stuff and for people to come and find a unique gift."
The more she considered opening a business, the more she noticed the children playing in the backyards of homes inNorth Liberty, where the couple have lived since 2007. One thing led to another and the couple decided there was a need for a locally owned children's store in North Liberty.
"I noticed the explosion of children around us in our neighborhood," she said. "I felt North Liberty is a young community. It's growing and there are lots of families. Originally, I was going to do just handmade stuff, not just children's (items), but I realized with the demographics, probably focusing on children would be better."
Ms. Mercer enrolled in the UI's FastTrac program, a six-week program for startup businesses and went over her business plan and numbers with Paul Heath, director of the UI Small Business Development Center. That assistance helped her get a loan to cover startup costs, and soon after the couple found a location, at 201 Hwy. 965, in Liberty Plaza, near Cinnamon Sun, Revisit and Christian's Carpets.
"I thought,North Libertyis an affordable place to start a business, too," she said. "We've had a really great response."
Half of the store is filled with consignment items. The couple accepts one tote of used clothing and supplies per visit and offers 50 percent of the selling price in cash or 55 percent in store credit.
"I like consignment shopping, but I don't looking going to some of the places that feel like a basement, and I wanted to bring that consignment (element) into a better atmosphere, where you don't feel like you're shopping in someone's garage," Ms. Mercer said. "Given the economic times, bringing in a consignment aspect to it brings in a greater range of prices."
Open seven days a week, Itsy Bitsy also sells locally crafted items, such as quilts, baby blankets, bibs, stuffed animals, baby toys, gift cards, hair accessories, skirts, tutus, and other clothing, with sizes ranging from newborn through 14/16.
Iowa companies represented in the store include Raygun,  Wise Owl Designs, Posh Pea, Whitties Knitties, k8tes, OliveandE, Bags by Bonnie, BabyBibBoot, Birdie Boots, Little Lollipop Designs, Marie Grace, Breezy Cards and Crafts, Simply Rooted, Artistic Eye Candy, Forever Handmade and more. While Raygun is based inDes Moines, the other handmade items are created by artists in the immediate area, including North Liberty,Oxford and Tiffin.
"That's been really fun. All the local artists discovering us and us discovering them," Mr. Mercer said.
Many of the items are so unique, there are only one or two available in the store. That makes it virtually impossible for the store to offer gift registries for expectant mothers. Itsy Bitsy does sell gift certificates, however, and recently hosted its first baby shower, where guests decorated baby bibs for the expectant mom.
Ironically, as the couple began work to open the store, Ms. Mercer learned she is pregnant with the couple's first child.
"It was a surprise, but we're going with the flow," she said. "And (having a baby) will help with our business perspective, so we know what our customers are going through. And family is important. It will be a nice feature of owning our own business, to have that flexibility with our schedule for our family."