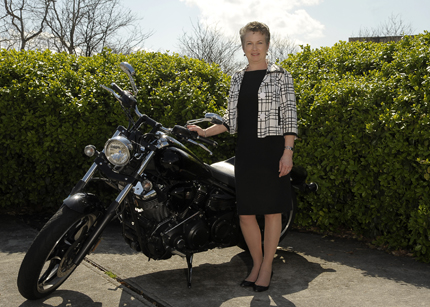 By Gigi Wood
It's going to be a learning summer.
Sarah Gardial (gar-DEE-all),UniversityofTennessee,Knoxville's vice provost was recently hired as the dean of theUniversityofIowa's business school, effective July 1. She will be the UI business school's first female dean.
She replaces William "Curt" Hunter, the UI business school's first black dean, who is retiring. Mr. Hunter has served as dean since 2006. Previously, he was dean at the University of Connecticut's business school and held several senior officer positions within the Federal Reserve System inChicagoandAtlanta. He will continue to serve on several boards and will assume the role of president of Beta Gamma Sigma, the international business honor society for a two-year term, starting in 2013.
Ms. Gardial's first days on the job will not be spent inIowa City. Instead, she will fly to Hong Kongfor the UI Executive MBA Hong Kong program graduation.
"They're going to be having a graduation ceremony on July 1, so by July 1, I'll be up and going inHong Kong. So I'm jumping right in," she said.
The UI business school has an MBA program inItaly, as well. The school's international initiatives were a selling point for Ms. Gardial when she was considering the position.
"Every business college in the country right now is really scrambling to figure out how they're going to globalize what they're doing," she said. "That works in both directions. That's how to have outreach and instructional opportunities in other countries, such as our Hong Kong program, where we have Hong Kong students going through, as well as creating opportunities to get our students out of this country and into a global space… It's very important right now for schools to seriously think about how they're going to create a global mindset in the programs they have."
The strength of the UI business school also attracted Ms. Gardial to the job.
"This is not a situation where you have a school that's broken or in crisis or in need of some kind of turnaround," she said. "You are moving from a position of strength. This is a school with a very strong and well-deserved reputation with great resources in terms of the faculty, the student body that's there, financial resources, beautiful building facilities and so; I feel like I won the lottery in terms of walking into a situation where there's no triage, there's no immediate, 'How do we stop the bleeding?' But it really is taking a very, very good school and saying, 'How do we go to the next level? How do we really define and pursue excellence?' That makes it a very attractive proposition."
Ms. Gardial, 54, started at theUniversityofTennesseein 1986 as part of the marketing faculty and later became assistant dean for the full-time MBA program, as well as associate dean for academic programs. She has served as vice provost for faculty affairs since 2008.
She grew up inHot Springs,Ark., earned her undergraduate and MBA degrees from theUniversityofArkansasand her doctorate from theUniversityofHouston. Ms. Gardial was one of five finalists interviewed on campus for the UI dean position. Her UI salary will be $380,000.
AtKnoxville, she helped create a new MBA program and worked to recruit and retain faculty.
Her first 90 days on the UI campus will be spent learning about the various departments, meeting faculty and networking with people on campus and within the business community.
"There really are three things I'm going to target really for the summer. The first thing is to really get the dean team in place," she said. "It turns out that I'm not the only new piece of the puzzle here, that we've got quite a bit of shifting going on in that office. So it's very important for me, early on, to get that team set and in place and get us working well together, because we've got a new cast of characters that really needs to come together and start gelling as a team."
She will also spend time learning about the challenges of the college.
"The second thing for me is what I call the listening tour. I think it's very important for me to get up the learning curve as quickly as possible about what's going on at Tippie, as well as meeting people there and letting them meet me," Ms. Gardial said. "So I won't get on the road in a sense, but the road for me will be to go out and call on every department, every center, every program, and have some time to let them talk with me and tell me what's going on, what their challenges are, what their history is, what they see as the type of things we need to be working on, pros and cons, all those kinds of things. This is a learning summer for me and I need to get up to speed really fairly quickly."
Reaching out to alumni, donors and others will be another initial priority.
"Not surprisingly, there are a lot of folks who want to meet the new dean, who are outside the college," she said. "Some of those will be on campus, but also in the community. You can rest assured that I want to be meeting alums, members of the board of advisors, donors to the college. In fact, (this) week, I'm not even on the payroll yet and I'm going to fly toWacoto meet Henry B. Tippie (namesake of the college). I also will be doing a fair amount of that this summer as far as touching base with some really important constituencies that really are around alumni, the business community, our donor community, to start helping them meet me and have me meet them and start understanding how we're all going to be working together."
Fundraising will become an important part of her job, she said, as state funding for public universities shrink.
"If you're an institution of higher education, the states are very quickly pulling back funding that state campuses, state universities have been very dependent on for years," Ms. Gardial said. "So the challenge is, what is that new funding model going to be if the piece of the pie that comes to us from the state is ever shrinking? And I think we can completely count on that. I don't see that turning around at any point. So in my mind you don't just whine and say, 'Where's that money?' In my mind, it's not coming, so we've got to get on with it."
Private fundraising needs to aggressively increase, she said.
"We have to start looking in some ways, more like private institutions, because the public base is shrinking at the same time our private base is growing," Ms. Gardial said. "And unfortunately, the student tuition piece is going up, as well. Basically, we're transferring, we're making up for that loss of state money by building up that on the backs of our students in many ways. And as you know, we're starting to hit some breaking points, in terms of how quickly we can do that and still preserve legitimate access for students in higher education. One of my primary challenges is going to be to determine, how do we create the financial resources that the Tippie College is going to need to strive for excellence in the next 10 years? And it's going to look different than what it has in the past and require a lot more proactivity on the part of the dean."
Ms. Gardial said business schools are in a transformative time as they deal with needs of students and evolving technology. The future will not be solely online classes, but rather a hybrid of classroom and online offerings, she said.
"I think the best of both worlds are hybrid-types of learning environments, where we're having our students learning from both of those," she said.
Business schools also need to rethink how managers and leaders are educated and trained, she said.
"B-schools continue to be under fire around the issue of how we are training managers and leaders for a very quickly changing global economy," Ms. Gardial said. "In some ways, we're shooting a moving target, frankly, with globalization, the economic changes that are going on in the world … It's a really challenging world that we're sending these students to and I think any b-school worth its salt, whoever they are, I'm talking about Harvard or MIT or some of the biggest brand names that you know, should be doing some serious soul searching about what b-school education is and how to step up to that challenge."
Ms. Gardial said she is winding down her responsibilities inTennesseeand preparing to begin work inIowa. She has a house and a job in each location and is looking forward to having a singular focus inIowa City.
"I have received such an overwhelming welcome from people inIowa City," she said. "Everyone I've spoken to that lives there or has passed through there just think Iowa City is the greatest place in the world, so even though there is some sadness for me in leaving Knoxville and I've been here for awhile, I couldn't be happier about moving to a place that is already so welcoming to me."