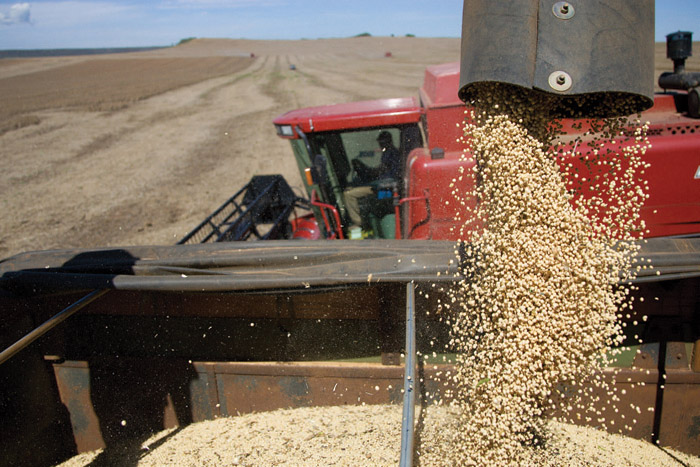 Despite trade & biofuel concerns, Trump seen as 'net positive' for ag
By Emery Styron
news@corridorbusiness.com
"I want a drive-up window in that wall," says Iowa State University Extension Crop Marketing Specialist Chad Hart, referring to President Donald Trump's plan to build a fence along the U.S. border with Mexico.
"In agriculture, we need international trade," he added. "Odds of a trade war are very small with Japan. With China and Mexico, the odds get much larger. The rhetoric has been incredibly strong on both sides. My own sense is cooler heads will prevail, but that hasn't happened yet."
In a March 9 talk at Hills Bank and Trust's annual Farm Outlook Conference in Riverside and a phone interview with the CBJ, Mr. Hart emphasized the crucial role of exports within the state and nation's economies.
"We've been too darn productive for our own good," he said, noting that in the past five years, the U.S. has seen four of the biggest corn demand years paired with four of the biggest crop years ever.
The situation is similar with soybeans. The nation's farmers produced 15.1 billion bushels of corn last year. Except for a dip to 13.6 billion bushels in 2015, production has stair-stepped from 10.7 billion bushels in 2012, according to U.S. Department of Agriculture figures. Soybean production has risen from little over 3 billion bushels in 2012 to 4.3 billion bushels last year.
The agricultural bounty is far more than American people consume, with up to half of the surplus sold in other markets. Mr. Hart cited examples of U.S. export strength:
The U.S. exports more than half of its soybean crop, with China, our No. 1 soybean export market, taking half of that. China produces 12 million tons of soybeans annually, but U.S. farmers ship them three times that much.
China's is experiencing issues with government policy and unintended consequences, Mr. Hart said. With a hog industry six times the size of its U.S. counterpart, China is aiming for self-sufficiency in corn feedstock. It incentivized producers in 2015 with a $9 per bushel target price. That produced China's largest crop on record, but buyers preferred Iowa's $3-$3.50 price and left China sitting on piles of $9 corn.
The U.S. has also seen record biofuel production. In 1991, a bushel of corn could produce 2.5 gallons of ethanol. It's now 2.9-3 gallons and competitive with gasoline. The U.S. has become the world's largest exporter of ethanol, Mr. Hart said, and is even shipping ethanol to the United Arab Emirates to help with their smog problem.
U.S. pork and beef producers are enjoying "incredible demand growth" as the developing world moves from beans to meat as a main protein source. "India has 1.2 billion people, with 80 percent Hindu, 20 percent that aren't. The 20 percent is still a lot of beefeaters. It's also the third largest Muslim country. We sell beef to Muslims and pork to Hindus and poultry to anyone who wants to eat it," Mr. Hart said.
Export worries
The top six export markets all have trade agreements with the United States. President Trump has already scrapped the Trans Pacific Partnership, promised to renegotiate the North American Free Trade Agreement (NAFTA) and other trade deals, and proposed a tariff on imports. The tough talk raises fears of retaliation and driving export customers elsewhere.
"Our customers have other places they can get the goods. It's just going to cost them a little more," Mr. Hart said. "If you're not buying corn from the U.S., go to Brazil, Argentina and Ukraine."
He put the odds of a trade war at less than 50-50, but it's "probably high enough that we need to be concerned."
Mr. Hart takes some comfort in Secretary of Agriculture designee Sonny Perdue's knowledge of international trade from his years as governor of Georgia, a cotton-exporting state, and Gov. Terry Branstad's new role as ambassador to China. Mr. Trump has appointed people "who will aggressively talk up ag trade," he said.
Mr. Perdue's downside for Iowa, in Mr. Hart's view, is that he is a Southerner. Domestic ag disputes tend to break along regional and crop lines, not party lines, he noted. Mr. Hart also laments that agriculture appears to be "well down the line" in the Trump administration's priorities. Mr. Perdue's nomination is the last in the cabinet to come up for Senate confirmation and the USDA budget will likely take a big hit.
"It's been a rough start," Mr. Hart said.
There is also concern among farmers that Mr. Trump's push to boost the fossil-fuel industry will hurt the biofuel market. Mr. Hart sees "lots of rumor and innuendo, but no changes so far in policy." The industry "continues to chug right along as normal," with record production month after month.
Farmers in general tend to look at Mr. Trump's moves to cut regulations as "a net positive." Despite biofuels worries, many support rolling back EPA regulations such as the Waters of the U.S. rule, restrictions on confined animal feeding operations, herbicide and pesticide restrictions, and regulations that raise the cost of developing new ag chemicals.