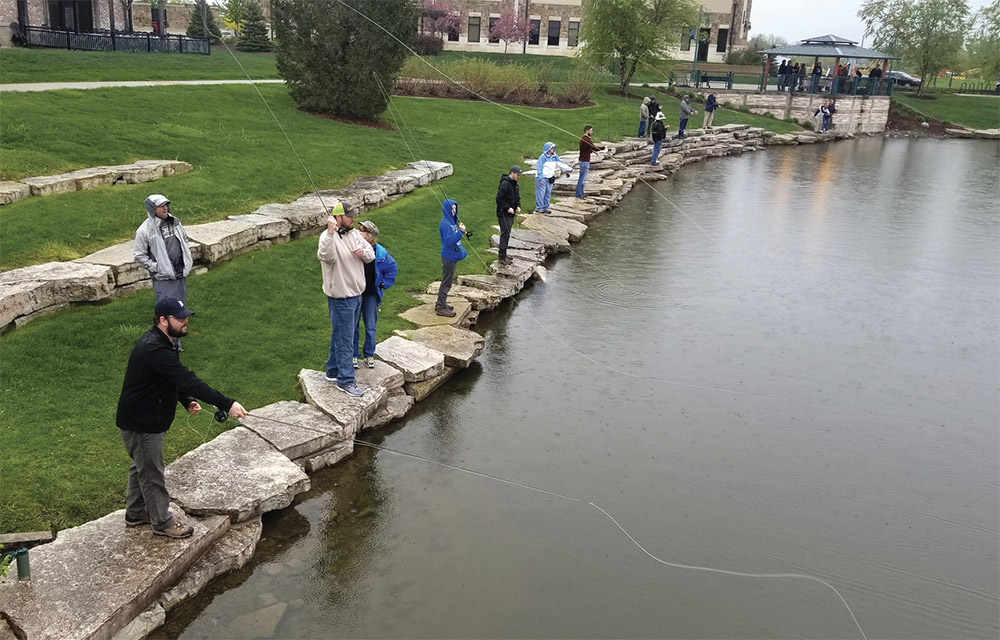 Novice anglers practice their casts at the Liberty Center Pond in North Liberty as part of a fundraiser for the Area Substance Abuse Council, held in May. "On a nice day, we'd have hundreds of people out here," said Dan Johnston with St. Croix Rods. PHOTO ADAM MOORE
By Dave DeWitte
dave@corridorbusiness.com
The sport of fly fishing is making a splash in Iowa, with a growing number of younger and female an­glers leaving their bait cans behind in search of a more challenging way to outsmart fish.
Fly fishing uses artificial lures called "flies" that resemble insects, often made by the angler. The ac­tion of the lure landing on water is typically intended to mimic an insect's movements. It was intro­duced to American pop culture by Brad Pitt in the 1992 movie "A Riv­er Runs Through It," then drifted out of the mainstream. Now, it's showing signs of a comeback.
"The sport is resurging," said Dan Johnston of Cedar Rapids, na­tional sales manager for St. Croix Rods. "I see a lot of women and kids in my classes. I see a lot of millennials when I'm fly fishing out west."
When Mr. Johnston taught a fundrais­ing fly fishing clinic earlier this month in North Liberty for the Area Substance Abuse Council, some 27 people turned out and contributed $4,000 to help fight opioid abuse, despite an all-day drizzle that kept most people inside.
Although the main adherents of the sport are still older men, Mr. Johnston said younger converts to the sport often get in­volved because it's a more active style of fishing than standing with a pole in the water. Fly fishing involves near-constant movement and, when done in pursuit of wary species such as trout, can involve careful positioning in or near the water to avoid detection.
"It's more holistic and relaxing," said longtime fly fisherman Brad Mullin of Ce­dar Rapids, adding that the sport's thera­peutic benefits are utilized by groups like Casting Recovery, which brings groups of cancer patients on fly fishing outings, and Project Healing Waters, which helps veter­ans get into the sport.
Catching wary trout with a fly seems to have particular cachet.
"You get out there away from civiliza­tion and you get in the zone, focused on catching the fish," Mr. Mullin said. "You can see the fish and then think about what approach will I use so they can't see me, what fly do I use… There is the thrill of ex­citement when you hook the fish and try to land it, because you don't know how small or large it will be."
Mr. Mullin is treasurer of the Hawkeye Fly Fishing Association, and followed in the waders of his late father, who was also a member of the group. He said the orga­nization provides education in the sport and promotes a conservation ethos of catch-and-release fishing.
"We do a lot of casting education for younger kids, and they can pick that up pretty good. The [fly] tying, they really en­joy the craft aspect. They're more artistic than realistic and they work well on bass and bluegill, but trout are more picky."
Mr. Mullin said the bulk of fly fishing activity in Iowa revolves around catching bluegill, sunfish and bass. Even though they are not as rare as trout, Mr. Mullin said most fly fishermen prefer to catch and release to help maintain fish stocks.
Technique is what it's all about, and as Mr. Johnston explains, the big differ­ence in fly fishing is that the fisherman is working with the weight of the line rath­er than the weight of a hook, bait and sinker on a light line.
"Fly fishing is not difficult, it's just dif­ferent," he said. "It involves different me­chanics of delivering a fly. In convention­al fishing, the object you're casting has weight and pulls the line off the reel. In fly fishing, the line has the weight and it pulls the fly off the reel."
The line is classified by weight, and Mr. Johnston generally steers beginners toward a five-weight line. In essence, the fisherman is casting the line rather than what's on the end of it.
"We have to have a back cast that sets up the forward cast. That's the crux of my whole class, getting people to back cast. One you stop [the back cast] the rod will load, and it stores the energy and they can throw it forward."
Besides the difference in casting tech­nique, the selection and even the craft of producing lures set fly fishing apart. Mr. Mullin said the best fly fishermen become adept entomologists, studying the insect larvae that live under rocks and in the wa­ter of the stream bed in order to learn what kind of fly will work best.
Learning to tie flies is not mandatory, since almost every variation of fly is avail­able commercially and costs have come down. However, many fly fishermen con­tinue to tie their own flies, believing they can produce better results than the store-bought versions.
The popularity of trout fishing in Iowa has escalated in recent years, and some 49,000 people – more than 43,000 of them state residents – paid a $12.50 trout fee ($15 for non-residents) on top of their regular fishing license. The extra fee pays for stocking trout, because they do not re­produce naturally in the vast majority of Iowa's streams and rivers.
While the number of fishing licenses sold in Iowa has been relatively flat, the number of trout permits sold has risen steadily, according to the state's Depart­ment of Natural Resources.
"That growth is partly attributable to our bringing trout to parts of the state that can't ordinarily support trout through the summer months," said Mike Steuck, Iowa DNR fisheries supervisor in northeast Iowa.
Mr. Steuck said winter trout stocking is now performed in 26 of the state's largest cities, and usually generates large turnouts of fishermen – including significant num­bers from Minnesota and Wisconsin, which don't have winter trout fishing seasons.
One stocked stream is McLeod Run in Cedar Rapids, the state's best-known ur­ban trout fishery. Fed by two springs, the clear-running stream is capable of sup­porting trout life and reproduction year-around, Mr. Steuck said. The stream has suffered intermittent fish kills, however, primarily due to hot summer runoff from paved surfaces, and is restocked every year.
The DNR stocks brown trout, brook trout and rainbow trout, of which only one species, the brook trout, is indig­enous to Iowa. Most of the state's trout fishing action is concentrated in the Drift­less Area in northeast Iowa, Mr. Steuck said, along such popular water routes as the Yellow River, North Bear Creek and South Bear Creek.
Most of the fish are "stocked as catch­able" at eight to 10 inches in length, Mr. Steuck said. But for those who have the patience and skill, there have been old­er trout, up to two feet in length, caught in stretches of some of Iowa's best trout streams.