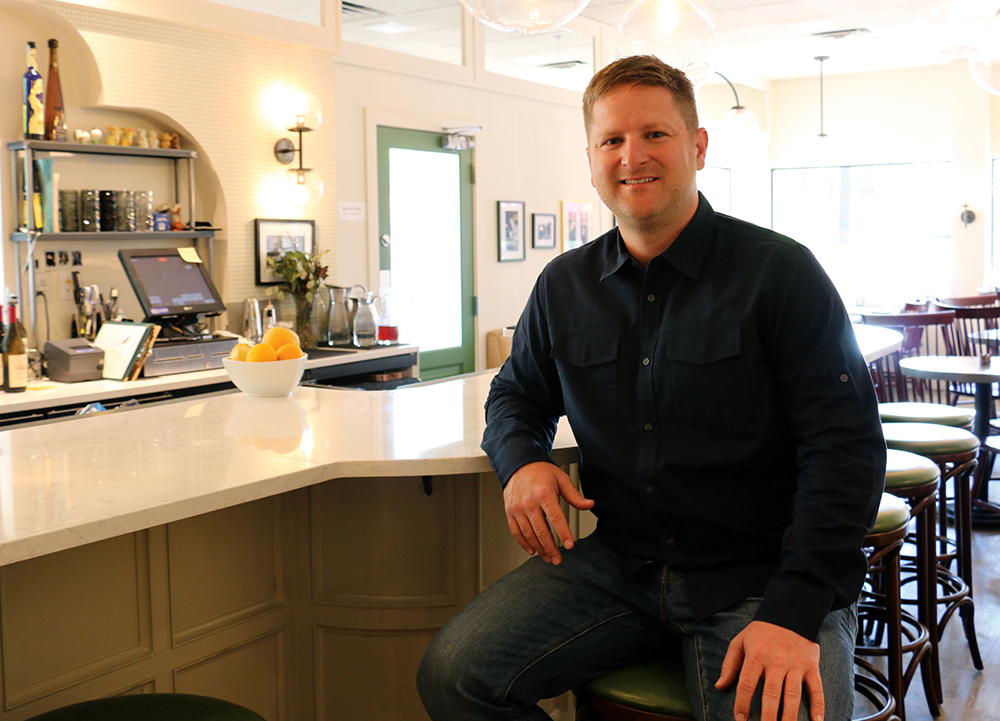 Matt Swift shown inside the new St. Burch Tavern in downtown Iowa City on a recent morning. It marks Mr. Swift's eighth restaurant partnership in Johnson County, with two more to come this year. PHOTO ADAM MOORE
By Katharine Carlon
katharine@corridorbusiness.com
"I" is not a pronoun Matt Swift uses often in discussing his career and string of remarkable restaurant successes from Blackstone in 2007 to St. Burch Tavern earlier this year. The CBJ's 2018 Thomas L. Cardella Entrepreneur of the Year is much more comfortable with "we," apt to give the credit to his many partners and employees across eight – and soon to be 10 – Corridor eateries.
"I'm most proud of my partners and the partnerships I have," said Mr. Swift, who juggles different ownership teams at each of the restaurants he's involved with. "It's easy to say, Matt did this and he's entrepreneur of the year, but I have such a network of people that I'm partnered with – from owners down to GMs, chefs and staff – and that's what really makes it work."
Mr. Swift got his start in the restaurant business the old-fashioned way: by being born into it. He learned the ropes at his mother Faye's restaurant, Sluggers Neighborhood Grille in Coralville, and progressed up the ranks from washing dishes and bussing tables to cooking and, finally, management. The pair opened Blackstone on the east side of Iowa City a year before the flood of 2008 destroyed Sluggers; that disaster prompted them to open Red's Alehouse in North Liberty the following year.
"Red's kind of generated a lot of the rest of the growth," said Mr. Swift, who went on to become a founding partner in Big Grove Brewery locations in both Solon and Iowa City, 30hop at Coralville's Iowa River Landing, and Pullman Diner, Mosley's Barbecue & Provisions and St. Burch in downtown Iowa City.
A Cedar Rapids branch of 30hop is now on the way, as is a North Liberty Mosley's. And just last week, Big Grove began selling its four "core beers" – Arms Race Pale Ale, Big Grove IPA, West Main Wheat and Boomtown Premium – in cans at liquor and grocery stores across the area.
Getting into manufacturing and retail sales is "a whole new world," Mr. Swift acknowledged, adding that "Red's is kind of where the craft beer thing started. We went from four domestics on tap to craft on tap and then bigger and bigger and bigger until I said, 'We should be making beer. Let's do it.'"
Although Mr. Swift's original plan called for building a brewery at Red's, the escalating project costs eventually meant it made more sense to build a new one.
"So we ended up doing a new brewery in Solon called Big Grove," he said. "That was a big turning point, too, because we started making our own product and that's when Doug [Goettsch, Big Grove partner and general manager] came on board."
So far, Mr. Swift has not been involved in a single failure – a rarity in the restaurant world where 60 percent of new ventures go under in the first year, according to an oft-cited Ohio State University study. Instead of doing extensive market research, he said he mostly goes with his gut, basing his project decisions on a lifetime of experience living and working in the Iowa City area and simple rules like, "if you have Red's, you don't want to open up Blue's a block down the road."
"If it's making me excited, then hopefully it will make the public excited, the customers will enjoy it and create a little community gathering area," he said, knocking on the wood tabletop at Iowa City's Big Grove. "I think if you do that part right, then the profits and everything else kind of follows. You want to make people really happy and have a really good time. There's not really a big secret there."
That said, Mr. Swift said he starts every project with great design because "it's really easy to go cheap and it's really easy to see through that as a customer." A commitment to generous hospitality is equally important.
"You can get a burger anywhere and you're probably going to pay pretty close to the same price," he said. "So what are the separators? I think it's just about service and caring and making sure people understand they are important. People have money and they can go wherever they want to go with it, so we need to respect that choice when they come to our place."
When he isn't working, Mr. Swift spends time with his wife of 10 years, Cayla, and two children, Gabriella, 7, and Ashton, 5; he also maintains his focus on service and caring. In addition to serving on the North Liberty Community Food Pantry board, he helped launch the 100+ Men Who Care: Hawkeye Chapter and Big Grove for Good program to support local charities.
"Trust yourself and trust your gut," is his advice for aspiring entrepreneurs at work and in life. "Make sure it always feels right. It's an intangible feeling, I guess, but it should feel real good when you're doing things."
Mr. Swift also advises would-be entrepreneurs to set themselves up for success by analyzing both the best and worst-case scenarios when launching a new venture and being prepared for either situation.
"How does this business look if it kicks a lot of butt? How does it look if it doesn't do well at all?" he said. "The other thing, too, is having this energy of, 'let's do it.' For example, if we want to do this crazy event at Big Grove and do stuff we've never done before, our attitude is, OK, let's figure out how to do it. There's never a negative and there's never a no. … The people I'm dealing with want to find a way to make it happen and they want to make it special, and I think all our partners share that same mentality."