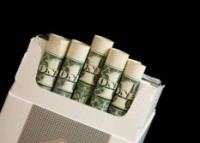 Tobacco companies involved in the 1998 settlement with states over tobacco-related health care costs transferred more than $65 million to the state treasury this month in their annual payment to Iowa.
The tobacco companies remitted a regular annual Master Settlement Agreement (MSA) payment to Iowa of nearly $48 million, and an additional "Strategic Contribution Fund" payment of more than $17.8 million, for a total payment of more than $65.8 million.
In 1998, Iowa Attorney General Tom Miller and attorneys general of 45 states signed the MSA with the nation's four largest tobacco companies to settle state suits to recover billions of dollars in state health care costs associated with treating smoking-related illnesses. Since then, more than 40 other tobacco companies have signed onto the agreement.
The MSA called for tobacco companies to pay the 46 states $206 billion over 25 years, and continue annual payments beyond 25 years based on the number of cigarettes sold in the United States. Since 1999, when tobacco companies sent their first MSA payments to the states, Iowa has received more than $1.1 billion in both regular and additional payments.
The MSA created an array of restrictions on the advertising, marketing and promotion of cigarettes. For example, it bans targeting children through advertising. It also includes prohibitions on outdoor advertising of cigarettes and the advertising of cigarettes in public transit facilities, as well as the use of cigarette brand names on merchandise, and a host of other restrictions.