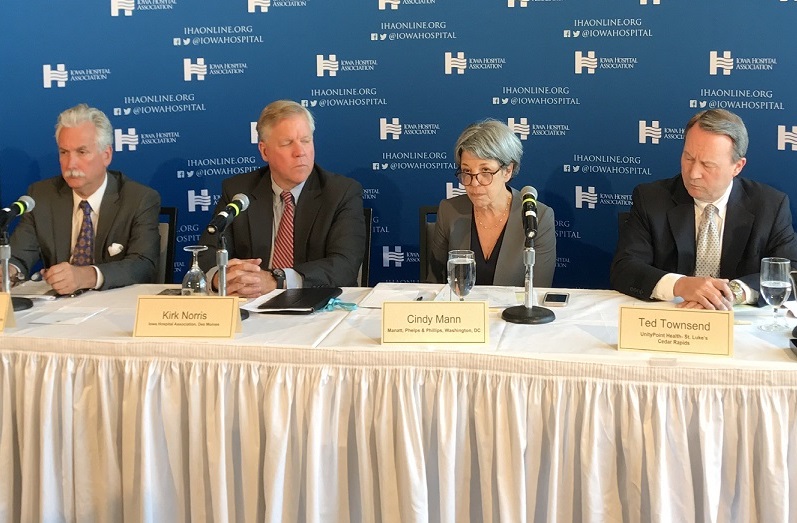 The Iowa Hospital Association has taken a firm stance against the American Health Care Act (AHCA) as it is currently written. Senate Republicans hope to vote before July 4 on the bill which passed the U.S House in May.
During the Iowa Hospital Association's Summer Leadership Forum held June 7 at the DoubleTree by Hilton in Cedar Rapids, leaders from several Iowa hospitals held a press conference about how the AHCA could affect Iowans covered by Medicaid, as well as its predicted impact on hospitals and their communities.
Included on the panel were Tim Charles, president and CEO of Mercy Medical Center in Cedar Rapids, and Ted Townsend, president and CEO of UnityPoint Health-Cedar Rapids.
Mr. Townsend said that the Affordable Care Act, also known as Obamacare, was a "positive to our community" due to its expansion of Medicaid which covers the poor, disabled and elderly.
"I don't want to lose the confidence we gained with the ACA," he said. "People should not have to fear health care."
He also added that the ACA offers opportunities for innovation in ways to pay for health care.
According to the Iowa Hospital Association, the AHCA would effectively end the ACA's Medicaid expansion and restructure the entire Medicaid program through a per-capita cap, which would result in Iowa bearing an additional $340 million annually in Medicaid costs.
Mr. Charles said that before the expansion of Medicaid, 6-8 percent of Mercy's patients were covered under Medicaid. This year, the number of patients covered under Medicaid is 13.4 percent.
"It's not perfect and has structural issues," he said of the ACA, but added he doesn't want to see patients lose access to the health care they have been receiving.
Kirk Norris, president and CEO of the Iowa Hospital Association, said the hospital community does not not support privatization of Medicaid and wants to work with new Gov. Kim Reynolds and the legislature on the issue.
For more on the Iowa Hospital Association's position on the AHCA, visit www.ihaonline.org.